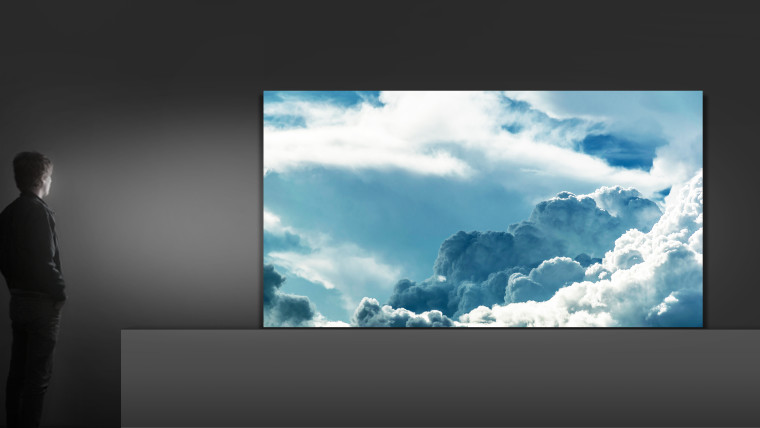 Some of the more fun things to see at CES every year are innovative TVs, such as LG's improbably thin 4K UHD TV that it announced last year. It's the type of thing that enthusiasts love to drool over at the show, knowing that the beautiful devices will likely never grace the walls of their living rooms.
Samsung today announced such devices ahead of CES. One of them is an 85-inch 8K QLED TV, the Q9S. It's the largest QLED 8K TV to date, and what makes it unique is that the company says that it uses artificial intelligence to upscale content. Upscaling content is nothing new on it's own, but Samsung says that existing technologies won't work when doing it for 8K.
It's worth noting that 8K content is extremely rare at this point. You'd certainly be future-proofing yourself, but 4K is only now just becoming popular with original series from Netflix, Hulu, and Amazon. Cable companies are still broadcasting in HD, and that's not likely to change anytime soon.
And then there's a 146-inch MicroLED TV, called The Wall. MicroLED is actually a modular technology, so users can actually add or remove these modules, making their TV smaller or larger. Another important fact about MicroLED is that they are self-emitting, meaning that it's not a backlit panel like LCD TVs are. Similar to OLED, you can get true blacks with MicroLED because black pixels can actually be turned off.
Samsung says that adding or removing these modules to the TV has zero impact on performance. The device promises to offer "outstanding brightness, contrast, and close-to-perfect viewing from any angle."
The firm didn't announce pricing for any of these new devices, or when they'll actually be available. You can expect that if you actually want one, they're going to be pretty expensive.
Neowin is at CES to bring you all the coverage from the show floor, click here for other articles.