Samsung has announced the launch of its newest addition, the M8, to its Smart Monitor series. The latest device is 11.4mm thick, which is almost three-quarters slimmer as compared to the earlier models.
This Smart Monitor is available in 32-inches with UHD resolution and a SlimFit Cam. It comes in four new colors including Warm White, Sunset Pink, Daylight Blue, and Spring Green. With it, consumers can stream over-the-top (OTT) media services such as Netflix, Amazon Prime Video, Disney+, and Apple TV through Wi-Fi and without the need to connect to a TV or PC.
Executive Vice President and Head of Design Team, Visual Display Business, Kyounghoon Kim stated:
We aspired to create a product capable of matching the lifestyles of all kinds of people and preferences. The M8's color palette composed of four different colors was inspired by the theme 'Shades of Nature'. Gazing at the clear blue sky on a bright sunny day, recharging in the lush green forest, or finally bathing in the glow of a sunset.
The M8 also offers a home office environment without using a PC by connecting to different IT devices via the Smart Hub. The Workspace User Interface aids users in wirelessly connecting to a Windows or Mac PC and utilizing a wide array of features such as Samsung DeX, Apple AirPlay2, and Microsoft 365 cloud services, along with mirroring content from a smartphone to the M8.
Moreover, it features a magnetic and removable SlimFit Cam that can be attached to the monitor. The SlimFit Cam also comes with Face Tracking and Auto Zoom functions useful in active presentation or live streaming. The device includes support for video chat apps like Google Duo for video conferencing using the SlimFit Cam.
It features an IoT hub known as SmartThings Hub to enable users to connect their IoT devices wirelessly and track them throughout the house with the intuitive control panel of the app. In addition, it offers adaptive picture technology and comes with a high-sensitivity Far-field Voice microphone that sports the Always-On Voice function.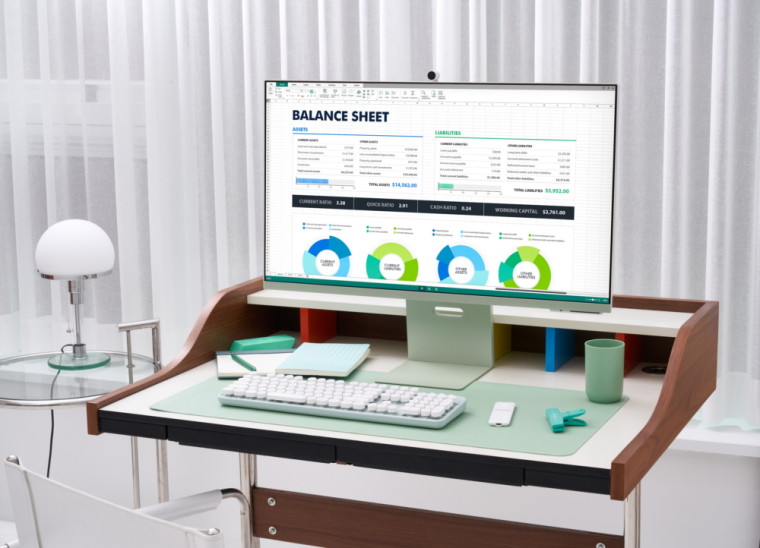 The M8 is now available for pre-order globally. The pricing is not listed publicly on the product page but you can inquire about it from the company's sales team.