Chinese manufacturer PiPO became one of the first companies to unveil a tablet running Windows 10 Mobile earlier this year, but some of its other Windows devices have been rather more unconventional. Its X7 was one of only a handful of mini-PCs available with Windows - but its X8 and X9 were true oddballs, each described as a 'Windows TV box + desktop tablet'.
Now, PiPO is preparing to launch two more distinctive devices, each cramming a Windows 10 mini-PC into a keyboard form factor.
The PiPO KB1 comes in two versions: the first offers an Intel Atom x5-Z8300 (Cherry Trail) processor and 4GB of RAM with either 32GB or 64GB of onboard storage; a second, more affordable variant will feature an Intel Atom Z3736F or Z3735F (Bay Trail) processor with just 2GB of RAM.
Both versions come with 2 full-size USB ports, an RJ-45 Ethernet port, microSD slot and 3.5mm audio jack, along with HDMI-out and, unusually, a VGA connector. The KB1 also includes 802.11ac Wi-Fi and dual stereo speakers, as well as a 6000mAh battery and built-in touchpad for cursor control.
But the KB2 is a far more interesting proposition. Not only is it considerably slimmer than the KB1, but it can also be folded for maximum portability. Unlike the black KB1, the KB2 sports a white design with gold edges.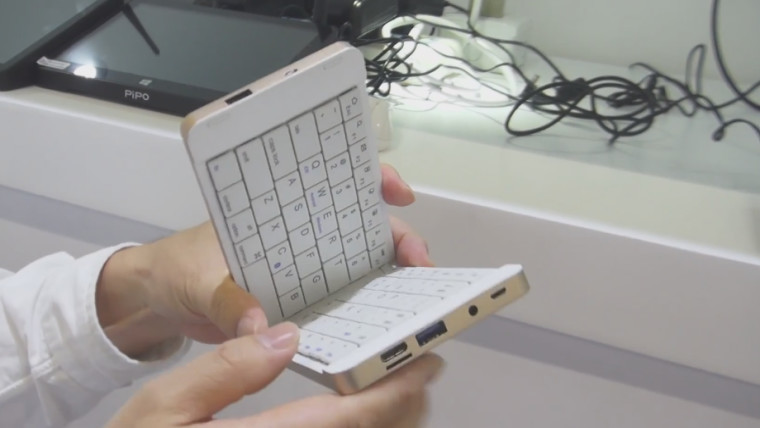 Despite its more compact form factor, PiPO has managed to squeeze in the same Cherry Trail processor as the top KB1 model, along with 2GB or 4GB of RAM, and 32GB or 64GB of storage.
Along with a full-size USB 2.0 port, the KB2 also has a USB 3.0 port, as well as microUSB, HDMI, Bluetooth, 802.11ac Wi-Fi (including WiDi support) and a 2500mAh battery. There's no built-in touchpad, but given its foldable design, it's probably best suited to desktop usage, where a separate mouse would make more sense.
Sadly, there's no pricing info available for either device. The KB1 is launching in China imminently, but the foldable KB2 won't arrive until September.
You can get a further look at the PiPO KB1 and KB2 in the video below:
Source and images: Notebook Italia | via Windows Central