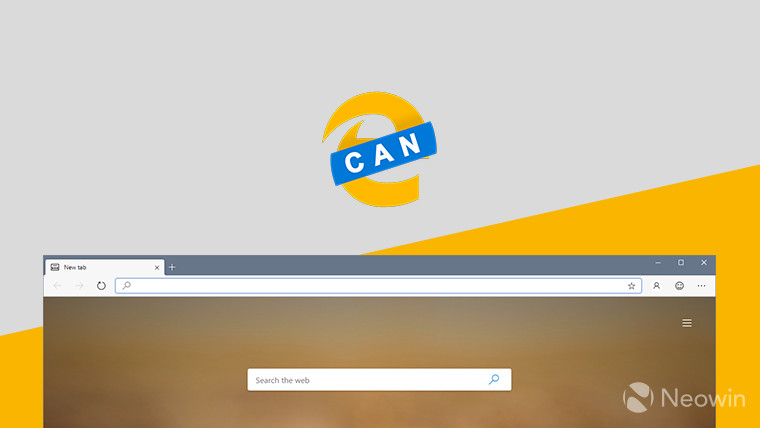 Microsoft usually only provides detailed changelogs for Edge builds in the Dev channel, but today, the company has changed things up with a forum post dedicated to the latest Canary build, which carries number 80.0.319.0. The company says it's still determining if it will keep publishing daily changelog posts for Canary builds and is gauging interest in them.
To kick things off, Microsoft posted the changelog in a very cryptic way, but user Cameron_Bush managed to decipher the text. Despite being on a daily release cycle, there's quite a lot that's new in the build, including the ability to import browsing history from Firefox, as well as support for extensions that change the browser's appearance from the Chrome Web Store - though in our testing this doesn't seem to be referring to themes. Here's what's new:
Created an easier way to add a favorite.
Opening collections items can now be done via the keyboard.
Downloads now warn you of dangerous items.
Extensions now show the publisher's information.
New options for organising installed apps.
Additional zoom options are now available.
Microphone or camera use is now shown in the address bar.
Extensions that modify the browser's appearance can now be installed from the chrome web store.
Opening apps can now be done via the keyboard.
Firefox history can now be imported.
Just like with Dev builds, Microsoft is providing two lists of fixes and improvements, one for behavior and one for reliability. Here's the list of reliability fixes:
Favorites opened via touchscreen no longer crash the browser.
Intranet sites no longer hang when loading.
Reopening windows no longer fails.
Several application guard crashes have been fixed.
Tracking prevention exceptions can now be added without the settings page occasionally crashing.
Windows can no longer be created offscreen.
Improved the password import success rate.
New tabs opened quickly now always succeed.
Downloads no longer fail if you quickly close the tab.
Opening InPrivate windows no longer fails.
Windows closed quickly now stay closed.
Saving PDF documents no longer crashes the tab.
Finally, here are the behavior changes in this release, which include more frequent checks for updates to the browser:
Temporarily removed the new PDF toolbar.
Organising extensions can now be done by individual sources like the web store or unpacked files.
Standard form controls are now accessible.
History items are spaced better.
Intranet searches now appear in the address bar.
Performing searches from the address bar now saves that data to the cloud so it can sync to other devices.
Wording on error pages has been improved.
Intranet search performance has been improved.
Tabs created offscreen can now be switched to.
History items cleared with the clear browsing data dialog are now properly deleted from the current session.
Images on certain webpages are no longer squished.
Edge now checks for updates more frequently.
The latest build should now be rolling out to everyone in the Canary channel, and these improvements should be available to Insiders in the Dev channel sometime next week.