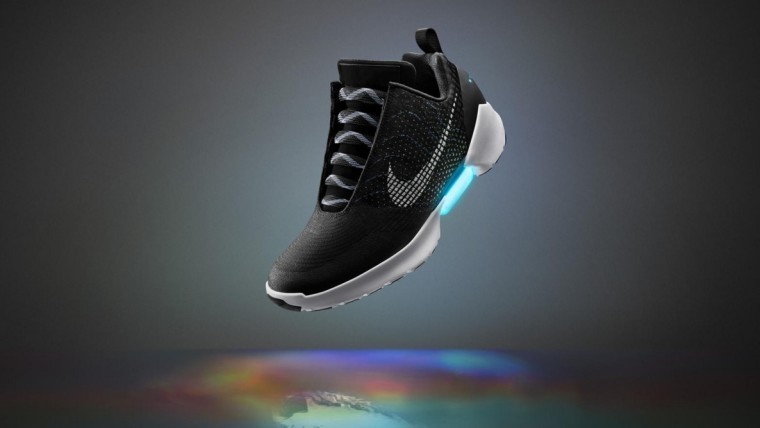 Back in March, Nike announced HyperAdapt 1.0, its new sneakers with 'adaptive power lacing'. Now, the company has announced when its self-lacing shoes will officially go on sale.
Nike explained to WIRED that the 'adaptive fit' technology used in the new shoes includes a sensor, battery, motor, and cable system. When you slip your foot into the shoe, the cable automatically tightens until it detects the optimum fit "based on an algorithmic pressure equation". There are also buttons to allow users to manually adjust the fit as desired.
For many, of course, the new shoes immediately bring to mind those worn by Michael J Fox in the hugely popular movie Back to the Future Part II, released in 1989. The real-world versions that will be released this year don't look much like their movie counterparts, but they'll no doubt prove to be in great demand nonetheless.
Nike PR Director Heidi Burgett announced that HyperAdapt 1.0 will be available to buy in the US "at select Nike retail locations" just over two months from now. "Appointments to experience and purchase" the new sneakers will begin on November 28.
But what we don't yet know is how much they'll cost. Their release at the start of the all-important holiday shopping season will surely make them a must-have item for Christmas, but they're likely to come at a high price. Nike CEO Mike Parker says the company has spent "a considerable amount of R&D dollars" on developing the technology.
You can see the self-lacing sneakers in action in this video:
Source: WIRED / @heidiburgett via Engadget