When Honor launched a refreshed MagicBook lineup back at IFA 2020, I found it interesting that it didn't include the same MagicBook Pro laptop that it had released in China a few months prior. Instead, all of the laptops introduced that day ran AMD Ryzen processors, with the Pro opting for an H-series variant, but neither featuring a dedicated GPU.
The AMD MagicBook Pro did fairly well in our review, but now, six months after its release, and 10 months after the Intel version had released in China, that Intel-powered variant has now gone international. While it's certainly interesting to see a company offer variants of the same product with such radically different specs, the fact that it's coming so late after the original release in China makes this version of the MagicBook Pro a very odd release.
Specs
CPU
Intel Core i5-10210U, 4 cores, 8 threads; Base clock: 1.6GHz, Boost: 4.2GHz
GPU

Integrated: Intel UHD Graphics
Discrete: Nvidia GeForce MX350

Display
16.1" diagonal FHD (1920 x 1080) IPS LCD, 100% sRGB
Body
369x234x16.9mm (14.53x9.21x0.67in); 1.7kg (3.75lbs)
Memory
16GB dual-channel DDR4
Storage
512GB PCIe NVMe SSD
Audio
Stereo speakers, dual microphones
Connectivity
Realtek 8822CE, Wi-Fi 802.11ac + Bluetooth 5
Ports

(1) USB Type-C with fast charging
(3) USB 3.2 Gen 1 Type-A
(1) HDMI 2.0
3.5mm combo audio

Camera
720p HD webcam in keyboard
Security

Trusted Platform Module (TPM) 2.0
Fingerprint reader

Battery
56Wh Lithium Ion battery, up to 11.5 hours
OS
Windows 10 Home
Material
Aluminum
Price
€899.90/£859.99
Indeed, outside of the processor and GPU changes, the hardware on the Intel-based MagicBook Pro seems to be exactly the same on paper as that of the AMD variant. Honor does tout an extra half hour of battery life, though.
Day one
Performance, battery life, and software
Usually, performance is one of the last things we cover in a review, but seeing as the biggest difference from our previous review is in the processor, we'll start with that. This variant of the MagicBook Pro is powered by an Intel Core i5-10210U, which means it's from the 15W Comet Lake family. That makes this a very odd release because Comet Lake has since been replaced by the far superior Tiger Lake family, which has a new 10nm architecture and Iris Xe graphics.
To compensate for the lack of decent integrated graphics, and because the processor used here is 15W compared to the 45W Ryzen 5 4600H that was in the AMD version, this MagicBook Pro has a dedicated GPU, the Nvidia GeForce MX350. That, too, has since been succeeded by the MX450, and the reason this is all old hardware is because this laptop was originally announced almost 10 months ago for China. We're just getting it very late overseas.
Compared to the AMD-powered version, there's still a use case for this. Productivity and general-purpose benchmarks give the AMD version an advantage, but the dedicated graphics here really help with gaming. The Intel version dominated in 3DMark Time Spy, and playing Rocket League, I was able to get 60 frames per second with Render Detail set to Quality and Render Detail set to High Quality. Playing with the same settings on the AMD version gave me roughly 35 frames per second.
MagicBook Pro
Intel Core i5-10210U

MagicBook 14
Ryzen 5 4500U
MagicBook 14 (early 2020)
Ryzen 5 3500U
PCMark 8: Home
3,612
4,211
3,966
3,476

3,521

PCMark 8: Creative
4,159
4,470
4,156
3,457

4,192

PCMark 8: Work
3,666
3,606
3,582
3,236

3,403

PCMark 10
4,243
4,714
4,413
3,729

3,963

3DMark Time Spy
1,455
1,069
-
-
-
Still, the Intel processor is terrible for productivity tasks. I tried rendering the hands-on video above with both the AMD and Intel versions, and where the AMD version took 13 minutes and 57 seconds to finish, the Intel variant took 24 minutes and 39 seconds. In some of the benchmarks above, it scored even lower than the MagicBook 14, which had a 15W Ryzen 5 4500U and no dedicated graphics.
Those concerns aside, battery life is one of the benefits of this lower-power hardware. Because of the lower TDP of the processor and because you're not always going to be using the GPU, Honor promises an extra half hour of battery life compared to the AMD MagicBook Pro (11.5 hours instead of 11). In my testing, I was able to get a full day of work out of it every time, and it does seem to last slightly longer, getting me closer to eight hours of use on a charge.
For this review, I also tested the speed of the SSD using CrystalDiskMark's test for NVMe SSDs, and the results are about what you'd expect from a PCIe Gen 3 SSD, with sequential reads near 3,270MB/s and writes at 2,923MB/s.
What makes this release really weird to me is that shortly after this MagicBook Pro was announced for global markets, a new MagicBook 14 was announced for China. That has Intel Tiger Lake processors and a GeForce MX450, and if it comes to the West anytime soon, it makes this laptop obsolete in every way. It would have made a lot more sense, in my opinion, to release the Intel and AMD variants at the same time, with AMD offering better productivity performance, and Intel getting the better battery life and gaming performance. Now, it feels like buying the Intel version is a trap, considering the more powerful MagicBook 14 and 15 are looming over it.
Honor doesn't include much in the way of bloatware with its PCs, but you'll find the Huawei PC Manager app here, as usual. It lets you connect your Honor or Huawei phone to your PC and control it directly from there. When you tap the NFC area on your phone to the Honor Magic-link sticker on the laptop, your phone's screen will pop up on the PC and you can control it from there and move files around easily. You can also do cool things like shaking the phone before tapping it, which lets you record your computer's screen for a few seconds.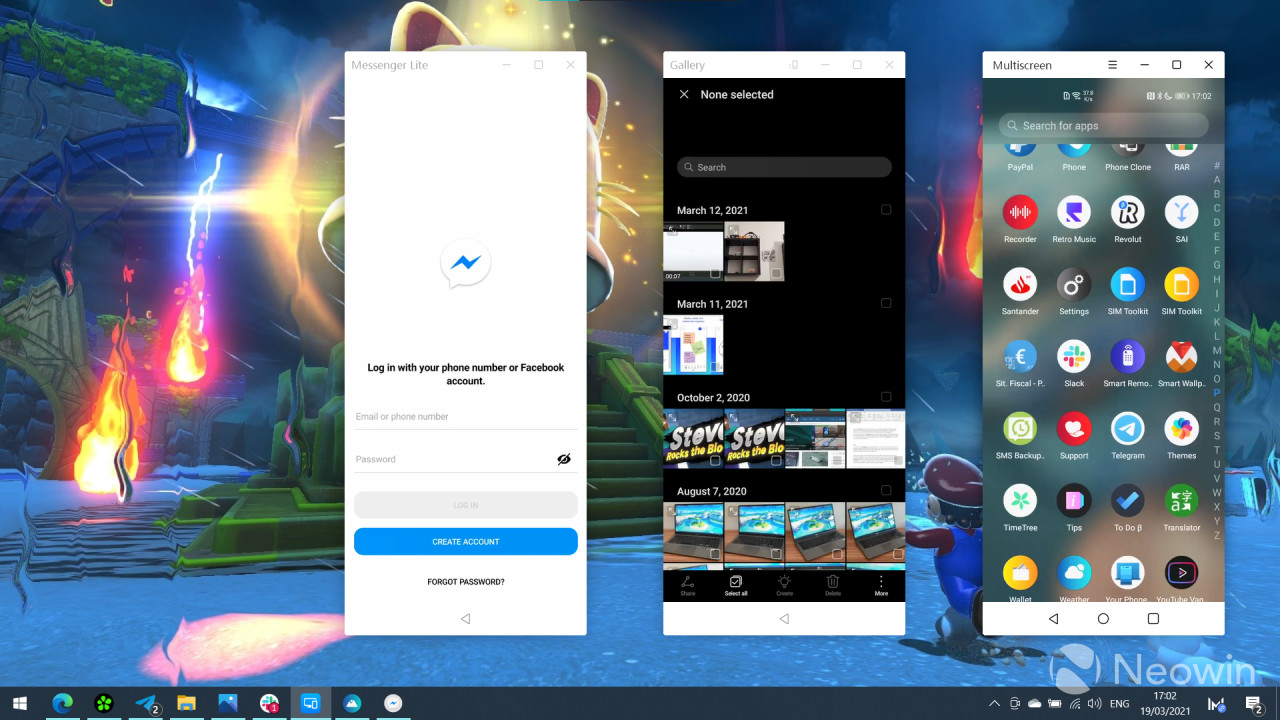 Design
If you read my review of the AMD version of this laptop, everything here will be pretty familiar. The major difference you'll notice right away is that while the AMD variant came in a Space Grey color, the Intel-powered model comes in Mystic Silver, which is much lighter. Neither version has any sort of flair to its looks, unlike the smaller MagicBook 14 with its blue chamfered edges. I find this design to be boring, but if you want something that won't draw much attention, this certainly won't.
In terms of ports, it's all the same, too. On the left side of the laptop, there's a USB Type-C port that's used for charging, and since Honor actually uses a Type-C to Type-C cable, you can also it to charge your phone, even when the laptop is off. There's also an HDMI 2.0 port and a USB Type-A (3.2 Gen 1) port.
Over on the right side, two more USB Type-A ports and a 3.5mm combo audio jack round out the connectivity options in this laptop. It's certainly serviceable, with a decent number of USB ports for a laptop this size, but it's not mind-blowing.
Opening up the laptop reveals a keyboard without a numpad and top-firing speakers on each side. The power button houses a fingerprint sensor, and it actually remembers your fingerprint when you turn the laptop on, then logs you in when the Windows login screen appears. Below that, a fairly large touchpad serves as the mouse.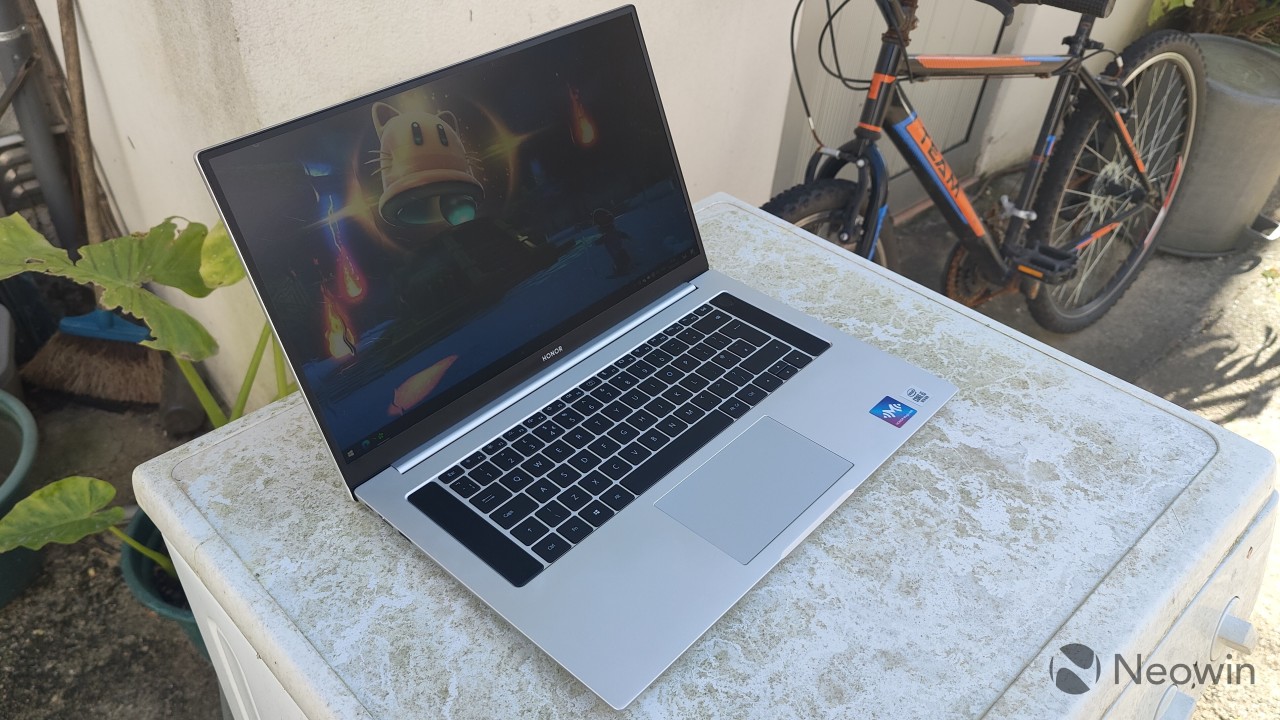 Just like before, nothing stands out about the look of the laptop on the inside, though you will notice the lack of a webcam anywhere around the display, because it's actually in the keyboard.
Keyboard and trackpad
Speaking of the keyboard, it's just the same here as it was on the AMD variant - barring the fact that I got a review unit with the UK keyboard layout this time around. The keys feel fine to type on, but they're a bit shallower and less clicky than I would like them to be. Of course, that will vary somewhat with your preference, but I personally would like a bit more travel on the keys.
Also, as is tradition with Honor laptops at this point, there are no Home, End, Page Up, or Page Down keys. These features are replaced by using the Fn key on the keyboard in conjunction with the arrow keys. Up and down serve as Page Up and Page Down, and the left and right arrows serve as Home and End, respectively. And speaking of the Fn key, if you use the function row at all, I do like that Honor gives you the option to toggle between using the system controls - like display brightness and volume - or the actual function keys as the default.
Moving down to the trackpad, it continues to be one of my favorite things about Honor laptops. The trackpad is large and made of a nice material, but the best part is that it uses Precision drivers. It may be a repetitive point to make at this point, but using Precision touchpads is just so good of an experience compared to third-party ones. All the touchpad gestures work well, and I love being able to quickly control the volume of my speakers by sliding up or down with four fingers. Of course, you can customize those gestures to your liking, too.
One thing I didn't immediately notice when I reviewed the AMD variant of this laptop was that the touchpad rocks back and forth without clicking, specifically on the left side. On this version, that's been addressed, so there's no clicking noise when you're not clicking on the touchpad. It's a very welcome improvement in quality control.
Display and sound
Just like before, the MagicBook Pro has a 16.1-inch display, and with minimal bezels all around, it fits nicely in a chassis that could have been for a 15-inch laptop. It's still a 16:9 aspect ratio, and while this is the format I'm most familiar with, I know many tend to prefer taller displays for productivity-related tasks. The resolution is Full HD and, on paper, the display is exactly the same as on the AMD variant, with 100% coverage of DCI-P3 and 300 nits of max brightness.
The display has a nice matte finish, so while it's not reflective, it doesn't make colors look washed out either, which I find to be a great balance. Compared with the AMD version of the laptop, the colors do seem slightly warmer on this panel, but I frankly wouldn't know it if I didn't have them side-by-side. I think the slightly warmer tone is a little easier on my eyes, though, so I kind of prefer this one. I still wish it was a touch screen, though, and too often I find myself reaching out to touch something before I realize I can't do that here.
Something that seems to be quite different in this Intel variant is the camera quality. It's still in the same terrible position under the keyboard, but to add insult to injury, it just doesn't look as great. Colors are too saturated and dark, and light areas are blown out significantly compared to the AMD version. Many laptop cameras are bad, but adding that to the horrible position of the camera in this laptop just makes it far from ideal if you care about how you look.
On the other hand, the sound experience here is much better. The AMD-powered version included Nahimic audio software, which isn't present here, and oddly enough, that seems to be a benefit. The speakers are much louder and crisp out of the box, and while you could use the Nahimic software to get to a similar level of volume on the AMD version, that would take some effort. Here, it's great right away, and I'm glad it is. They could probably still be a little louder, though.
Back to the similarities, the microphones on this laptop are on its underside, which means moving the laptop around will be pretty unpleasant for anyone listening to you on a call. If you have it on your lap, it's likely it'll be rubbing up slightly against you and generating a lot of noise.
Conclusion
Like I said before, this MagicBook Pro is a very odd release to happen in 2021. The laptop was released almost a year ago in China, and by now, both Intel and Nvidia have newer components on the market, and Honor itself has announced the new MagicBook 14 and 15 in China, which have the much better Tiger Lake processors and a GeForce MX450 GPU.
In a vacuum, the MagicBook Pro is a solid laptop. The keyboard is nice, the trackpad is amazing, the display is good, and the performance is generally fine for day-to-day tasks. It even has some advantages compared to the AMD version, like the sound, battery life, and gaming performance. But newer hardware is on the horizon, even from Honor itself, so this is hard to recommend.
I think it would have made more sense to release this version alongside the AMD-powered variant back in September, before Tiger Lake processors started rolling out. It would have had pros and cons compared to that version, and you'd be able to choose based on whether you want to focus on CPU- or GPU-intensive tasks. Now, if you want the better GPU, you might be better off waiting to see what the new MagicBooks end up looking like when an international release comes.
If you're still interested in the laptop, you can find it on Honor's website, though it seems to be out of stock in a few regions, including the UK. France currently has it for €749.90, the same price as the AMD version.