In October, Amazon announced an all-new Kindle Oasis, the second generation of its flagship e-reader. I reviewed last year's model, and it became my favorite tech purchase of 2016. I was anxious to see if the new one could live up to the high bar set by the original.
There are a range of minor changes this year. The screen is a bit bigger at seven inches, as the rest of the Kindle lineup is six inches. It's waterproof, which is great if you want to read while you're at the beach or a pool. It also comes with built-in Audible, allowing you to listen to audiobooks with Bluetooth headphones.
I went for the cellular model - just like last year - although the service has been upgraded to LTE from 3G. As always, you don't have to worry about signing up for a cellular plan, as service comes with the device.
Specs
| | |
| --- | --- |
| Display | 7 inches, 300ppi, anti-glare |
| Body | 6.3 x 5.6 x 0.13-0.33" (159 x 141 x 3.4-8.3mm), 6.8oz (194g) |
| Storage | 32GB |
| Built-in light | Yes - 12 LEDs + adaptive light sensor |
| Color | Graphite, aluminum back |
| Battery life | Weeks |
| Waterproof | IPX8 (2 meters, 60 minutes in fresh water) |

One thing that you'll notice is that it comes with 32GB of storage, which is far more than any Kindle before it, which has only offered 4GB. This is also because it's the first Kindle where you can store audiobooks.
The new Kindle Oasis is also configurable with 8GB of onboard storage; however, this option is now available on the cellular model.
Day one
Design
The new Kindle Oasis has some significant design changes from its predecessor. For one thing, the battery cover is gone. This is great news, because that caused all kinds of charging issues on the first-generation model. If you used it, it was a pain to connect properly, and if you didn't, there would be warning messages that it's not connected.
Nevertheless, I was pleased to see that they ditched the idea, but it's resulted in major changes to the device itself. The original Oasis weighed in at just 131g, making it super comfortable for reading at any angle. Now, the spine and the display are larger, making room for a larger battery. It's also heavier, weighing in at 194g.
At its narrowest point, the Kindle Oasis is 3.4mm thin. It expands to 8.3mm for the "spine", which is where you'll grip the device. On the top of the spine is where you'll find two buttons, the top of which goes to the next page, and the bottom goes to the previous page. The device has an accelerometer, so if you flip it over and switch to your other hand, the book will change orientation, as will the buttons.
But the spine is wider now, which to me, feels like it's harder to grip. Again, that's just me, as we've had comments already from some users who like it better than the old one.
On the bottom of the spine (assuming that you're holding it with your right hand) is a micro-USB port for charging, and on the top is the power button.
The biggest thing that I take issue with is the additional weight. The thing that I love most about the Kindle Oasis over other e-readers is the ease of one-handed use. The new one is just slightly less comfortable, especially if you're lying on your back.
Display
The Kindle Oasis uses the 300ppi screen that you'll find on the Paperwhite and the Voyage. There's no pixelation, and it's perfect for reading. In fact, the 300ppi pixel density works so well that Amazon's been using it for a few generations now.
That's not all though, because the new screen is seven inches, meaning that it's the largest Kindle e-reader screen in years. The last time we got a Kindle that was bigger than six inches was the 9.7-inch Kindle DX in 2010.
Of course, the bigger display looks great, and naturally, it's more immersive than a smaller screen. Unfortunately, it's just not practical. It's easy to fit a 6-inch Kindle into most pockets, but this device is just too big, so if I'm on the go, it's harder to carry around.
As you'd expect from a Kindle, the anti-glare E Ink screen is great for reading outdoors, and this version has adaptive brightness, something that was notably missing last year.
Built-in Audible
One of the reasons that I choose Kindle as my e-reader is because of Audible. It's an audiobook service that I absolutely love, and have been a subscriber to for years. With Whispersync for Voice, the location of the book is synced between the audiobook and the Kindle book, making it easy to listen in the car, and read when you get home.
Not all books support Whispersync for Voice, but the ones that do offer solid discounts on the audiobook. Audible is also a subscription service, where you can either get one or two audiobooks per month depending on your plan. You get to keep your audiobooks for life, even the one from your first month, which is free.
With the new Kindle Oasis, you can now listen to those audiobooks from the device using Bluetooth headphones. The only problem is, I really can't imagine a situation where it's useful. It's nice to have the option and all, but I've not encountered a situation where it's more convenient to use my Kindle (which doesn't fit in my pocket anymore) to play an audiobook than the Audible app on my phone.
Remember, the books will sync their location with each other anyway.
The way it works is pretty much as you'd expect. The user must pair the headphones via Settings, and then while reading a book, there's a button on the screen to switch to the audiobook.
Like a laptop with a touchscreen and pen support, it's nice to have the option, even if it's not practical in most situations.
I also now wonder why it can't do more now. This device has cellular and Bluetooth radios, so why can't I listen to my Amazon Music Unlimited?
One more thing that I want to note is that the new Kindle Oasis won't be the only Kindle to receive Audible support. Paperwhite and Voyage users are out of luck, but oddly enough, it's coming to the regular Kindle within the coming months, along with the original Kindle Oasis. Obviously, it's only available in Bluetooth-enabled devices; it's just surprising to see it coming to the regular eighth-generation Kindle, which is pretty bare-bones.
Cellular
It costs $50 more to get cellular with the new Kindle Oasis, although it used to be $70 for older models. This is the first one with 4G LTE, rather than 3G, and the service is completely free, meaning that you don't have to worry about getting a service plan.
I always go for the cellular option on Kindles, because of the Whispersync feature that I described above. I read a lot, and I'm not always at home when I do it. This means that if I'm sitting in the park reading and I'm not connected to a cellular network, my Kindle won't sync my place in the book.
To me, this is a no-brainer. After all, the Kindle Oasis starts at $249, so it's not for the guy that might pick up a book from time to time. This is a device for the reader that really cares about reading. If you're not that person, there are plenty of less expensive alternatives, including inexpensive tablets.
Performance
There's not a whole lot I can say about performance; it's not like I can run benchmarks on this thing or anything. In fact, most of the tasks that a Kindle does are not CPU-intensive at all.
But I do want to note that the new Kindle Oasis is fast, and it's the fastest Kindle that I've ever used. I've always found Amazon's e-readers to be a bit sluggish when opening a book, or even just turning a page. The new Kindle Oasis is much more impressive.
Reading, and compared to other Kindles
Kindles come in all price ranges, from $79.99 to $349.99. If you're not a big e-book reader (yet), then you might be thinking that it's no big deal to choose a more inexpensive model. You'd be wrong. And I'm not saying that the more inexpensive models aren't any good, but I am saying that there's a significant difference between them.
The standard base model Kindle starts at $79.99, and it's the one device that I don't recommend to anyone. The pixel density of the display is 167ppi, there's no front light, and there's no cellular option. It's also touchscreen-only, meaning that there are no physical buttons to turn pages.
The Kindle Paperwhite starts at $119.99, and it's a much better option. The 6-inch display (they're all six inches, except for the Oasis) is 300ppi, there's a front light with four LEDs, and there's a cellular option.
The Paperwhite doesn't have Bluetooth though, and it's still just a touchscreen. I've found touchscreen-only Kindles to be a real pain when it comes to one-handed use.
Next is the Voyage, which starts at $199.99. The front light has six LEDs, and the display has adaptive brightness. Aside from the touchscreen, there are page press buttons on the sides.
Finally, we have the Kindle Oasis. The light has 12 LEDs, it comes with 8GB or 32GB of storage, and it's the one Kindle that has a design that's apart from the others. The spine makes it easy to hold with one hand, and the buttons on top of the spine make it easy to turn pages.
Despite the fact that it's heavier and bulkier than last year's model, I still think that the Kindle Oasis offers the best reading experience possible.
Conclusion
I realize that it's hard to justify $349 for an e-reader, considering that all you can do with it is pretty much read books, and now listen to them. For a few extra dollars, you can buy an iPad Mini 4 from Apple, which along with the excellent Kindle iOS app, you can use to check social networks, play games, manage email, and much more.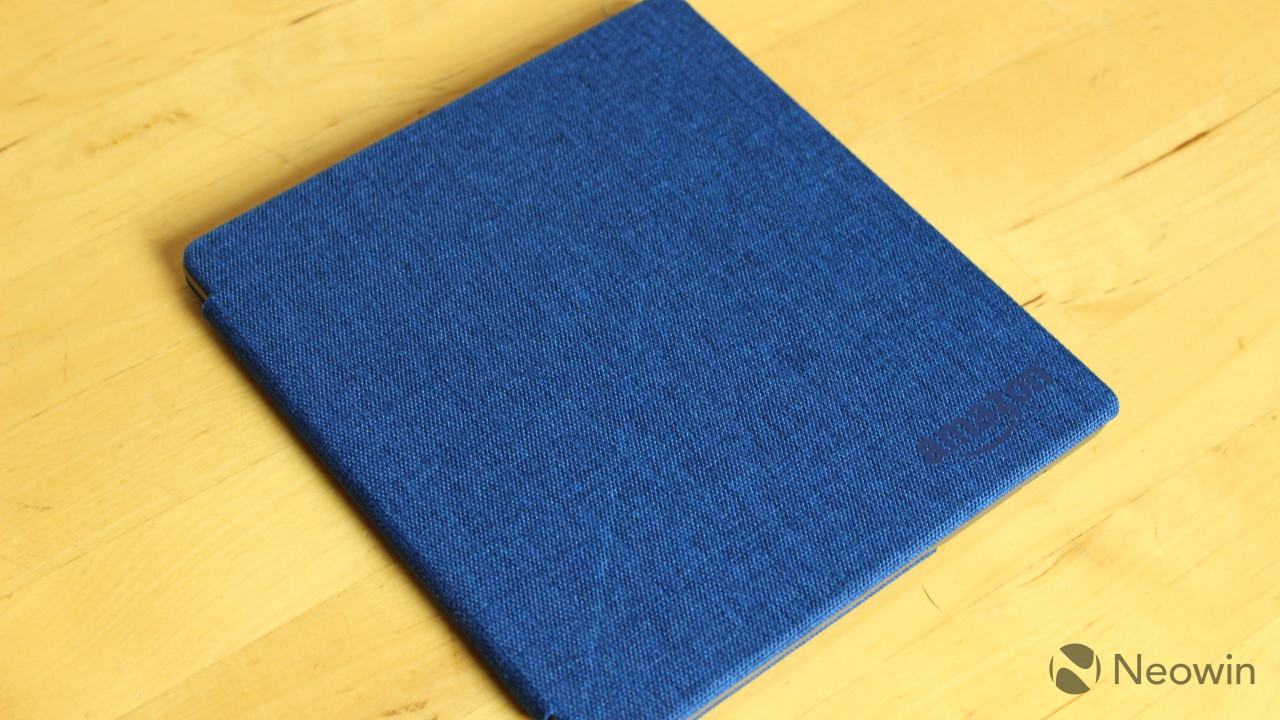 Make no mistake; this is for someone that wants the best reading experience possible. The anti-glare screen is perfect for reading outdoors, something that you wouldn't get with an LCD. And the unique design of the Kindle Oasis makes it more comfortable to hold than other e-readers.
I really can't recommend it as an upgrade from last year's Kindle Oasis, although I do appreciate that it doesn't use the battery cover anymore. That model was so thin and light though that it was a delight to use.
But for everyone else, it's still the best e-reader experience on the market.
Pros
Larger display No battery cover Built-in Audible Adaptive light Physical buttons Spine