Earlier this year, I reviewed the Lenovo ThinkBook 13s, but that device came alongside a larger one, the 14s. Now that device is in, and it's a very similar machine. It's a bit bigger, and it has dedicated graphics, but it's just as awesome.
If you're unfamiliar with the ThinkBook brand, that's OK, because it's new. It's pretty much Lenovo rethinking its Think business laptops. There are plenty of people that love ThinkPads, but there are also plenty of people that don't like them at all. The latter people don't want TrackPoints, the traditional black color, or that annoying placement of the Fn key (to the left of the Ctrl key).
The ThinkBook 14s is more of a traditional laptop. It has an aluminum build, a shallower keyboard, no TrackPoint, and no physical buttons on top of the trackpad. But this is an all-around great PC. The performance is fantastic, as is the keyboard, and it has some great, common sense features.
Specs
CPU
Intel Core i5 8265U (1.60GHz, up to 3.90GHz with Turbo Boost, 6MB Cache)
GPU
AMD Radeon 540X 2GB
Display
14.0" FHD (1920 x 1080) IPS, anti-glare, 250 nits
Body
12.7x8.77x0.65" (322.5x222.8x16.5mm), 3.28 pounds (1.49kg)
Ports
(1) USB 3.1 Gen 2 Type-C (audio, video, and data transfer)
(2) USB 3.1 Gen 1 Type-A (one always-on)
(1) 3.5mm combo audio
(1) HDMI 1.4b
Storage
256GB SSD PCIe-NVMe M.2
RAM
8GB DDR4 2400MHz
Battery
Up to 11 hours 45Wh
Audio

Dolby Audio
2 x 2W Harman speakers
Dual-array, noise-cancelling mics, optimized for voice recognition

Keyboard

Spill resistant
Backlight with white LED lighting
Hot keys enabled for Skype calls
One-piece precision touchpad

Material
Aluminum
OS
Windows 10 Home
Price
$731.40

Note that the normal price of this model is $1,219, and the price above is the current price on Lenovo.com. It's same to expect that it will never be sold for full price, as there's always some discount going on, but the price does fluctuate.
There are only four models, and they're not customizable. The base model will run you $647.40 for the same CPU, 4GB RAM, and a 128GB SSD. You can also spec it out with a Core i7-8565U, 16GB RAM, a 512GB SSD, and Windows 10 Pro for $1,007.40, so the pricing on this PC is pretty great.
Day one

Design
If I could say one thing about the design of the Lenovo ThinkBook 14s, I'd say it's just right. It feels sleek and clean, but at the same time, it's not too flashy. It's not too thick, too thin, too heavy, or too light. It just feels right.
It's made out of aluminum, and the color is what Lenovo is calling Mineral Gray. In other words, it's not just another MacBook clone like the silver-colored aluminum laptops that we see so many of.
On the bottom-right of the lid, there's the all-new ThinkBook logo, with the Lenovo logo on the top-left sift. Both of these are just dark gray, adding to the clean feel of the look, rather than a ThinkPad, which has a silver logo on a black logo with a red dot on the 'i'.
It's also durable. Lenovo says that it can handle spills from up to 60cc of water, and the zinc-alloy hinge can be opened and closed 25,000 times.
The back of the PC has a barrel hinge, which once again blends in with the rest. The hinge is 180 degrees, so the PC can lie completely flat if you want it to.
On the left side of the device, there's an AC power port, an HDMI 1.4b port, a USB 3.1 Gen 2 Type-C port, and a 3.5mm combo audio jack. You read that correctly; there is an AC power port, and that's because you can't charge with the USB Type-C port. This is the biggest pain point that I've had with the ThinkBook series. I want to use one of my own USB Type-C chargers, and I can't. This PC requires its own special charger, and it's the only 65W Lenovo charger that I've seen shipped with a laptop in years.
One thing that's cool is that the Type-C port is USB 3.1 Gen 2, meaning that it supports 10Gbps data transfer speeds. Most non-Thunderbolt Type-C ports are USB 3.1 Gen 1, which supports 5Gbps. Still, I have to wonder if it wouldn't be more cost-efficient to use USB 3.1 Gen 1, ditch the AC power port, and just use USB-C for charging.
I'm not sure why you can't charge with USB Type-C, although I'm sure it has to do with hitting a certain price point. Like I said before, the price point on ThinkBooks is pretty sweet. It probably also has to do with supporting existing chargers that SMBs have.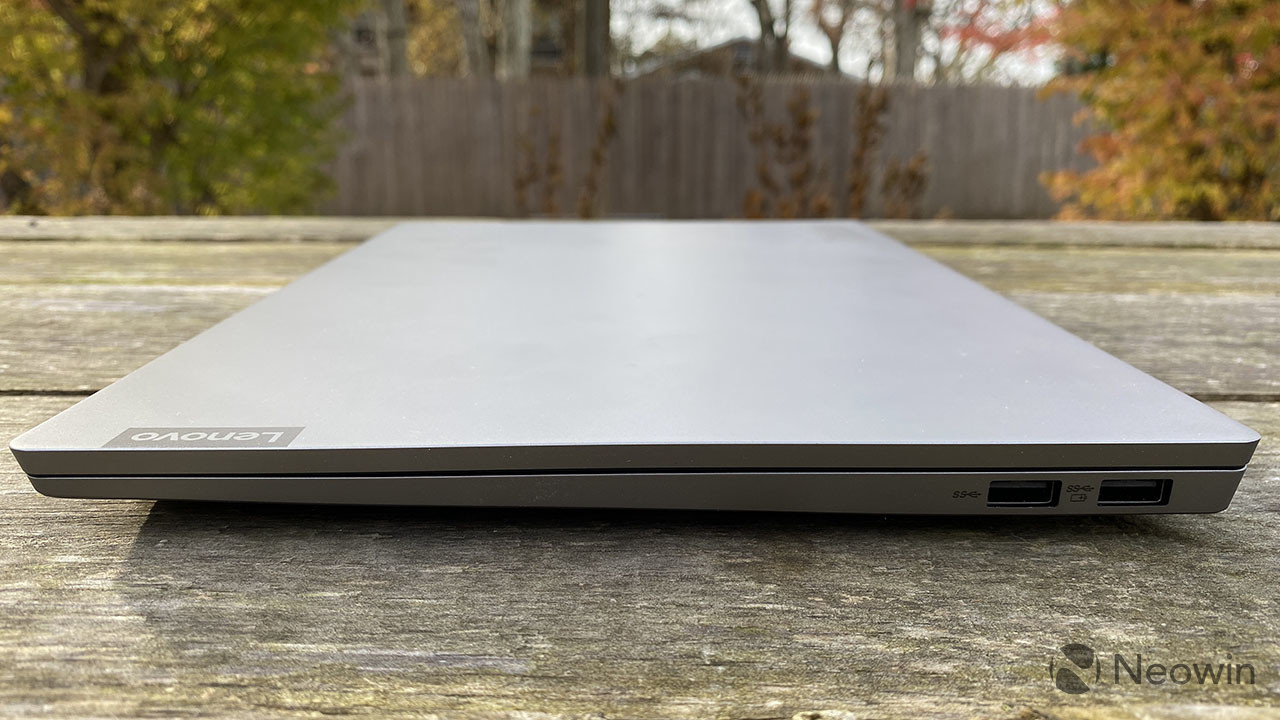 On the right side, there are two USB 3.1 Gen 1 Type-A ports. I think that the ThinkBook 14s has all of the ports that most small to medium size businesses will need. The inclusion of HDMI is nice too, although it's HDMI 1.4b, which means that you probably won't want to plug it into a 4K screen.
Display and audio
The ThinkBook 14s includes a 14-inch 1080p anti-glare display. There's no support for touch, and there aren't any configuration options. If you want a higher resolution or something, you'll have to look elsewhere.
I've described this PC as a larger version of the ThinkBook 13s, but that's not exactly true when it comes to the display. The 13s also only had one option, which was 13.3 inches, 1080p, anti-glare, and also without touch, but it was 300 nits. The ThinkBook 14s only has 250-nit brightness.
It's an issue. The anti-glare screen does its best at blocking glares, but there's only so much it can do. If you're using this PC in direct sunlight, you're going to have a problem. And yes, the brightness is maxed out in the image above.
The screen has narrow bezels on the sides, coming in at under 5.5mm. The top and bottom bezels are a bit bigger, and the top bezel has a ThinkShutter privacy guard built into the webcam, so you don't need to put a piece of tape over it.
On the bottom of the laptop, you'll find two 2W Harman speakers, and they're actually pretty fantastic. My gauge for if speakers are loud enough is if I can turn them up to 100 and feel uncomfortable. The ThinkBook 14s passes that test.
Keyboard, trackpad, and fingerprint sensor
The keyboard on the ThinkBook 14s is one of my favorites. Here's the thing. ThinkPads are renowned for having some of the best keyboards around, and they definitely do, but they're not very modern anymore. In 2019, most thin and light PCs don't have a full 1.5mm key press anymore.
The ThinkBook 14s definitely has a shallower keyboard, and it feels more modern without compromising that quality that I've come to expect from Lenovo. While it's shallower, the resistance makes up for it, and it's accurate and precise.
There's also no TrackPoint, which by probably most accounts, is a relic from a long-ago age. I've only used it for testing purposes on the various ThinkPads I've reviewed. Don't get me wrong, as there are definitely TrackPoint die-hards out there, but those are the people that buy ThinkPads, not the people that ThinkBook was built for.
It uses a Microsoft Precision trackpad, and it gets the job done. I do miss the physical buttons that you find on ThinkPads, since they just make drag-and-drop operations easier. But this one is clickable responsive. It's also pretty large, which is nice.
I also want to call attention to the power button, which doubles as a fingerprint sensor. You might have noticed when I mentioned the webcam that there's no IR camera for facial recognition, but that's OK, since this fingerprint sensor is so good. In fact, it's better than any sensor I've ever seen on a ThinkPad. Plus, unlike ThinkPads, it's built into the power button, which has its own benefits.
When you press the button to boot up the PC, it automatically logs you in, so you don't need facial recognition. Unlike PCs from Dell that have a fingerprint sensor built into the power button, you don't have to press it again after it boots up. Dell actually thinks it's a security risk. It has a time limit, where if a PC takes longer than that time to boot, they assume that you might have walked away from your PC.
I have to wonder if the ThinkBook 14s would pass that test, because it boots fast, possibly faster than any other PC I've used. No really, it's weird how fast this thing boots.
Performance and battery life
The model that Lenovo sent me includes an Intel Core i5-8265U, 8GB RAM, and a 256GB SSD. The specs are pretty mainstream, but oddly enough, the performance is most definitely premium. As I noted above, it boots up weirdly fast, and the overall experience is a continuation of that.
Battery life doesn't disappoint either. I got a solid six hours of use out of it doing a variety of tasks, and you can probably stretch it to eight or nine hours if you do things that don't use too many resources. For example, if you watch locally stored videos constantly, you can get over 10 hours from it, but I don't think anyone in the world actually uses a PC that way. Streaming video, you'll get more like nine hours, and it goes down from there.
The Intel Core i5-8265U is a quad-core 15W CPU with eight threads from the Whiskey Lake family. Obviously, this PC came out before 10th-generation processors were a thing. It's pretty standard for a laptop or convertible, and I suspect that even if it did have a 10th-generation 'Comet Lake' processor, there wouldn't be much of a performance boost from the Core i5.
It also has an AMD Radeon 540X 2GB GPU, which is a nice boost when you need it. Any 2GB mobile GPU won't exactly get you playing games with ray tracing or editing 8K video, but what it does get you is a boost over integrated Intel UHD Graphics. In other words, it's better than not having it.
For benchmarks, I used PCMark 8 and PCMark 10.
| | |
| --- | --- |
| PCMark 8: Home | PCMark 8: Creative |
| | |
| | |
| PCMark 8: Work | PCMark 10 |
| | |
| | |

Even the benchmark scores are weirdly good, particularly on the Home test. It was the same story for the ThinkBook 13s. I don't know what special sauce Lenovo is putting in these things, but it should really be sharing the recipe with its other teams.
Conclusion
As was the case with the ThinkBook 13s, the ThinkBook 14s is a real winner for the price. You can get a heck of a lot for under a thousand dollars, and it's more than the sum of its parts. This is a great PC.
There are two big problems though. One is that it doesn't charge with USB Type-C, and that's particularly annoying. The other is that the screen is too dim, so if you're thinking about using it outdoors a lot, it's not for you.
What you do get is a solid aluminum design, a fantastic keyboard, and a fast fingerprint sensor that scans your fingerprint before it boots up. It boots fast, performance is great, and battery life is long.
And this PC only costs $731.40. This is designed for SMBs, so at that price point, choosing a bunch of these to hand out to a team should be an easy decision.
Pros
Performance Fingerprint sensor Keyboard and trackpad Design Value for price
Cons
No USB Type-C charging Dim display