Announced at what would have been Mobile World Congress this year, Lenovo's ThinkPad L13 Yoga is the most inexpensive convertible that the ThinkPad lineup offers. At a $899.99 price point, this convertible offers some of the features that I love about the X1 Yoga, like its built-in pen garage with the ThinkPad Pen Pro, and MIL-STD-810G toughness.
This year's model comes with Intel's 10th-generation processors, and the one that Lenovo sent me has a Core i5-10210U, along with 8GB of RAM. Another thing new to this year's model is the ThinkShutter privacy guard, which fits into slimmer bezels.
For an entry-level ThinkPad, there's a lot to like here, as long as you don't mind living without the bells and whistles of something more premium. You can think of this as a no-frills ThinkPad convertible, checking the boxes that you need and leaving out the rest.
Specs
CPU
Intel Core i5-10210U
GPU
Intel UHD Graphics
Display
13.3" (338mm) FHD (1920x1080), anti-reflection, IPS, 300 nits, 16:9 aspect ratio, 800:1 contrast ratio, 72% gamut, 170° viewing angle
Body
12.26x8.62x0.69" (311.5x219x17.6mm), 3.17lbs (1.43kg)
Storage
256GB SSD M.2 (2280) PCIe NVMe Opal2
Memory
8GBx1 DDR4 2666MHz
Ports

(2) USB 3.1 Gen 1 Type-A (one always on)
(2) USB 3.1 Gen 1 Type-C
(1) HDMI 1.4b
(1) Ethernet extension connector
(1) MicroSD
(1) 3.5mm combo audio
(1) Smart card reader

Connectivity
Intel Wireless-AC 9560, Wi-Fi 2x2 802.11ac + Bluetooth 5.0, M.2 card
Camera
720p HD, fixed focus
Input
6-row, spill-resistant, multimedia Fn keys, LED backlight; TrackPoint pointing device and buttonless Mylar surface touchpad, multi-touch
Audio
2W x 2, Dolby Audio Premium, dual-array microphones
Battery
46Wh, supports Rapid Charge (charge up to 80% in 1 hour)
Pen
ThinkPad Pen Pro, active pen for multi-touch display, on-board garage
Windows Hello
Fingerprint sensor
OS
Windows 10 Home
Material
Display cover: Magnesium/Aluminum
Bottom: GFRP (Glass fiber reinforced plastic)
Price
$899.99

Day one
Design
The design of the ThinkPad L13 Yoga is pretty standard for the brand. If you were to imagine what a 13-inch mid-range ThinkPad convertible would look like, this is it. It comes in any color that you want, as long as it's black, it has the familiar silver-colored hinges, and it has the familiar grayish-silver ThinkPad logo on the lid, although it's not stamped like on more premium ThinkPads.
The lid is made of magnesium and aluminum, while the base is made out of glass fiber reinforced plastic. All of this adds up to a package that weighs in at 3.17 pounds. This is a bit on the heavier side for a 13-inch laptop, but it's fine at this price point. The X1 Yoga weighs under three pounds and has a larger screen, but then again, it also will cost you a few hundred dollars more.
There's no shortage of ports of the ThinkPad L13 Yoga, which is a really nice change of pace. I've been seeing more and more business laptops that cut down on USB Type-A ports, so it's nice that this one has two of them. On the left side, there are two USB 3.1 Gen 1 Type-C ports, either of which can be used for charging. One of them is made for mechanical docking as well, although to be clear, it's not Thunderbolt 3; it does have an Ethernet extender though. That side also includes a USB 3.1 Gen 1 Type-A port and a 3.5mm audio jack.
On the other side, there's the second USB 3.1 Gen 1 Type-A port, HDMI 1.4b, a microSD slot, and a power button.
You'll notice some key compromises here though. If you want to connect to two 4K displays, the best way to do it is to use one in each USB Type-C port. Since they're not Thunderbolt 3, you can't use a dock to connect both on one port, or else they'll be 1080p. HDMI 1.4b can do 4K, but it can't do it at 60Hz.
The thing that makes this kind of hard to swallow is that Lenovo.com currently has a deal on a ThinkPad X1 Yoga with the same Core i5-10210U, 8GB RAM, and 256GB SSD for $1,149.99 ($1,209.01 savings). That also has HDMI 1.4 for some reason, but both USB Type-C ports are Thunderbolt 3. Obviously, when there isn't as much of a deal (there's always some deal), the ThinkPad L13 Yoga makes a lot more sense.
Display and audio
I quite like the screen on the L13 Yoga. It's 1080p with a 16:9 ratio, which is pretty standard for business laptops. What I like about it is that the colors seem really vibrant, and it actually exceeds my expectations for a mid-ranger. It seems to have a 178-degree viewing angle, meaning that you can view it from any side without any visible color distortion. Indeed, the screen seems more premium than anything else.
It also seems pretty bright, considering that it's only 300 nits. Using it outside in bright sunlight wasn't optimal, but using it in the shade was a pretty great experience. I was impressed by this as well, given how glossy it is.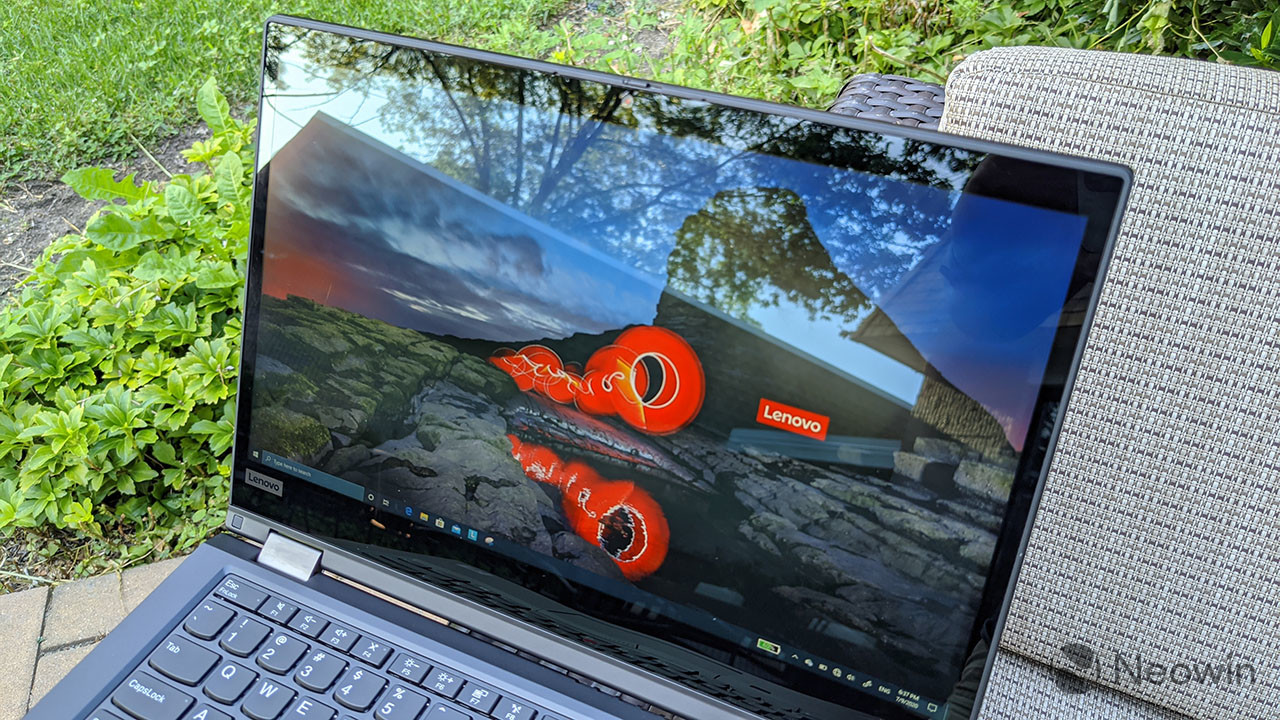 It does have pretty big bezels though. They've certainly been slimmed down from the previous generation, but there's still a big top bezel and a massive chin. That top bezel does include a ThinkShutter privacy guard, which is new to this model. It's nice to have if you're the type to put a piece of tape over the webcam, and you don't have to worry about it blocking facial recognition, since there's no IR camera.
This PC does have pen support with the pen that's built into the chassis. This is one of my favorite things about ThinkPad convertibles. It's an easy way to always have the pen with you if you don't use it all the time. There are many methods for pen storage, such as the magnet that Microsoft uses on Surfaces. The problem with that is that it gets in the way, and if you don't use the pen much, it's a pain point.
Having it built in makes life a lot easier. There's a con to this though, which is that the pen is smaller than a regular pen. Obviously, you can always use a third-party pen if this one doesn't fit your needs.
The L13 Yoga has two 2W speakers tuned with Dolby Audio Premium underneath the base. In terms of clarity and quality, the audio is great. In terms of volume, it's not as impressive. It sounds good, but it's not going to fill a room. Still, I think it's impressive for general, personal use.
Keyboard and trackpad
Just like the design, the keyboard is exactly what you'd expect. If you imagined a ThinkPad convertible keyboard, this would be it. ThinkPads are renowned for their keyboards, and this is another excellent one. But to be clear, it's also different.
There's a lot of depth to ThinkPad keyboards. Shallow keyboards are becoming more and more popular, even in business laptops. In fact, while ThinkPads are amazing PCs, one thing that Lenovo doesn't want to do is change. That's why we still have the TrackPoint nub in the middle of the G, H, and B keys.
Yes, these keys have a longer throw than most, but it still feels good to type on. It's one of the most accurate keyboards around, never having dropped key strokes and always feeling comfortable to type on.
The TrackPoint is never going away. I've reviewed many ThinkPads, and since so many of them have crossed my desk, I've tried to get used to it. Honestly, it just doesn't work for me. If you don't like it, just ignore it. This is a relic from the days of bad trackpads, and the problem is that there are these ThinkPad loyalists out there that would rebel if there were any changes. That's why Lenovo created ThinkBook, a new brand that sort of allows it to start from scratch with a modern PC.
Obviously, trackpads have changed a lot since the original days of the TrackPoint. This one is still fairly small though, thanks to the physical buttons above it. The trackpad itself is still clickable, of course, and those physical buttons are mainly there to be used with the TrackPoint nub. I like having physical buttons though, as they just make drag-and-drop operations easier.
One other thing I want to note is that there's a fingerprint sensor to the bottom-right of the keyboard. Fingerprint sensors have been a thing on ThinkPads long before Windows Hello existed, and it's pretty much a staple at this point. While it's always disappointing to not have an IR camera for facial recognition, it's nice to at least be able to use a fingerprint for biometric authentication.
Performance and battery life
The specs on this PC - an Intel Core i5-10210U, 8GB RAM, and a 256GB SSD - are pretty mainstream. Because of that, you can expect mainstream performance, and that's fine. You can obviously configure it with a Core i7 and 16GB of RAM if you want a little boost; it would also help to be a bit more future-proofed. Note that the Core i7 options that you can configure it with are the Core i7-10510U or Core i7-10610U, so you can't get the hexa-core Core i7-10710U.
The Core i5-10210U is from the Comet Lake family, as all CPUs in business laptops with 10th-gen processors are. That's because Comet Lake offers vPro variants, and Ice Lake does not. The CPU in the model that Lenovo sent me isn't vPro, but vPro versions are available for $68 more.
Battery life is pretty standard as well. With average usage, you'll get around six hours of usage. Obviously, that can vary based on what you're doing with it. What's nice is that it supports Lenovo's Rapid Charge, promising 0-80% battery life in an hour. It does come with a 65W charger, so even if you're running out of battery, you can juice it up quickly.
For benchmarks, I used PCMark 8 and PCMark 10.
| | |
| --- | --- |
| PCMark 8: Home | PCMark 8: Creative |
| | |
| | |
| PCMark 8: Work | PCMark 10 |
| | |
| | |

As you can see, these scores are pretty standard. It really excels on the PCMark 8 Work test, because that's what the U-series Core i5 is designed for. It's made for productivity.
Conclusion
Those that follow me know that I love ThinkPads, and it's always a pleasure when one comes across my desk. They're always really well-built machines, with MIL-STD-810G durability, phenomenal keyboards, and some great design choices, like the built-in pen.
As I mentioned right from the beginning, it's missing a bunch of the perks that you'll find on something premium like the ThinkPad X1 Yoga. There's no Thunderbolt 3, there's no IR camera, it has bigger bezels, and it's heavier. That's most of what you're missing though.
This does check the boxes you need. The model that Lenovo sent me has mainstream performance, although as with all ThinkPads, you can configure it however you want with tons of choices. If you want to check it out, you can find it on Lenovo.com here. This model is also available on Best Buy's website.
Pros
Lots of ports Premium display Built-in pen Keyboard and trackpad
Cons
No Thunderbolt 3 No IR camera