It's that time of the week again where we showcase a review submitted by a member in our forums. Remember that we consider all reviews that are submitted here. Who knows, your review might make the front page!
This week we've chosen articuno1au for the Corsair Vengeance K90 Mechanical Keyboard review; this keyboard was also reviewed by our very own Tim Schiesser earlier this month, but here is what articuno1au thinks of it.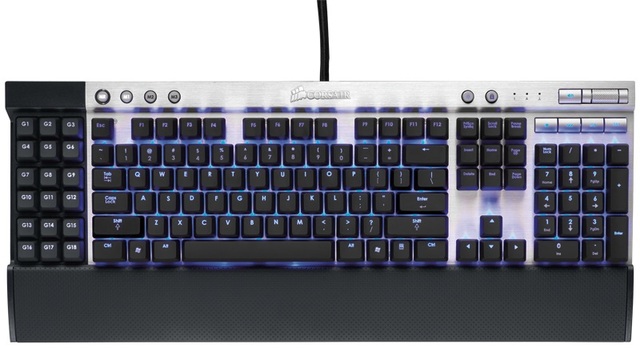 Introduction
Given the keyboards role as the most used peripheral attached to a computer, it's surprising that a majority of users are happy to go with cheap everyday keyboards for their typing needs. When my third Razer keyboard gave out due to heavy usage, I decided to look into the re-emerging market of mechanical keyboards to see what all of the hype was about.
Keyboards are one of the few areas in computing where technology appears to have receded rather than progressed. The first keyboards on computer systems used mechanical switches to detect the depression of the keys. As time passed, economics took over and cheaper alternatives to mechanical switches were found. The cheapest of these alternatives is the dome-switch; which took over as the mainstream technology. These dome-switches are by all accounts an inferior technology. Whilst not in the scope of this review, a full recounting of the benefits of mechanical switches is available.
Having researched thoroughly the available mechanical keyboards, and taking into account my bad track record with Razer products, I finally decided on Corsair's K90. Without further ado.
Specifications
Courtesy of Corsair's product page.
Light, responsive Cherry MX Red mechanical switches for fast, efficient gaming action
45g actuation force
2mm to actuation and 4mm to bottom
Rated for 50 million operations
Gold contacts
Tuned silicon dome key switches: F1 through F12, Esc, PrtScn, Scroll Lock, Pause/Break, Insert, Home, Page Up Page Down, Delete, and End
Three banks of eighteen G Macro Keys with Macro Record and Bank Select hot keys
36Kb of on-board memory for storing up to three sets of eighteen G keys for gaming on the go
Laser-etched, backlit keys with four illumination levels (off, 66%, 75%, and full illumination) selectable from the keyboard
Six multimedia keys — Stop, Previous, Play/Pause, Next, Mute, Volume Up/Down — with Solid metal, weighted volume "drum roller"
Windows Lock key for uninterrupted game play
Metal top plate for increased strength, durability and rigidity
USB pass-through connector giving easy access to a USB port on the back of the keyboard
2m non-tangle cable Adjustable feet tilt for optimum personalisation and positioning