Introduction
Computer system and overclocking specialist Overclockers UK have been selling pre-built gaming systems, catering for all budgets, for many years. So when they approached me to review one of their Titan VR10 machines equipped with an nVidia GTX 1080, I couldn't pass up the opportunity.
Today, PC gaming is within easy reach of more gamers than than ever before. With the likes of Origin, uPlay and STEAM, games can be bought, downloaded and played in less than an hour in many cases.
Component prices are also more competitive today. A mid range CPU can typically accompany a modern next-gen graphics card such as a GTX 1060, and allow you to play games with visual settings turned up at 1080P.
This review will focus on the product itself, rather than delve into technical frame rate analysis of games and run benchmarks. I am doing it this way for a number of reasons, chief of which is the abnormal nature of the component pairing in this system.
The GPU is top end, but the CPU and motherboard won't be fully realising the GTX 1080's potential. Although they will run games just fine.
A system like this might give those on a budget an idea of what to expect, or those who already have a similar system, and just want to increase graphics horsepower.
"GeForce GTX 10 series is built to meet the demands of next-generation displays" - OcUK
The Titan VR10 ForceBox is advertised as a system geared for nVidia's Geforce 10 series graphics cards.
During this review, I will be focusing on overall observed system performance, as well as performance during gaming and CPU/RAM utilisation.
The games I will be testing are Doom (2016), Wolfenstein: The Old Blood (2015), and Alien: Isolation (2014). All three of these games are known for their graphical quality, as well as how taxing they can be at their respective ultra graphical settings at 4K resolution on lesser graphics cards.
4K is the focus here. A GTX 1080 is no slouch, and I wanted to see how it could handle games at a resolution of 4096x2160.
Specifications
| | |
| --- | --- |
| Case | Phanteks Enthoo Evolv |
| Power supply | Kolink KL-600 |
| CPU | Intel Core i5-6400 (2.7GHz, boost @ 3.2GHz) |
| RAM | 2x 4GB Team Group 2400MHz (DDR4) |
| Motherboard | Asus H110I-Plus miniITX (Intel Skylake) |
| Core connectivity | 4x USB2.0 (rear), 2x USB3.0 (rear), 2x USB3.0 (front) mic, line-in, speakers out, Gigabit LAN, HDMI, VGA, DVI |
| Graphics | Inno3D GTX 1080 8GB Founders Edition (HDMI, DVI, 3x DisplayPort) |
| Sound | On-board 7.1 HD |
| Storage (OS) | Kingston V300 120GB SSD |
| Storage (data) | Seagate Barracuda 1TB HDD |
| OS | Windows 10 |
| Price as specced | £1285 (International shipping costs will vary) |
The price might seem expensive at first glance, but when the individual component prices are broken down, it makes much better sense. The GTX 1080 (£619), i5-6400 (£179), and the Phanteks Enthoo Evolv (£99) account for £897 alone. once you add an OS, HDD/SSD and other extras, it all adds up.
As I have already mentioned, the GTX 1080 does seem an odd pairing with the rest of the system specs. The motherboard only allows for 8 PCI Express lanes where the GPU can handle 16, so the full potential is immediately limited here. And I predict some CPU bottlenecking might be at play in some games.
I have never heard of Kolink before, a quick search shows that they appear to make cheap PSUs, the KL-600 retails at under £40, for example, and no reviews for them appear to be online which doesn't fill me with confidence. Make of that what you will, but my personal preference would be to switch the PSU out for a well regarded one.
As an example, a Corsair CX600M is also 80 Plus Bronze certified, and outputs 46A on the +12v line with a max power rating of 552W. The KL-600 above is 37.5A with 450W.
Having said that, after some further digging, I found that Kolink are the people behind Noctua, and as many of you will already know, Noctua make some top quality products.
Build quality and features
The VR10 uses the Phanteks Enthoo Evolv mATX case. I have only ever heard good things about Phanteks, so was pleased to see that my expectations for a high quality case were easily met.
The panels are nicely textured, tapping them results in a confident noise rather than a hollow reverb as often found on cheaper cases.
There is a single 180mm intake fan, with vents and mount points for additional fans at the back and top. Removable dust filters for the front and PSU intakes are also included. In usage, I found the single intake to be sufficient, as there are plenty of exhaust vents for ambient heat to escape in such a case design.
Both the i5 and GTX 1080 are power efficient components, and there wasn't a great deal of heat generated in any condition. Cooling was certainly nothing to worry about.
During gaming, the fans ramp up and became slightly more audible. During normal desktop use, or when watching videos, the VR10 was near silent, making for an excellent system to either work, or be entertained without a whirring distraction.
The UEFI BIOS shows a healthy amount of information about the status of the system. At an ambient room temperature of just over 23 degrees, the CPU temp showed a steady 29 degrees until a game was fired up, at which point it rose to the mid 40s.
The 1TB HDD is hidden away under the SSD bracket. It is quite hard to get to from the main side panel without removing the SSD. Although for easy HDD access, you can remove the other side panel and use the HDD release pinch instead.
The system builders at Overclockers UK did a fine job of hiding away any messy cabling. Even on the other side, cables were tied down securely with the built-in velcro fasteners. This makes cleaning relatively easy, as dust will collect on even the most filtered of cases out there.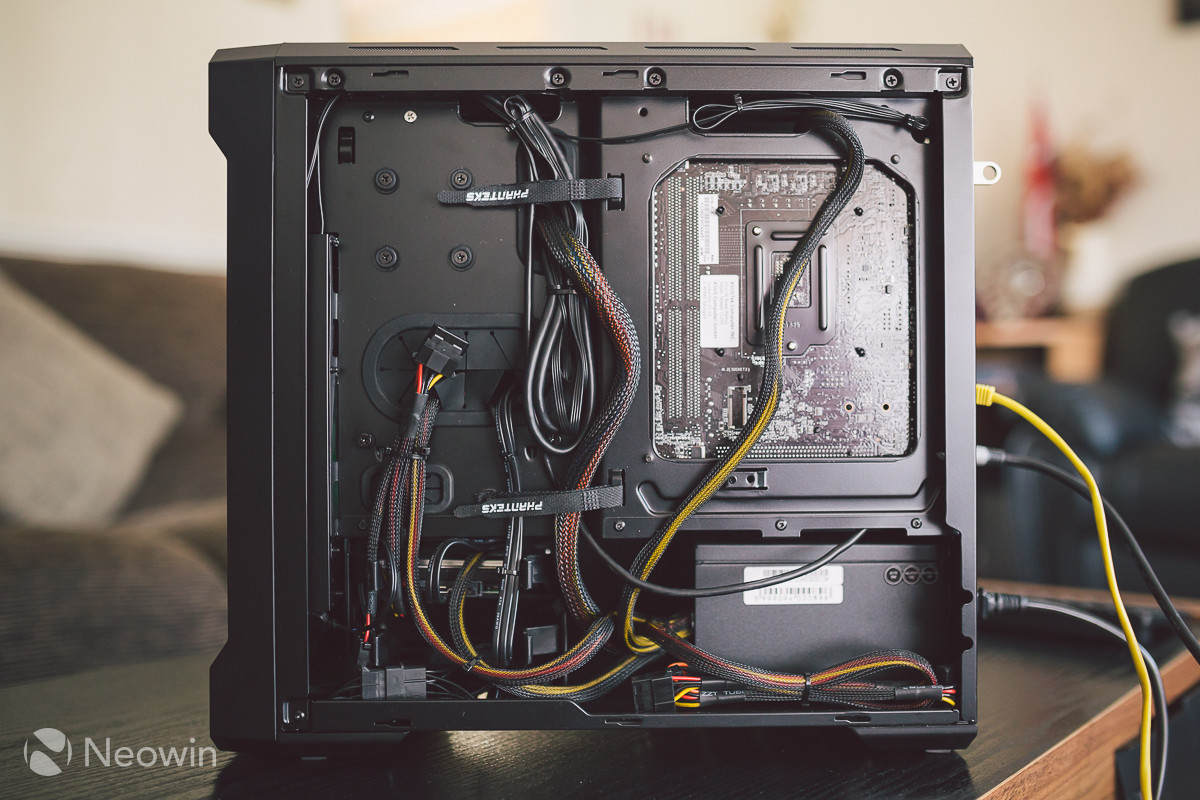 The green LED strips are not part of the Phanteks case, but instead have been added by Overclockers UK. They provide a green glow through the front panel openings, and there is no way to control brightness, so they could become annoying if the PC is placed on top of a desk and is being used in dim lighting.
I also found that removal of the front dust filter was problematic due to the way the LED strips had been taped onto it. The strips could have been secured a different way I feel, perhaps on the front panel itself, or from inside the case, as the light would still shine through the dust filter mesh.
Performance
DOOM
id Tech 6 powers the latest shooter, and it is absolutely beautiful.
Although when standing up close to some textures, they can look a little fuzzy on a 65" display at 2160P resolution. regardless, performance was a constant 60fps. I could not unlock the framerate on Doom sadly, and Vsync was off. At least it is good to know that with every setting turned to maximum, the game never once flustered on the GTX 1080 and i5-6400 combo. This was in the default OpenGL mode. I found that Doom's Vulkan mode to be too buggy to give a confident verdict.
WOLFENSTEIN: THE OLD BLOOD
Even though Wolfenstein isn't as luscious as Doom, it still offers good paced action and quality graphics all the same. However, the performance was just not up to scratch with Doom. On average, I was pulling 35-45fps at 2160P with 4x antialiasing . Dropping this to 2x resulted in slightly improved performance, but I was unable to maintain a solid 60fps.
Dropping the resolution to 1440P, or lowering the graphical settings was the only way to ensure a minimum of 60fps with this game.
I wanted to see if the i5-6400 was holding the GTX 1080 back, so had Windows performance monitor running to track CPU usage. High utilisation can be seen, and the reason for the low minimum framerate was clear.
ALIEN: ISOLATION
The space bound scare-a-thon hit 85fps in many instances, and always stayed above 60fps. Like Doom, every setting was maxed. This game is the oldest of the three, but is easily just as stunning visually, and in most cases, has a greater level of texture detail up close.
Conclusion
As a gaming PC, then, the ForceBox VR10 is very good. two out of the three games I played on it at 4096x2160 gave at least a constant 60fps with all graphics settings set to maximum. Sadly, games with a strong focus on CPU power to maintain a higher minimum framerate will show the flaw in mating a high end GPU with a lower end CPU.
I should comment on just how quiet the VR10 is during gaming, I was able to enjoy the spooky ambience aboard the Sevastopol in Alien: Isolation, without being distracted by fan noises.
The VR10 is not without faults of course, the Kolink PSU raises questions, the LED strip placement needs to be revised, or perhaps even removed entirely. And while it looks nice, I can't help but feel the Enthoo case would look even more elegant with no lighting. The x8 PCI Express lane also limits the full potential of the GTX 1080.
In desktop applications, from browsing the web, to managing files and running applications, the VR10 performed as I'd expect from this spec. Although at times I could feel that the i5-6400 perhaps wasn't as snappy at multitasking applications at the kind of speed that I'm used to on an i7 system. Consulting the VR10 product page, I notice that there is no i7 option. The highest that can be selected is the i5-6600.
Overall, I was mostly pleased with the gaming performance of the VR10. it does what it says on the tin, and does it quietly. Unlike many other pre-built gaming computers out there, it doesn't look like the helmet of a Power Ranger either.
It would be nice to see more choice when configuring a VR10 PC. A selection of compatible motherboards and power supplies for each budget bracket would make it perfect. The Kolink KL-600 may be good, or it may be bad. There isn't enough information out there to confirm, and with such an expensive graphics card in such a system, I'd rather take the side of caution and replace it with something proven.
I am happy to give the VR10 with GTX 1080 a rating of 8. A couple of points must be knocked off due to the limited component options offered.
If you would like to price up your own VR10 system, then be sure to check out the configurator page over at Overclockers UK.
Pros
Phanteks Enthoo case Quiet operation Tidy system build 2160P performance
Cons
Questions over PSU choice LED strips hinder dust filter No i7 option on configurator Only an x8 PCI Express lane