Somehow I think readers of this review won't really appreciate the size of the Samsung Galaxy Note II until they get in their hands. This is a gigantic phone, for people with gigantic hands and gigantic needs; it has a gigantic screen, gigantic amounts of processing power, a gigantic battery and also a gigantic price tag. Have I mentioned how gigantic the phone is?
The Galaxy Note II is the Galaxy S III-inspired sequel to last year's note-taking, business-oriented master - and it's back with more power and more features. Pretty much everything has been refreshed in some form on the Note II, some for the better and also some for the worst (in typical Samsung fashion).
Big thanks to MobiCity Australia, who sent across the Galaxy Note II for me to review. Apart from the Galaxy Note II they have pretty much every phone you can imagine, and often your favorite carrier doesn't have the exact phone you're after, so check out MobiCity for great deals and service getting unlocked smartphones (they have a UK site as well!).
Specifications
Internally, the Galaxy Note II is like a juiced-up Galaxy S III, which in turn is already a huge improvement over the first Galaxy Note. The screen comes in at a whopping 5.5-inches with a resolution of 1280 x 720, and at this pixel density you'll be glad to hear this is a non-PenTile Super AMOLED HD panel. The screen is protected with Gorilla Glass 2, which is coated with something awesomely smooth.
The processor is the same Samsung-made Exynos 4 Quad that was first seen in the GS3, although it receives a speed bump to 1.6 GHz across the four ARM Cortex-A9 cores. RAM is also increased to 2 GB, and the maximum storage can go up to 64 GB plus a 64 GB microSDXC card. All of these upgrades naturally require a bigger battery, which sees a bump to 3100 mAh compared to 2500 mAh in the original Note.
As far as I can tell the camera module used in the Note II is identical to that in the Galaxy S III, meaning we should be seeing great shots on the 8-megapixel shooter. There is an absolute bucket-load of camera-related features on the Note II, so be sure to check out the camera section of this review below.
You can check out the full list of specifications below.
 
Samsung Galaxy Note II
Product Codes
N7100
GSM Bands
850 / 900 / 1800 / 1900
3G/4G Bands
HSPA 850 / 900 / 1900 / 2100
LTE 700 (some models)
Display
5.5-inch Super AMOLED HD at 1280 x 720
267 ppi pixel density
Corning Gorilla Glass 2
Processor
Samsung Exynos 4 Quad 4412
1.6 GHz quad-core ARM Cortex-A9 CPU
Graphics
Mali-400 MP4
RAM
2 GB
Storage
16/32/64 GB internal user storage
microSDXC slot
Connectivity
Wi-Fi 802.11 a/b/g/n (dual-band)
Bluetooth 4.0
A-GPS and GLONASS
NFC
DLNA/Wi-Fi Hotspot/Wi-Fi Direct
Camera
8 MP rear camera with BSI sensor and LED flash
1.9 MP front camera
1080p/30 video recording (rear), 720p/30 recording (front)
Slow-motion 480p/120 support
Ports
MicroUSB
3.5mm audio jack
S-Pen slot
Battery
Li-ion 3,100 mAh removable
Launch OS
Android 4.1 "Jelly Bean"
TouchWiz UX
Launch Date
September 2012
Size & Weight
80.5 x 151.1 x 9.4 mm
180 g
Price
Unlocked & Outright: $679 (16 GB) | Buy now!
Design
Samsung never learn, do they? Once again I'm reviewing a Samsung-made device with an absolutely horrendous build quality, the main culprit naturally being cheap, second rate plastic that encapsulates the expensive internal components. There is simply no valid excuse for this textural and visual shite Samsung serves on a platter, and I will continue to lambaste their atrocious decisions until I see change.
As the Galaxy Note II is larger than the Galaxy S III, the use of heavily rounded corners doesn't look so bad. The screen is a much larger rectangle, and the minimal bezel at the top and bottom of the display gives the illusion that the device is squarer than it really is. Plus, if the device really did have hard edges and corners, it would be even harder to hold and use than it already is.
While the design is slightly better in this respect, it doesn't stop the shockingly bad plastic from looking cheap and fake. A metal-colored rim runs around the sides of the phone, however as soon as you see it you easily identify that it's not in fact metal, but cheap plastic that feels even worse than it looks. The only good thing about the rim is it contains a power button on the right-hand side as opposed to the top, which is in just the right position for easy screen locking/unlocking.
The Note II that I received is a white model, and I assume the look Samsung was hoping for was glazed ceramic. However, just like the faux-metal rim, the ceramic illusion quickly falls away when you look more closely at the device - and the lack of texturing I would actually class as dangerous. Considering the gargantuan size of the phone, and the substandard slippery plastic back, there is a good chance the phone will simply slip right out of your hands during use (it almost happened to me on several occasions).
Hold the phone like this and it could slip right out if your hands are slightly sweaty
But the slipperiness doesn't just end there: thanks to the reduced grip you'll find yourself needing to support the bottom of the phone using your little finger, and as the phone weighs 180 grams this finger can actually get sore after periods of use. Then you'll go to readjust your grip to not have the phone rest on this finger and it'll slip right out of your hands.
It's not all bad though, and credit needs to be given where credit is due. The S-Pen, located in the bottom right corner of the phone, is relatively easy to remove but still sturdily in place when stowed inside the phone. The stylus is much easier to hold than in the first Galaxy Note, and it's not made from the same plastic as the phone's back cover so it won't slip out of your hand while writing.
The Gorilla Glass 2 that protects the display is coated with some sort of magical chemical that makes it very smooth (just like the GS3 and One X), which enhances the feel of using a touchscreen, not only with your fingers but also with the stylus. As it's Gorilla Glass, it's also very tough and supposedly hard to break (not that I tested it).
Samsung has included a large notification LED to the top left of the Note II's front, which makes it easy to see when you have important notifications to deal with. It's multi-color as well, meaning you can customize different colors for different types of notifications.
As I've already mentioned, to accommodate a 5.5-inch display this phone is simply enormous, and naturally that presents some usability issues. It's very hard to use one-handed as the jump from the top of the display to the bottom physical home button is huge, and it will require quite some shifting in your hands to get to. I found it hard to hit the menu button as a right-hander, and parts of the screen are pretty much off limits holding the phone in one hand as I'll explore in the display section.
This is a necessary, but extremely annoying one-handed usage position
So the right way to use the phone appears to be with two hands - one holding the phone and the other operating the touchscreen. This gets rid of a lot of the usability issues, however there are times when it's simply inconvenient to hold your phone with both hands, and at these times your punished for purchasing such a large phone.
As much as the large screen is useful - it facilitates easy note-taking, it's great for web browsing, superb for watching movies and so on - I believe 4.7-inches, in this generation of smartphones, is the maximum screen size before there are serious usability concerns. Before purchasing this phone you must be comfortable with these usability issues, otherwise you will get frustrated like me - and this is ignoring the glaring build quality issues.
Look like an idiot making calls with the Galaxy Note II
I highly recommend checking out the design of this phone in a store before making a purchase as you may find it's larger than you expect, and then down the track you may grow to dislike it rather than love it. Be sure you really want the specific Note II features such as the S-Pen, otherwise I would steer towards a smaller, more sensibly-sized and far easier to use phone.
Display
If you buy a Galaxy Note II, chances are it will be the largest phone display you have ever used. Seriously, the 5.5-inch 1280 x 720 Super AMOLED HD panel is simply enormous, just like the plastic body that encases it, and requires skill and practice to master efficiently using it.
The good news here is that at 5.5-inches and a pixel-per-inch (ppi) density of 267, Samsung did not need to resort to using a PenTile subpixel matrix to cram the 720p resolution in. As I've mentioned before, and as I'm sure you've heard, a PenTile subpixel matrix cheats the eyes by not giving an individual blue, red and green subpixel to each actual pixel. This means images and text can look grainy, and often color reproduction is not quite right.
You'll see from the right-hand enlargement that the subpixel arrangement is actually an RGB square, rather than a stripe. It seems to work well though.
With this Super AMOLED HD panel though, Samsung used the traditional RGB arrangement used in most LCD panels, and this gives the display a noticeably sharper look. Even though the display doesn't break the magical 300 ppi barrier for invisible pixels, at 5.5-inches you'll need to hold the phone further away from your eyes, and in doing so the lower pixel density is not as noticeable. 300 ppi is still ideal, but with the RGB stripe arrangement and screen size the lower density has been accounted for.
As the screen is so damn large, you'll be wanting to view quite a few photos and videos on this bad-boy. It's not quite Super LCD 2 standard, which as I've stated before remains the best quality display on the market, but this Super AMOLED holds its own in terms of color, contrast and viewing angles. The way OLEDs work straight away gives great contrast as to display black the screen is effectively off, and viewing angles are improved thanks to minimal glass between the diodes and your eyes.
Colors can appear oversaturated on the Galaxy Note II's display, but not so much that you'll be annoyed by it as the natural image isn't too far away. You'll probably end up liking how vibrant photos look on the display, and you won't end up caring that it may not be entirely true to life. You can try turning on "Natural" screen mode in the display settings, but at least to me this makes things look so much worse.
One problem I have with this displays is that, like many other AMOLEDs available, outdoor performance is not quite up to scratch. I often found it hard to read text on the display when using the phone out in the sun as the screen just can't go bright enough; a problem that isn't so bad on LCDs (especially LG's) with better white levels and overall brightness.
Apart from brightness, the other arguably bigger issue is the practicality and usability of such a giant smartphone display. Using the phone with two hands is no problem, but as I said in the design section, you'll not always be in a position to use your phone with two hands. When it comes to one-handed use, it's a real stretch to access all parts of the display - physically.
The green areas can be accessed with one hand position, the blue with a second, and the red are the awkward corners
To access all areas of the phone with one hand there are physically at least two positions the phone must be in your hands, and you'll need some practice to comfortably slide between the top and bottom hand positions. With these two positions, as I've highlighted above, you can reach the majority of the screen space, but not the entirety. To access the top-left and bottom-left corners you will need to stretch your thumb awkwardly, with the bottom-left corner being particularly uncomfortable to access.
The lack of sensible one-handed access to all areas of the display is a problem for everyday usage, one that I'm sure will frustrate users at some point and an even bigger issue for those with smaller hands than mine. There is a one-handed software mode that I'll explore later on, but this doesn't physically improve the accessibility of the display.
If you can put up with the usability issues you do get a decent, large display that's great for all sorts of business and media uses; but beware that it won't be great for everyone.
Software & S-Pen
Software plays a huge part in the success of the Galaxy Note II, as it determines how well the included S-Pen can be used. This is actually the first device I have been sent to review that has had Android 4.1 Jelly Bean included out of the box, so for a look at some of the new features included in this version of Android such as Google Now, check out our review.
→ Android 4.1 Jelly Bean review
Apart from Jelly Bean we still have Samsung's custom TouchWiz skin applied, and based on previous experiences I wasn't too glad to hear that it has remained basically unchanged visually from previous iterations.
As a fair bit of the software is the same as that included on the Galaxy S III, I have borrowed some portions of the software section from my previous review
Overall Style
Just like with HTC Sense and a whole bunch of other Andorid 4.0/4.1 skins, Samsung is trying to aim for consistency across all the apps on the device. Unfortunately, again like Sense, this backfires miserably because in stock Android 4.1 many apps follow the same design guidelines, while with an OEM skin there is a horrible mish-mash of skinned and unskinned elements.
TouchWiz has always been about adding features to the operating system along with visual flare. Many of the app icons on the Galaxy Note II version of TouchWiz make use of vibrant and stand-out colors, and a wide color palette is used across the skin. Samsung also favors the use of black as the base app color, which is probably due to the frequent use of AMOLED displays which favor black for power consumption reasons.
Compared to the 3D-style futuristic look of vanilla Android, which can look clean and professional, TouchWiz appears more cartoony and childish; often cluttered as well. Going from something as cultivated as the improved Google Search/Google Now app straight into one of Samsung's concoctions feels like an instant downgrade in visual quality.
Samsung's inconsistent use of flat colors with hard edges and gradients with rounded corners is nothing but confusing. Some visual elements make use of the stock-Android-inspired hard edges, such as the improved notification pane and contact lists; but on the other hand gradients still appear out in force like with UI buttons and text input boxes, as well as headers and numerous other things.
It almost seems like Samsung's software designers couldn't decided whether to continue using the old TouchWiz style or push towards a Jelly bean look, so they adopted both in a strange mix. The good news is that it doesn't look absolutely horrendous - obviously I far prefer stock Android as I have mentioned many times before, but it fits in better with the ideals of Android than Sense.
One other thing that must be mentioned is Samsung's use of a physical menu button on the device rather than the recent apps button. In ICS and Jelly Bean it's very clear that the menu button should be a legacy component, but Samsung is again refusing to fully adopt the future style and sticks with the old menu button. It doesn't impede usability much unless you're a multi-tasking master, but in my opinion it was the wrong move by Samsung.
New Features
I originally thought that the Galaxy S III brought a huge number of new features into the Android ecosystem, but with the Galaxy Note II Samsung is at it again to really try and make the experience well-featured.
Instead of the ring lockscreen Samsung opted for a cool ripple effect which I really enjoy, along with swipe-to-open applications. In the notification pane you also get a sliding pane of quick toggles, which comes in handy when you need to enable/disable things like Wi-Fi and Bluetooth, as well as brightness slider and a large settings button for more options.
Interestingly Samsung has included both Chrome and a skinned stock Android browser on the Note II. I would recommend using Chrome over the stock browser as it has a more robust feature set, and you might already be familiar with it after using it on a previous Android device.
Samsung has included a cool power saving mode which, when activated, limits certain functions of your device when the battery gets low. You can limit the maximum CPU performance and lower the power level of the screen, among other things that allegedly lengthen the battery life. If you check out further down the battery life of the Note II is outstanding already, so this only serves to improve it in dire situations.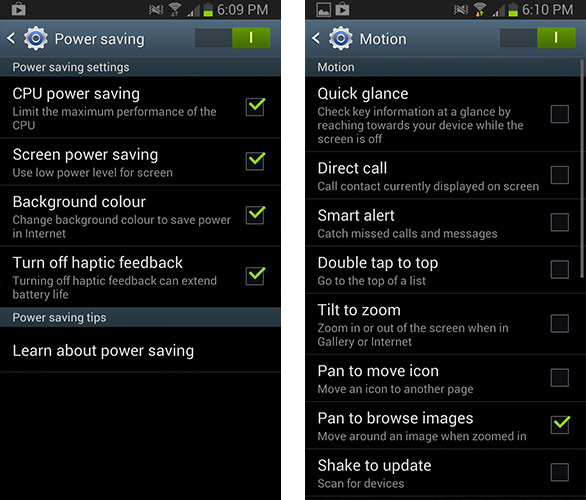 There are also a bunch of motion settings that utilize the various sensors in the device for advanced functionality. For example, you can set it so that when you are looking at a contact's info, and you bring the device to your ear, the person is automatically called. Some of the functions work well, but others - such as tapping the device to go to the top of the list - I found only worked sporadically.
I have to praise Samsung for the great music player app. It has all the features you want in a music player and more, including support for viewing lyrics, playing music from and to DLNA devices on your network and the cool Music Square feature. The music app analyzes your music collection and decides to what degree they fall between exciting and calm, and passionate and joyful. The resulting 5x5 square enables you to choose songs that suit the style and mood of music you are after, and it works surprisingly well.
One of the coolest features Samsung has implemented is called Smart Stay. It detects when you are looking at the screen (using the front-facing camera) and it disables the screen timeout in these situations; it comes in especially handy when you are reading lengthy articles online, for example. Smart Stay is complemented by Smart Rotation, which uses the front camera to disable rotation when you're lying down on a bed (for example).
No doubt these features uses slightly more battery life as it does activate the camera briefly, however it shouldn't be too bad thanks to the huge Galaxy Note II battery.
Easily the worst software feature on the Galaxy Note II is S Voice, which is no match for Siri on the iPhone 5. It consistently misinterpreted what I was trying to say, and it was painfully slow at answering questions, although I was surprised it answered things such as "when was Lord of the Rings released?". It isn't really a suitable replacement for doing things manually, especially typing messages because I can do that much faster and more accurately than S Voice.
I was disappointed by the inclusion of bloatware apps such as Samsung Apps, More Services, Game Hub and their ChatON messenger which is not particularly useful without other people using it. Unsurprisingly, no-one on my contacts list was using ChatON so that's an app I won't be revisiting or encouraging people to use.
I also found Samsung's stock calendar replacement, S Planner, to be more confusing and cramped compared to the vanilla Android app. It has some innovative features, such as the ability to link to memos and pictures, but these aren't killer features that justify an interface and usability downgrade. Luckily you can now download Google Calendar straight from the Google Play Store, so there is no reason to use S Planner at all.
As the size of the Galaxy Note II is so large, Samsung has included a few settings related to one-handed operation. You can reduce the size of the dialpad, keyboard, calculator and unlock pattern - and that's it. Apart from the one-handed keyboard, the other settings only improve some specific applications, and do absolutely nothing to help with the operation of third-party apps and the general usability of the phone; you'll still need to do some ridiculous finger stretching from time to time.
With the one-handed keyboard, yes, it is useful for the times when you only have one hand available. But that's not all the time, so you'll then need to go into the settings and disable the one-handed keyboard to get the larger two-handed one, and then back again for one-handed use. It's simply not practical to be always switching between the modes as you switch between using one and two hands, so its best to forget the feature altogether.
One last thing on the keyboard as well: it's a custom-skinned Samsung keyboard that is assumed to be better than the removed Android keyboard, however the autocorrection is absolutely abysmal. If you go to type a sentence and you're missing a couple of letters here and there, the Note II does absolutely nothing to fix even the smallest mistakes, instead thinking you'll press the correct suggestions rather than inserting them by default when you press space.
It is ridiculously frustrating to have to slow down your typing to make sure you hit the right keys, or to look at, and then tap on the word suggestions as they appear. There is no option to auto-insert suggestions after pressing space, and this is an important feature for touchscreen keyboards. Go download a third-party keyboard like SwiftKey and your typing speed will instantly, and drastically improve.
The final, major feature that has appeared on the Galaxy Note II is split-screening of apps. By holding down the back button, a tab appears on the right with a selection of app icons in it; drag one of these apps into the screen area and you should be able to see both apps on the screen at the same time. Unlike the multi-window and pop-up apps on the Galaxy Note 10.1, this feature seems to work with a number of non-Samsung apps such as Chrome, Facebook and Maps (though not all).
When two apps are displayed on the screen at once, you can resize either of them to use more/less of the display space, and there are easy buttons to close and swap the windows. It's a very smooth experience to have more than one app loaded on the screen at one time, and it can really help with multitasking. That said, there have only been a few occasions where I have used the split-screen feature other than simply to test it out.
The S-Pen
If there's a single area of the Galaxy Note II that has improved on the original Galaxy Note, it's the included S-Pen stylus. It's more responsive, easier to use and more useful than ever before, and it's basically the sole reason why you would pick up such a stupendous device.
The most basic feature of the S-Pen is the ability to draw and annotate with different levels of pressure, giving you a pen-like experience in the software on the Galaxy Note II. Scribbling on the screen sees absolutely no slowdown, and it's basically as responsive as writing on an actual piece of paper with an actual pen, if not a zeptosecond behind.
Then there's handwriting recognition, which is used in both S-Note (the main note-taking application) and in the keyboard. For once, this feature actually works as intended: it's very accurate at detecting what is written in even the most illegible handwriting, and it's almost as fast as using the keyboard. Unfortunately it's not perfect, as it doesn't like to automatically include spaces after words/phrases, so you'll need to add those in manually.
S-Note is where you'll be taking most of the notes on your Note II, and it's extremely well featured. It is the very same application included on the Galaxy Note 10.1, except remodeled slightly for the different display size and with many more features compared to the original S-Note.
Included is a wonderful formula match feature, whereby you write a formula on the note using the stylus and it automatically converts it into an easier-to-read mathematical formula on the screen. You also have the option to search this formula on the web, which can be extremely handy during maths/science note-taking.
Also included is shape match, which can convert crudely drawn circles, squares and other shapes into perfectly rendered shapes. Unfortunately it only works with shapes up to four sides, so it won't be making perfect pentagons or octagons for you.
These features, plus handwriting recognition, are in addition to the simple text, drawing, video, audio and image input that rounds out the capabilities to take notes. It's even better than that though, as a simple double tap of the S-Pen on the screen with the button held down brings up a quick note input box on top of whatever app you're currently using, allowing you to quickly scribble something down as you need to.
There are other things you can do with the button on the S-Pen pressed down: holding the pen to the screen, for example, takes a screenshot you can then easily annotate, save and share. Circling a screen area while holding the button down takes a cropped screenshot of just the circled area, which you can then add to a note you've been working on. And then there's the ability to scroll and see the pen's position without even needing to touch the stylus to the screen.
Finally, there's now also S-Pen removal detection, which unlike the Galaxy Note 10.1 is actually useful. Removing the pen (while on a homescreen) takes you to a dedicated S-Pen homescreen page with quick shortcuts to handy stylus-related applications including S-Note; you're always just a few seconds away from a new note from a locked Galaxy Note II.
Performance
You'll be hard pressed to find a phone with as good performance as the Samsung Galaxy Note II. Back when I reviewed the Galaxy S III, the Exynos 4 Quad chipset was the fastest that I had ever used, and with the Note II this very same chipset has seen a speed boost. Inside you get a powerful Samsung Exynos 4412 chipset with a 1.6 GHz quad-core ARM Cortex-A9 processor and the Mali-400 MP4 GPU we've seen before.
RAM also sees a boost to 2 GB, fast becoming the standard amount for Samsung's high-end Android devices, and you can pack in up to 64 GB of storage plus another 64 GB in the form of a microSD card. The 16 GB model I was sent to review had remarkably fast copying speeds, so you should be very happy with that aspect of performance.
Mutti-tasking and split-screening on the Note II is fast
Other aspects of the device are the same as the Galaxy S III and work just fine: you get Bluetooth 4.0, NFC, dual-band Wi-Fi 802.11a/b/g/n, A-GPS and Cat. 14 HSDPA/Cat. 6 HSUPA (and LTE in some regions). Here in Australia on Optus, the bottleneck was their HSPA network's capacity as opposed to the device not being able to handle it, which is what you should prefer to see.
Nothing much in terms of qualitative performance has changed compared to the GS3, as I doubt you'll be able to actually notice the 0.2 GHz speed boost and benefits of double the RAM. Apps load extremely quickly, homescreens are fast to scroll even with too many pre-loaded Samsung widgets, the browser is exceptionally speedy whether you use Chrome or the stock browser, and games are oh so very smooth.
To see how much faster the Galaxy Note II is compared to the Galaxy S III you can check out the benchmarks below.
Interestingly, I initially tested BrowserMark in Chrome (which is also included on the Galaxy Note II) and got a score around 30,000 worse than through the stock Android/Samsung browser. In general browsing I couldn't really tell the difference in speed between the two.
In the graphics department the Galaxy Note II has essentially the same, great performance as the Galaxy S III, however it beats the S3 in processor benchmarks by a small margin to be the fastest Android device available.
Camera
Good news everybody! The camera sensor and lens assembly used in the Galaxy S III has made a comeback in the Samsung Galaxy Note II, and the results are as good as you can expect from a phone camera. Specs wise, the camera is a 8-megapixel Sony-made backside illuminated (BSI) sensor, capable of 1080p video recording at slow motion at 120 FPS, plus an LED flash. This is complemented by a 1.9 MP front-facing camera capable of 720p recording.
One of the great benefits of the Galaxy Note II's camera is that it can accurately detect the amount of lighting in the scene, take an average of that and almost always apply the correct automatic ISO/exposure/white balance settings to take a great shot. If you're taking a shot of an area that features both shadows and bright lights, you'll find the Note II can focus on any area while still producing an accurate photo.
The lens is also fantastic, managing to focus close for macro shots - and quickly for zero shutter lag - plus delivering crisp enough shots when you crop them to 100%. You can't expect DSLR clarity from an 8-megapixel smartphone camera, but for simply point-and-shoot work this is one of the best.
This is a 100% crop of a dragonfly's wings
One thing you definitely want in your camera photos is accurate representation of the warmth, color and contrast of a scene. The Note II's camera delivers as well as you would want in this respect, giving lifelike photos without needing to adjust the myriad of camera settings available. Often photos can look more vibrant on the Super AMOLED display than they look on your PC's display, but they still look good nevertheless.
The low-light performance of the Note II's camera is also commendable, as it can capture low-light scenes with minimal grain unless there is a real lack of light. There's also a flash that can brighten a scene, but it's a typical LED phone flash that can only light a limited short range area.
This shot has been illuminated by the flash.
The Note II also comes with a plethora of camera features, all of which work exactly as intended. Apart from the usual photo quality and scene settings, you can capture panorama and HDR images, burst shots either using "best photo" (choose the best shot from a number of them) or "best face" (superimposes the best face onto the best background), and "smile shots" which instantly take a photo when the subject smiles.
Then there's a "beauty" mode which appears to smooth out artifacts using a luminance filter, and a "buddy photo share" mode which uses face detection to automatically tag your mates in a photo before sharing it with them. You also also set the phone to take photos using your voice, although I couldn't get it to work despite using the recommended words like "cheese" and "capture".
Finally we come to the video capture, which is pretty much identical to that of the Galaxy S III (it's good). You have the option not only to stop recording, but to pause it which allows you to resume shooting the same video at a later time. There's 120 FPS slow motion capture (labelled as 1/8x speed), time lapse support, plus the ability to place the same "scenes" as with still capture on your video.
Check out a sample of the video capture below:
Media Playback
If you're not using your Galaxy Note II for business tasks thanks to the fantastic S-Pen, chances are you're making use of the large screen for some media playback. Where a device that only has a 3.8" screen is not as good, the monster 5.5-inch phone display with a 720p resolution facilitates an amazing, yet still portable video experience.
First, the sound output of the device. The rear speaker is of an unsurprisingly poor quality, but it's loud enough to hear when you need to for things such as ringtones. Audio through the 3.5mm headphone jack on the top of the smartphone is far more important for videos and music, because sound through headphones sounds so much better than through the rear speaker.
Like the Galaxy S III, the sound output is quite loud from the Galaxy Note II: a listening volume of around half way is comfortable, and once you reach the 3/4 mark the device will actually warn you that the sound level could damage your hearing. That said, the expansive range of volumes the Note can output means that you can amplify soft sounds, such as dialogue, in movies that use a large volume range.
You know the Note II's display is going to be good for movies when a phone with a 3.5-inch (iPhone 4S-sized) display fits comfortably inside
Audio quality is what I would class as acceptable from the Note - it's not as fantastic as Beats audio enhancement on HTC devices, but it's not completely horrible. I often found that the mid-range vocal tones were accented over other tones in music playback, which can detract from the other sounds that are produced in most music tracks; however you still get punchy bass which most people like.
Also, a quick note must be mentioned of the position of the 3.5mm audio jack. With headphones plugged in and the oversized device sitting in my pocket, sometimes the sheer size would push the jack connector and top of the headphones cable into an uncomfortable position around my waist. It's especially noticeable in pants with small pockets, so you might find yourself adjusting the phone a lot to prevent damage to your headphone cable and general waist area.
Anyway, now it's on to the video playback test, which determines what popular video formats can be played on the Note II either through the native, included video player and a third-party client with extended codec support.
Medium
Native Playback
3rd-Party Playback
Cordy Gameplay (.wmv)
640x360 WMV3 video @ 3046 kbps
WMA2 2ch audio @ 96 kbps
Perfect playback
Perfect playback using hardware decoding
The Big Bang Theory (.avi)
624x352 XviD video at 1082 kbps
MP3 2ch audio at 128 kbps
Perfect playback
Perfect playback using hardware decoding
Epic Rap Battles of History 7 (.mp4)
1280x720 H.264 video at 2531 kbps
AAC 2ch audio at 128 kbps
Perfect playback
Perfect playback using hardware decoding
TRON Legacy (.mp4)
1280x720 H.264 video at 2461 kbps
AAC 6ch audio at 401 kbps
Perfect playback
Perfect playback using hardware decoding
Black Swan (.mkv)
1920x800 H.264 video at 17025 kbps
DTS 6ch audio at 1536 kbps
Plays back fine, but with no audio
Perfect playback using hardware decoding (except no audio due to unsupported DTS codec)
THX Amazing Life  (.mt2s)
1920x1080 H.264 video at 9011 kbps
AC3 6ch audio at 640 kbps
Not recognized by the Video Player
Perfect playback using the software decoder
MysteryGuitarMan  (.mp4)
1920x1080 H.264 video at 2701 kbps
AAC 2ch audio at 128 kbps
Perfect playback
Perfect playback using hardware decoding
Well, if you choose to use a third-party video player like MX Player you should have no problems getting all your favorite video formats to work, unless they have been encoded with DTS audio. This is a great result for the Galaxy Note II, and it should mean you can make fantastic use of the large display.
Battery Life
The Galaxy Note II is a pretty serious business phone, and luckily it also comes with a pretty serious business battery. At 3100 mAh, you'll be getting plenty of life out of this bad-boy before it gives up for the night, and like the original Note it's also removable just in case you want even more battery power.
I've been using the Galaxy Note II for a couple of weeks now, and the battery life has ranged from just over a day of usage right up to a full two days; you can even achieve three if you use the phone sporadically. Generally I would recommend charging the Note II every day just like any other smartphone, but there is basically no chance that this phone will die on you half way through the day.
Going for an overnight business trip and don't want to take the charger? If you don't do anything too crazy such as watching videos or playing games, you should be fine for two days of usage, and again you can always pack a second battery just in case.
With heavy usage, such as sitting down for a lengthy session of web browsing on 3G or playing some Grand Theft Auto III, the battery life is only marginally better than other smartphones (around 8 hours) as the large display can suck a lot of power. That said, there's plenty of juice to satisfy your gaming cravings before requiring a recharge.
Below you can see how the battery life of the Galaxy Note II stacks up against some other smartphones on the market. In this test I play a video on constant repeat, with the phone in airplane mode and at 75% screen brightness, until the phone decides to give up.
| Device | Movie Playback Life |
| --- | --- |
| Samsung Galaxy Note II | 12:47 |
| Motorola RAZR HD | 11:49 |
| Motorola RAZR | 9:31 |
| HTC One XL | 9:03 |
| Samsung Galaxy S III | 8:41 |
| Motorola RAZR V | 8:32 |
| Sony Xperia S | 6:50 |
| LG Optimus 4X HD | 5:16 |
Conclusion
The main reason to get a Galaxy Note II is the fantastic implementation of the S-Pen, and various stylus-related activities such as note-taking, drawing and handwriting recognition. Nearly every aspect of this has been improved compared to the first Galaxy Note, so if you're craving this feature you absolutely won't be disappointed.
Apart from the S-Pen features, the Note II is essentially an enlarged and improved Galaxy S III - for better or worse. You get a mediocre TouchWiz skin atop some really great software features, the very same brilliant Galaxy S III camera and an even faster quad-core Exynos chipset that simply chews through tasks, including running apps in split-screen mode, like it's no effort at all.
And let's not forget the mammoth, removable battery that is perfect for the businessman who might not have access to a charger every night. Despite the huge, vibrant display that must drink a lot of juice, the battery seems to easily last a day with sensible use.
My main complaint about the Galaxy Note II relates to the size, heft and build quality. Appalling plastic makes a comeback in the Note II, which looks bad and makes the device harder to hold than it needs to be; and it needs everything working in its favor to be ergonomic. The huge display sure is great for movies and gaming, but it's at a significant cost as you'll find it an annoying challenge to use it one-handed even with the right software settings.
Should you buy the Galaxy Note II? It really depends if you need a stylus and the advanced note-taking features or not. Sure, the device is top-notch in many areas other than this, but if you're not going to be using the S-Pen frequently, the size will become a hindrance. Just because the Note II has the biggest display and fastest chipset doesn't mean it's the best, and I would highly recommend the Galaxy S III or HTC One X over the Note II if you don't require the S-Pen.
→ Buy the Galaxy Note II from MobiCity or MobiCity UK!
→ Visit the Galaxy Note II official website