Microsoft has released the final version of Windows Live Essentials 2011 to everyone on a supported Windows based PC, which comes loaded with very useful and helpful everyday programs that make our lives a little easier and more entertaining. Over the past couple of days, Neowin took an in-depth look at Windows Live Essentials 2011, covering a new program each day.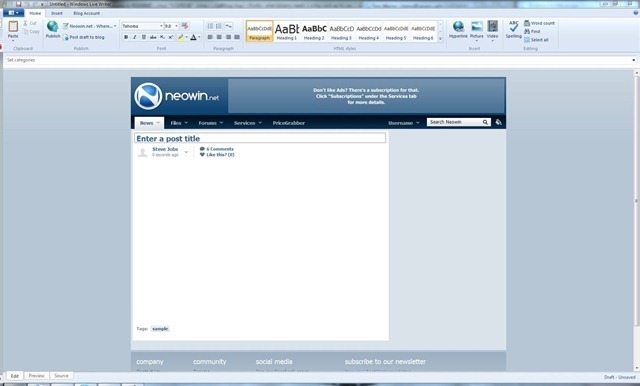 Windows Live Writer
In our final day of coverage, we are going to take a look at Windows Live Writer. Writer is still a fairly new product, but packs a lot of features for professional and amateur bloggers. Writer might not appeal to everyone out there, but for those looking to take blogging offline, this is the tool for you.
When you first start up Windows Live Writer, it's really nothing to look at. Two basic text boxes, and a nice ribbon across the top. However, if you are using one of the many supported blogs or a custom blog, you can easily connect Windows Live Writer to your website, using the same interface and theme as you would see on your Content Management System (CMS).
Since Neowin uses a custom front and backend CMS for our website, the developers have made a custom theme to fit Windows Live Writer, giving the appearance you are actually working on the website. Thanks to that, all of these reviews were written, formatted and submitted through Windows Live Writer.
Ribbon
Windows Live Writer, like all Essentials products, uses the new ribbon layout. Although the ribbon might be small in size, it does contain all the tools for formatting, including links, images and video. Over on the insert ribbon, Writer contains a load more features for inserting into your posts, including Bing Maps, tags, emoticons
, tables and photo albums. If you remember our Windows Live Mail review, you'll remember it had a great new feature for supporting multiple images in a fancy photo album. Select the photos you want and insert them into a pre-set organized layout.
Of course this photo album can use photo albums from your SkyDrive or off a local computer.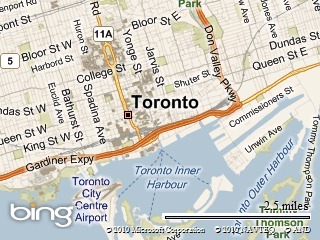 Preview
Once you have finished your blogging, you can preview how your blog post or article will look using the preview tab. This is also supported using themes like WordPress, Live Spaces and other blogging websites. The preview tab shows the final layout of your piece, exactly how it will look to your readers on your website. If you want to make last minute changes, or even more advanced changes, there is a source tab for editing the HTML of each post. If you know a thing or two about HTML, you can make minor adjustments to the display of your images, maps, links and even text formatting.
Publish
Publishing is your final step in Windows Live Writer, where it will submit all your text, images, video, maps and anything else you have submitted to your blogging website. The one touch button can post directly to your front page, or have it submitted as a draft, for publishing later.
As our last installment of coverage of Windows Live Essentials 2011, I'd like to thank you for taking the time to read each post and hope you enjoyed our coverage. Essentials 2011 really is a solid release from Microsoft, delivering all of these very helpful everyday tools for free. Stay tuned to the weekend for our final wrap up of windows Live Essentials 2011.