Update Feb 28, 2023: Microsoft has formally announced the Windows 11 February 2023 Update, and it is now available from Windows Update as an optional non-security update (KB5022913) you need to download and install manually.
---
Microsoft is getting ready to start rolling out the third feature update for Windows 11. The "Moment 2" update is now available in the Release Preview (albeit the good stuff is disabled and waits for its enablement package), so it is time to review the changes.
Like Moment 1 (find what it brought a few months ago in our dedicated coverage), the Moment 2 update brings fewer changes and features than the 2022 Update. Still, the latest release offers plenty of noteworthy improvements, so here is your comprehensive look at what is new.
Windows 11 Moment 2 Update
Build Number
22621.1344
Release Date
February 28, 2023
How to get the update
Windows Update (KB5022913)
Wait, what is "Moment?"
Microsoft initially planned to release one yearly Windows 11 feature update to keep everything straightforward. Unfortunately, the company scrapped those plans to opt for cumulative-like releases every few months. That means Windows 11 gets new capabilities faster (three or four months) but with slimmer changelogs.
Unofficial reports claimed Microsoft calls these feature drop "moments." Even though the company no longer ships updates with silly monikers (remember Fall Creators Update?), understanding how Windows 11 feature updates work remains challenging. If only Microsoft could come up with something genius like Windows 11.1, 11.2...
Microsoft released the Moment 1 update in October 2022, and now the Moment 2 release is ready for its prime time.
What is new in Windows 11 "Moment 2" Update?
As usual, here is the table of contents so that you can jump to the most interesting to you parts:
Search improvements across the OS.
Most changes in the update are search-related, so Microsoft could have named it "Windows 11 Search Update." Fortunately, the era of ridiculous Windows update names is long gone.
Search on the taskbar
Windows 11 users now have a "real" search box on the taskbar, like in Windows 10. You can click the search box or press Win + S to start typing inside the search field.
Of course, some users might prefer the old fake-looking search button, so Microsoft now provides four options: a proper box, a sort of box, an icon, and no search on the taskbar. You can personalize your experience in Settings > Personalization > Search.
Search in the Start menu
The Start menu has a slightly redesigned search box with rounded corners. However, it still works somewhat confusing and jumps to a different UI when you click it. At least we now have rounded corners™, so there is that. A slightly more consistent and good-looking UI is also a welcome change.
Search in File Explorer
Although File Explorer in the Windows 11 Moment 2 update remains mostly unchanged (Microsoft is getting ready for a massive overhaul), there is a slightly tweaked search behavior. Windows 11 no longer requires pressing Enter when you search, which means you get search results as you type. It is a minor change, but customers will appreciate the convenience.
Taskbar Improvements
No Windows update arrives without improvements for the taskbar—one of the most controversial areas in Windows 11. The Moment 2 update brings several notable changes: a brand-new tablet-optimized taskbar and a redesigned notification area.
Tablet-optimized taskbar
Disconnecting a keyboard from your Windows tablet or transforming a 2-in-1 into the tablet posture now results in Windows 11 collapsing the taskbar into a compact variant. It hides everything from the taskbar and notification area, leaving only the clock and status indicators. You can bring the traditional taskbar with enlarged icons (better for touch interactions) by swiping up. The same gesture invokes the quick settings menu when you swipe in the bottom-right corner.
Windows 11's tablet-optimized taskbar works only on devices with touchscreens. However, you can use one software trick to enable it on a regular Windows PC for a minimal taskbar experience.
Redesigned notification (tray) area
Microsoft has finally redesigned the notification area with modern focus indicators (boxes that appear when you hover the cursor over an icon) and tooltips. The overflow menu supports dragging icons in and out with a pleasant animation, and those wanting to keep the area clean can disable the overflow altogether.
Windows Studio Effects in Quick Settings
Customers with ARM-powered PCs and built-in NPUs can access a new section in the Quick Settings menu. Windows 11 allows toggling on or off various Windows Studio Effects, such as noise suppression, background blur, eye contact, and more. Unfortunately, this feature is unavailable on most Intel and AMD-powered computers.
Widgets Improvements
The Windows 11 Moment 2 update makes Windows Widgets notably better and more exciting. Users are now allowed to use Widgets without a Microsoft Account, there is a full-screen mode, and third-party widgets are finally arriving in the Microsoft Store. It is worth noting that these improvements are likely to show up on the older Windows 11 releases.
Widgets no longer require a Microsoft Account.
Many people prefer using Windows 11 with a local account. In the Moment 2 update, they can finally use Windows Widgets without signing in with a Microsoft Account. It is a great change, especially after Microsoft allowed third-party developers to publish their widgets in the Microsoft Store.
Third-party Widgets
You can now find more widgets for Windows 11. The amount of available options right now is somewhat depressing, but at least we are finally moving in the right direction. By the time of publishing the review, widgets in the Microsoft Store include Facebook Messenger, Spotify, Xbox, and Phone Link.
Full-screen mode
The new full-screen mode provides more space for widgets and news in the feed. You can activate it by clicking the button next to your profile image in the widgets board's upper-right corner.
Microsoft still pushes lots of utter trash to the news feed, so we blurred parts of the screenshot below to preserve your sanity.
Task Manager Improvements
Windows 11's first feature update (2022 Update) introduced a redesigned Task Manager. It was a significant change for one of the most critical components of the operating system, and now Microsoft has prepared several noteworthy improvements.
Search in Task Manager
You can now search for processes, apps, services, and other data in Task Manager. The app has received a prominent search box on top of its window, allowing customers to find the needed data quickly.
New personalization settings
In addition, Task Manager allows customizing its appearance independently from the rest of the operating system. You can set Task Manager to always stay in light or dark mode or follow the global system settings.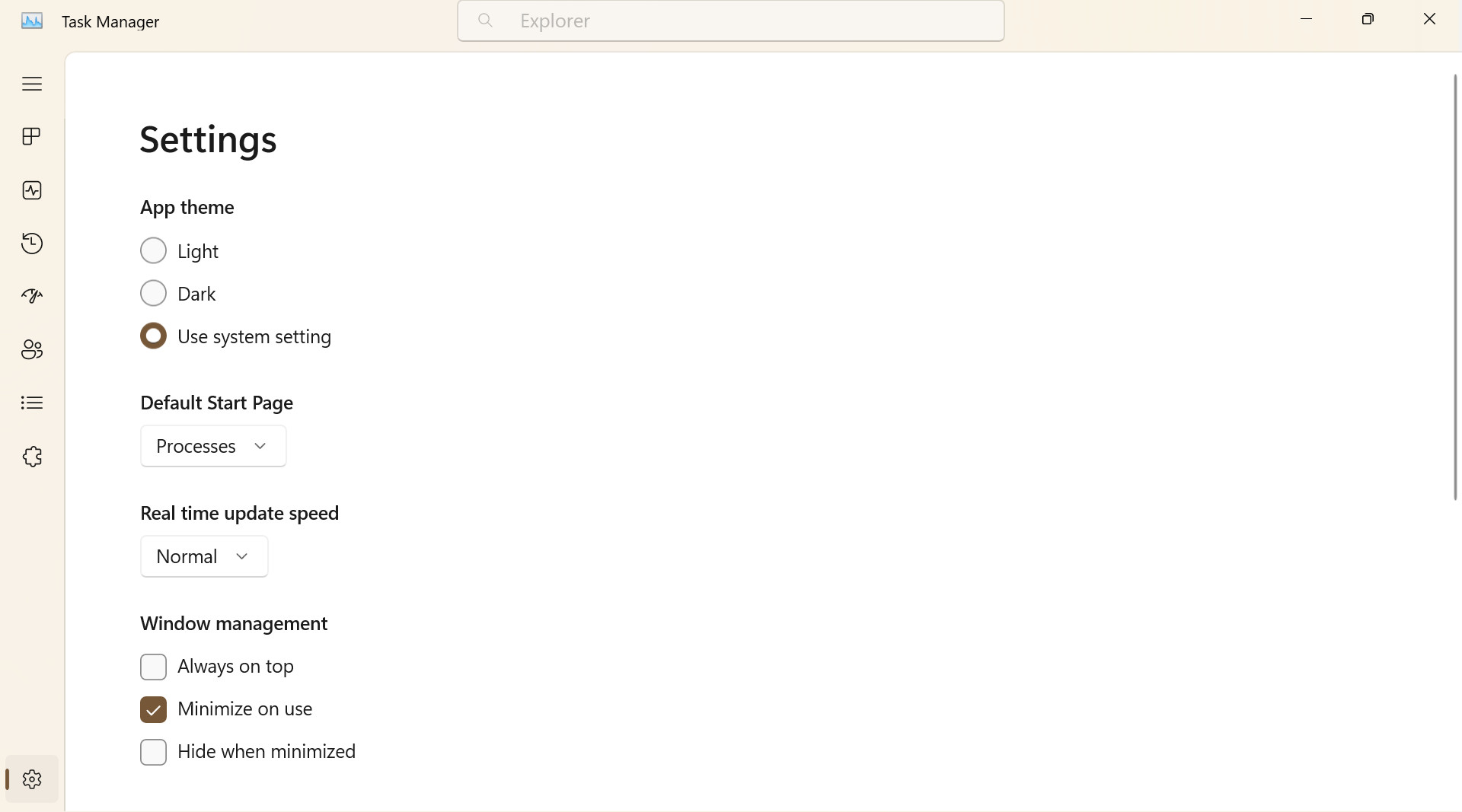 Settings Improvements
The Settings app is another Windows 11 area Microsoft never ignores whenever it launches a new feature update.
Brand-new Energy Recommendations Section
As a part of Microsoft's global push to make its software more eco-friendly, Windows 11 now features a new Settings section for making your computer "greener." The Energy Recommendations section shows several tips on reducing your carbon footprint: reduce screen timeout, enable dark mode, allow the computer to sleep faster, lower brightness, and more.
You can apply the recommendations in one click, which saves time and effort in finding the related settings. Then Windows 11 will give you an energy efficiency score depending on how many tips you have applied, similar to how electric vehicles evaluate your driving efficiency.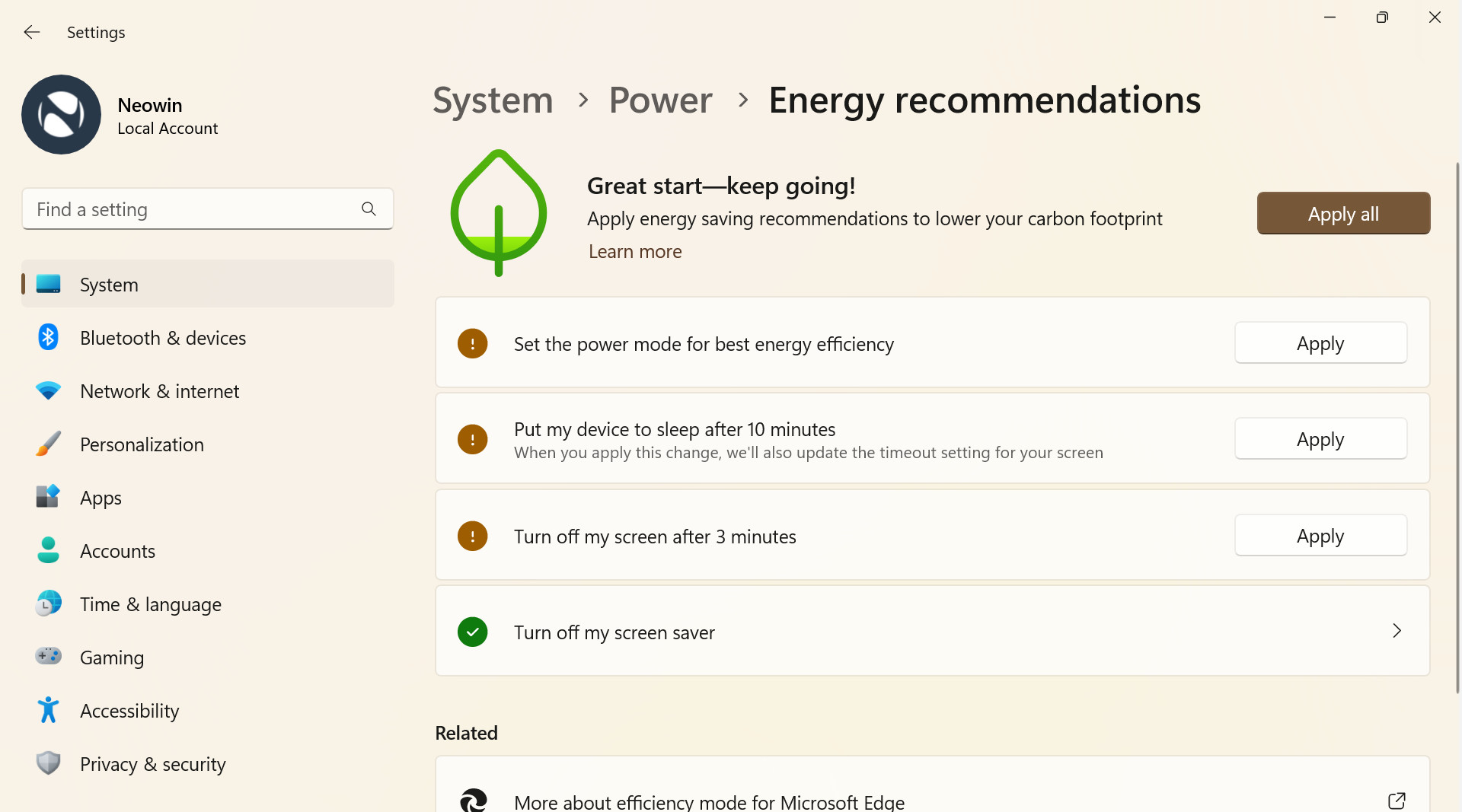 The new Energy Recommendations section sits in Settings > System > Power > Energy Recommendations​​​​.
Recycle and Trade-in
Speaking of sustainability and reducing carbon footprint, the Settings app now provides links to help users learn how to recycle or trade in their computers. You can find those links in Settings > System > About.
Accessibility Improvements
The Moment 2 update does not offer new accessibility features, but it has a few improvements for those using the recently introduced Voice Access.
Improved Voice Access
Voice Access is the feature that lets you control your computer using your voice, hence the name. It divides the display by zones, allowing you to select a zone for interaction. In the Windows 11 Moment 2 Update, Microsoft has made Voice Access more flexible and added support for more user interface controls, such as those having numbers in their names, names without whitespace (PivotTable, for example), and names with special characters (Bluetooth & devices).
In addition, Voice Access now supports spin and thumb controls and split buttons. It also lets you scroll to the extreme left and right and utilize continuous side scroll.
---
Overall, the Moment 2 update is a solid update (we give it 7 rounded corners out of 11) packed with features for every customer. True, it is not as big as the initial release or the 2022 Update, but you should keep in mind that Microsoft is now stretching one yearly update across several smaller releases to publish every three or four months. More features will soon arrive; meanwhile, we can enjoy changes that make Windows 11 more polished and convenient to use.
Bonus - Wallpapers
Here are two wallpapers used in this review (credit goes to dpcdpc11):
Do you like the Windows 11 Moment 2 Update? Let us know what you think in the comments.