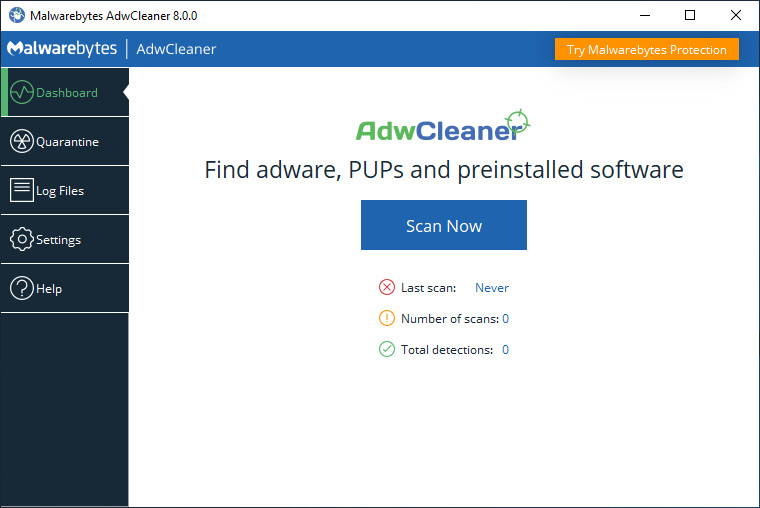 AdwCleaner is a program that searches for and deletes Adware, Toolbars, Potentially Unwanted Programs (PUP), and browser Hijackers from your computer. By using AdwCleaner you can easily remove many of these types of programs for a better user experience on your computer and while browsing the web.
The types of programs that AdwCleaner targets are typically bundled with free programs that you download from the web. In many cases when you download and install a program, the install will state that these programs will be installed along with the program you downloaded. Unless you perform a Custom install, these unwanted programs will automatically be installed on your computer leaving you with extra browser toolbars, adware, and other unwanted programs. AdwCleaner is designed to search for and remove these types of programs.
AdwCleaner 8.0 changelog:
Following the release of MB4, the in-app installer now installs Malwarebytes 4.

Always download the very latest Malwarebytes build

Update Qt to 5.13 branch

Upgrade the build toolchain to Visual Studio 2017

Update OpenSSL

No longer force the generation of the debug logfile

Support again the very latest versions of the Chrome Browser and allow for proper remediation

Temporarily disable Firefox scanning and remediation - will be added back in the upcoming release

Update translations

Update definitions to 2019.11.20.1

Completely drop support for Windows XP and Vista.
Bugfixes
Crash when the UI is displayed in Arabic

Make the uninstallation process more robust and less likely to leave traces behind

Make the quarantine process more stable and less susceptible to corruption
Download: AdwCleaner 8.0 | 7.3 MB (Freeware)
View: AdwCleaner Home Page
Get alerted to all of our Software updates on Twitter at @NeowinSoftware