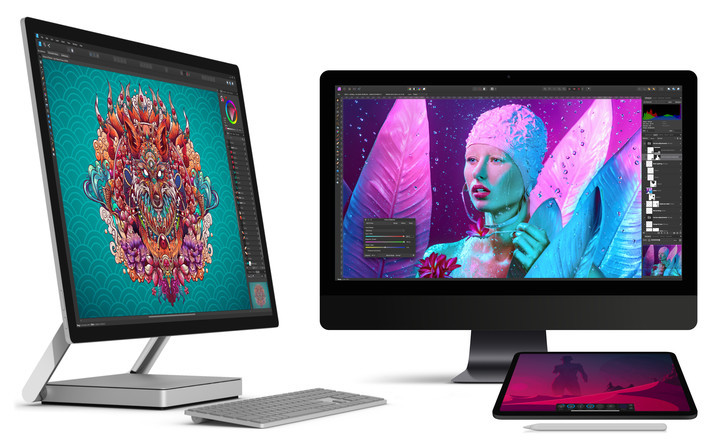 Affinity Photo is a professional photo editing tool with all the power you'll ever need. Live retouch tools work in real time and its speed means there's no waiting to see your results. Non-destructive editing, raw processing and end-to-end color management are standard, so Affinity Photo has all the features required to make beautiful photographs spring to life.
Affinity Photo comes with a huge range of high-end filters including lighting, blurs, distortions, tilt-shift, shadows, glows and many more. Correct and enhance images with Levels, Curves, Black and White, White Balance, HSL, Shadows and Highlights and over a dozen other adjustments that are previewed instantly and can be edited any time.
Other features include raw image processing, PSD import and export, colour management, accurate adjustments, high-end controls for channels and masks, advanced layer handling, batch processing, focus stacking, and much more.
Affinity Photo 1.7.3.481 changelog:
Fixed masks not working in a group of adjustments.
Fixed Minimum Blur live filter constantly resetting Radius slider to zero when changing other values.
Fixed failure to import .ABR brushes.
Fixed PSD import crash (with embedded ICC profiles with non-ASCII names).
Fixed Transform panel behaviour when transforming a sheared object with aspect lock.
Fixed import of layered TIFF sporadically failing to load text layers.
Fixed crash when install location contains a non-ASCII character.
Fixed crash at startup (due to initialising crash reporter).
Updated translations.
Earlier changes and fixes in 1.7.x since 1.6 (including the new 1.7 features) are listed in some detail in this earlier update announcement.
Download page: Affinity Photo 1.7.3.481 (10 Days free trial)
View: Affinity Photo Homepage | Screenshot | Release Announcement
Get alerted to all of our Software updates on Twitter at @NeowinSoftware