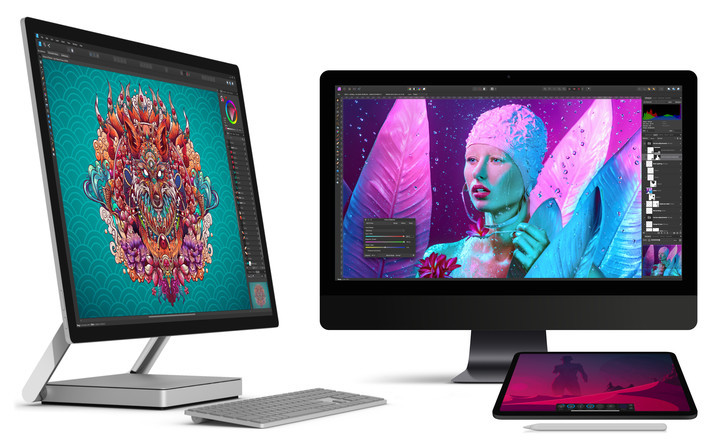 Affinity Photo is a professional photo editing tool with all the power you'll ever need. Live retouch tools work in real time and its speed means there's no waiting to see your results. Non-destructive editing, raw processing and end-to-end color management are standard, so Affinity Photo has all the features required to make beautiful photographs spring to life.
Affinity Designer is a vector graphic design solution used by professional designers, artists, and creatives who are working on illustrations, icons, branding, UI designs, typography, print projects, mock ups, web graphics, pattern designs, and concept arts.
Affinity Publisher is professional-grade publishing software built to rival Adobe InDesign. From magazines, books, brochures, posters, reports and stationery to other creations, this incredibly smooth, intuitive app gives you the power to combine your images, graphics and text to make beautiful layouts ready for publication.
Affinity Photo 1.8 new features & improvements:
Template support – save documents as template files to re-use time and time again, share templates across all apps and even access files on multiple devices through cloud storage.
New document dialog – it's now simpler than ever to find, create and manage document presets with customised, saveable presets and thumbnail previews.
Updated PANTONE© library – work with a seemingly endless range of colours, including updated PANTONE© Color Bridge and PANTONE© Formula Guide solid palettes (coated and uncoated).
Lens correction improvements – benefit from manual lens correction override in the Develop Persona, take advantage of the newly added 'recently used' and 'favourites' lists, and enjoy improved lens correction of RAW files coming from fixed focal length lenses.
Big plugin support improvements – experience the power of a range of plugins in the app, including Nik collection by DxO.
Better metadata handling – new support for user-editable fields in image metadata, including the IPTC standard for copyright and other information, plus, save and import metadata files (XMP)[enable in preferences], batch whole folders of images and tag with appropriate ownership info, and more.
PSD smart object support – any smart objects included in PSD files can now be imported into Affinity Photo as embedded documents [enable in preferences], letting you easily edit layers within any smart object and maintain a non-destructive workflow into Affinity.
Canon CR3 RAW support – open and edit your highest quality photographs in Affinity Photo.
Many other improvements and fixes. [full changelog]
Affinity Designer 1.8 new features & improvements:
Template support – save documents as template files to re-use time and time again, share templates across all apps and even access files on multiple devices through cloud storage.
New document dialog – it's now simpler than ever to find, create and manage document presets with customised, saveable presets and thumbnail previews.
Boolean operation improvements – add, subtract and combine shapes to create custom designs better than ever before.
Updated PANTONE© library – work with a seemingly endless range of colours, including updated PANTONE© Color Bridge and PANTONE© Formula Guide solid palettes (coated and uncoated).
Massive expand stroke improvements – get incredibly accurate results with far fewer nodes than before.
New Stock panel – quickly access royalty free images through the app's brand-new Stock panel.
Many other improvements and fixes. [full changelog]
Affinity Publisher 1.8 new features & improvements:
Template support – save documents as template files to re-use time and time again, share templates across all apps and even access files on multiple devices through cloud storage.
New document dialog – it's now simpler than ever to find, create and manage document presets with customised, saveable presets and thumbnail previews.
Updated PANTONE© library – work with a seemingly endless range of colours, including updated PANTONE© Color Bridge and PANTONE© Formula Guide solid palettes (coated and uncoated).
IDML import – import InDesign® IDML files, including all text styles, master pages, guides, pinned objects and more, directly into Affinity Publisher.
Live preflight checking – customise the app's all new Preflight panel to receive live warnings for possible errors in your document, including poor image resolution, bleed hazards, overflowing text, spelling errors, missing images or font resources, and more.
XLSX import – import spreadsheet data from Excel, Apple Numbers or LibreOffice in XLSX format as a standalone table or inline with your text frames.
Document merge – merge multiple documents together into a single file and take advantage of text style mapping, index merging and master page control, whether you're combining whole documents or selecting page ranges to import.
Smart master pages – effortlessly swap master pages and migrate edited content from any page to a new master page layout in a single click without losing any of your work in the process.
Collect resources – organise all image resources into a single folder location and share with others in your network.
New Anchors panel – easily manage anchors in your document and create new ones from selected text.
Text column dividing lines – add lines to separate columns in text frame settings.
Many other improvements. [full changelog]
Download page: Affinity Photo | Affinity Designer | Affinity Publisher (10 Days free trial)
View: Affinity Homepage | Release Announcement
Get alerted to all of our Software updates on Twitter at @NeowinSoftware