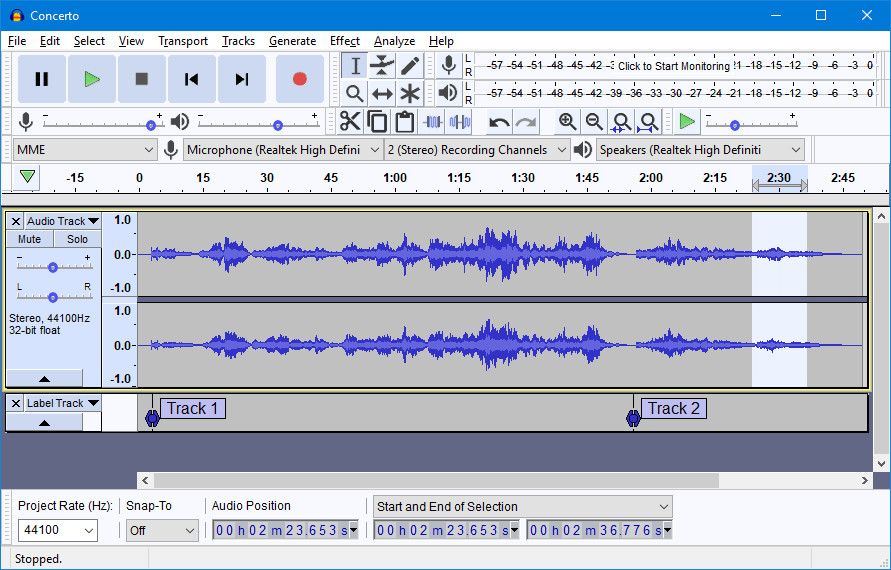 Audacity is a free, open source digital audio editor and recording application. Edit your sounds using cut, copy, and paste features (with unlimited undo functionality), mix tracks, or apply effects to your recordings. The program also has a built-in amplitude-envelope editor, a customizable spectrogram mode, and a frequency-analysis window for audio-analysis applications. Built-in effects include bass boost, wah wah, and noise removal, and the program also supports VST plug-in effects.
You can use Audacity to:
Record live audio.
Record computer playback on any Windows Vista or later machine.
Convert tapes and records into digital recordings or CDs.
Edit WAV, AIFF, FLAC, MP2, MP3 or Ogg Vorbis sound files.
AC3, M4A/M4R (AAC), WMA and other formats supported using optional libraries.
Cut, copy, splice or mix sounds together.
Numerous effects including change the speed or pitch of a recording.
Write your own plug-in effects with Nyquist.
And more! See the complete list of features.
Audacity 3.1.0 release notes:
This release introduces clip handles, smart clips and playback looping as its major new features.
Smaller changes:
Context menus have been added in more places.
In the preferences, Tracks > Track behaviors > Editing a clip can move other clips is now disabled by default
The spectrogram defaults have been changed: scale type to Mel (was Linear), top of scale to 20000 Hz (was 8000 Hz), window size to 2048 (was 1024), and zero padding to 2 (was 1).
The main volume controls no longer change the system volume.
Raw Import now will remember the previously used settings. Automatic detection of the format now is a button.
A journaling feature has been added for QA purposes.
Generate > Tone now supports triangle waves.
There now exist "What's new" screens for the update and welcome dialogs.
Timeline Quick Play for regions and locked regions have been replaced by playback looping.
The shortcut to rename labels and clip names has temporarily been hardcoded to Ctrl+F2.
This conflicts with the default xfce shortcut to change workspaces.
Library changes:
FFMPEG now supports avformat 55, 57 and 58.
PortAudio has been updated to version 19.7 and devendored (so it can be built against 19.6).
Several libraries (expat, libsndfile, ...) have been devendored. The CMakeLists.txt lists which versions we build against.
Fixed Bugs:
There are some 50 issues closed labeled as bug. Among them:
AppImages support localization. #1382
Progress bars for Nyquist generators have been made more accurate. #1856
Rhythm tracks can no longer drift off-time by 2ms over 9 minutes; they're now sample-accurate. #1853
The play button has regained a pixel or two to become a triangle once more. #1792
Auto Duck has been made way more accurate and should no longer miss sections above the threshold. #1389
The manual now only is included in the executable once #1917
Shift-clicking a menu item no longer opens the settings menu #1358
FFMPEG no longer segfaults ALSA #1170
Audacity no longer crashes when macros output directory is set to C:\ #1174
A bouncing ball of death problem has been fixed #1312
Download 64-bit: Audacity 3.1.0 | Standalone ~40.0 MB (Open Source)
Download 32-bit: Audacity 3.1.0 | Standalone
View: Audacity Home Page | Release Notes | Other Operating Systems
Get alerted to all of our Software updates on Twitter at @NeowinSoftware