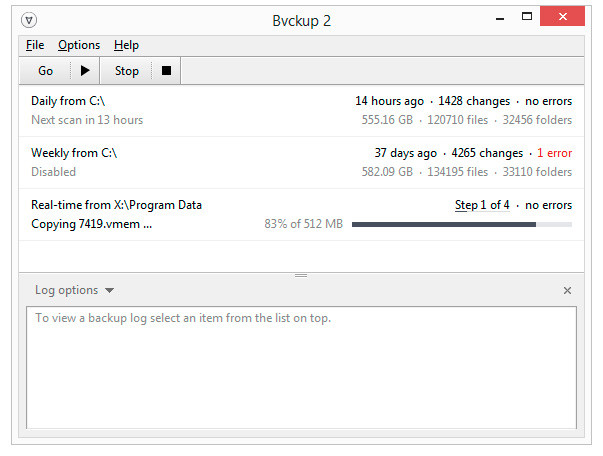 Bvckup 2 is a mirroring data backup software notable for its use of delta copying, speed of operation, small resource footprint and a "beautifully functional" user interface. The software replicates files from one location to another in their original format and purposefully does not include options for compressing or encrypting them. It does however include a comprehensive list of supporting features including periodic and real-time backup scheduling, removable device tracking and shadow copying support. Ideal for making local backups, backups going to external and removable drives as well as to NAS devices.
Bvckup 2 features:
Real-time, scheduled and manual backups
Very fast, delta file copying
Excellent user interface
Backup of locked files with shadow copying
Removable device tracking
Move/rename detection
Windows XP and newer
Full 64-bit support
Run-as-a-service mode
Symlink and junction support
Ownership, group and DACL copying
Fully asynchronous I/O
Multi-core processing where required
Optimized throughout for no run-time bloat
Software update notifications
Bvckup 2 Release 79.23 changelog:
Reworked the program mode switching process. Read all about it here - https://bvckup2.com/wip/29032019
Reworked storage monitoring to be asynchronous. The initial scan of the storage stack is still done synchronously (that is, the program waits for it to complete before continuing with its initialization), but all subsequent updates in response to device/volume activity is now done asynchronously, in the background. The main reason for the change is that despite all the efforts to avoid making any blocking or slow requests, there are still cases when even the most trivial request may take several seconds to complete. This includes cases of not fully spun up HDDs, dying drives that are still unsure if they want to die completely or not, etc.
Added support for requerying faulty storage volumes. This is related to the previous change. Apparently there exist device/drive combos that announce arrivals of new storage volumes before these volumes are actually operational. So if the program attempts to query basic volume details _immediately_ after its alleged arrival, there are cases when this request will fail. Previously, a volume like this was assumed to be faulty and ignored. So any jobs bound to this volume remained in "Waiting for device" state and didn't get to run. With this change, the program will try and re-query the volume once, in 5 seconds after the original attempt. If this too fails, only then the volume will be marked as broken and ignored. [full release notes]
Revisions:
79.23.1 automatically expands "How to send" window if advanced options are configured.
79.23.2 fixes an issue with not being able to open Backup Settings window if DACL or SACL copying is enabled *and* email alerts are enabled. This was due to an invalid self-consistency check for the state of the window when it was put into respective state.
Download: Bvckup 2 Release 79.23.2 | 2.3 MB (Free trial, $19.95)
View: Bvckup 2 Home Page | Discounts
Get alerted to all of our Software updates on Twitter at @NeowinSoftware