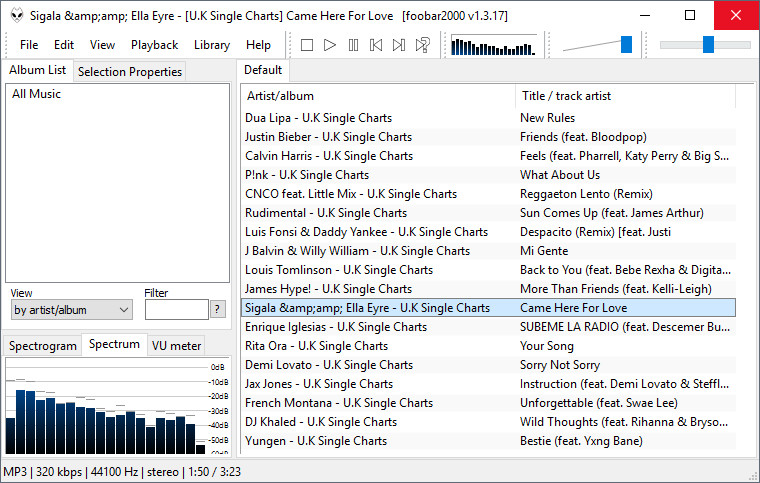 foobar2000 is an advanced freeware audio player for the Windows platform. It features the simplest, most minimalistic interface you'll ever see in this kind of program. Other features include full unicode support, ReplayGain support and native support for several popular audio formats.
foobar2000 features:
Supported audio formats: MP3, MP4, AAC, CD Audio, WMA, Vorbis, FLAC, WavPack, WAV, AIFF, Musepack, Speex, AU, SND... and more with additional components.
Gapless playback.
Full unicode support.
Easily customizable user interface layout.
Advanced tagging capabilities.
Support for ripping Audio CDs as well as transcoding all supported audio formats using the Converter component.
Full ReplayGain support.
Customizable keyboard shortcuts.
Open component architecture allowing third-party developers to extend functionality of the player
foobar2000 1.5 Beta 12 changelog:
Fixed preserve-file-timestamp bugs.
Fixed missing file-not-found error message. forum thread
Fixes for bad interaction between pre-1.4-SDK components and track info filters.
Fixed possible rare shutdown crash with certain components installed.
Playlist behavior fix. forum thread
Fixed metadb edit callbacks not being fired in some conditions.
Removed transacted filesystem support. There are no known benefits to it and even Microsoft documentation says not to use it.
Fixed track info filters (foo_external_tags) vs MP3 remove-tags.
Made track info filters (foo_external_tags) enabled by default once installed.
FLAC 1.3.3
Made WavPack/DSD MD5 visible - using another field so Verifier doesn't try to verify it.
Enabled embedded cuesheet support for MP3 files.
New list control in various Converter dialogs.
Download page: foobar2000 1.5 Beta 12 | 4.2 MB (Freeware)
Links: Home Page | foobar2000 for Mac | Windows Store | Android
Get alerted to all of our Software updates on Twitter at @NeowinSoftware