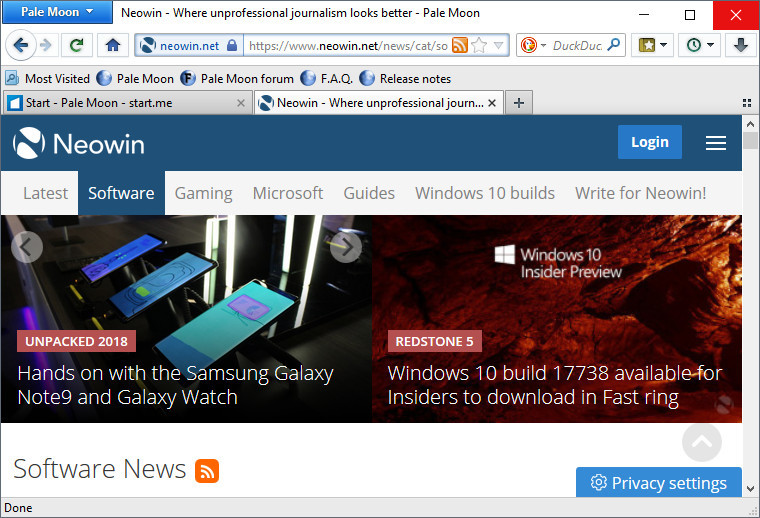 Pale Moon is an Open Source, Goanna-based web browser available for Microsoft Windows, Linux and Android, focusing on efficiency and ease of use. Make sure to get the most out of your browser!
Pale Moon offers you a browsing experience in a browser completely built from its own, independently developed source that has been forked off from Firefox/Mozilla code, with carefully selected features and optimizations to improve the browsers speed, resource use, stability and user experience, while offering full customization and a growing collection of extensions and themes to make the browser truly your own.
Features:
Optimized for modern processors
Based on proprietary optimized layout engine (Goanna)
Safe: forked from mature Mozilla code and regularly updated
Secure: Additional security features and security-aware development
Supported by our user community, and fully non-profit
Familiar, efficient, fully customizable interface
Support for full themes: total freedom over any elements design
Support for easily-created lightweight themes (skins)
Smooth and speedy page drawing and script processing
Increased stability: experience fewer browser crashes
Support for many Firefox extensions
Support for a growing number of Pale Moon exclusive extensions
Extensive and growing support for HTML5 and CSS3
Many customization and configuration options
Pale Moon 29.2.0 changes/fixes:
When opening tabs from the History side bar, Pale Moon will now warn you about the action if it would result in opening many tabs at once.
Pale Moon now offers "Open All in Tabs" on bookmark folders even if there is only one sub-item in it, for UI consistency.
Added media format controls in the Content category of Preferences.
Added controls for preferred color scheme. See implementation notes.
Updated several site-specific user-agent overrides for web compatibility.
Removed the ability to accept Firefox IDs for extension installation.
Removed conditional Macintosh code from the application front-end.
Updated the AV1 reference library to 2.0.
Cleaned up more Android code from the platform.
Updated the embedded emoji font to cater to even more race-dependent profession emoji.
Fixed an overflow in clip paths, potentially causing them to be rendered incorrectly.
Added CSS values smooth, high-quality and pixelated to the image-rendering keyword.
Implemented Intl.NumberFormat.formatToParts() to allow deconstruction of localized number formats by scripts.
Reinstated the dom.details_element.enabled preference and fixed a rendering issue with summary/details html elements.
Fixed an issue with CSP .nonce attributes on elements.
Security issues addressed: CVE-2021-29946 DiD and CVE-2021-23994 DiD .
Unified XUL Platform Mozilla Security Patch Summary: 2 DiD, 14 not applicable.
Implementation notes:
This version adds support for the prefers-color-scheme CSS keyword. This keyword is a media query keyword that indicates to websites whether your content styling preference is "light" or "dark". Unlike other browsers where this will be tied to your system color scheme and determined automatically (which might be a point on which you can be fingerprinted, so this would be a privacy concern), we've decided to give the user control through Preferences -> Content -> Colors where you will find a new control to indicate your user preference (it defaults to "light" for everyone). While this control also gives you the option to disable this feature and effectively not support the keyword, be aware that this might cause issues on some websites that do not provide styling for "unspecified" color scheme preferences. In the future we may add an "automatic" option similar to other browsers in case you regularly switch your system application style from light to dark and v.v.
Download: Pale Moon (32-bit) | Portable 32-bit | ~40.0 MB (Freeware)
Download: Pale Moon (64-bit) | Portable 64-bit
Links: Pale Moon Homepage | Add-ons | Themes | Extensions
Get alerted to all of our Software updates on Twitter at @NeowinSoftware