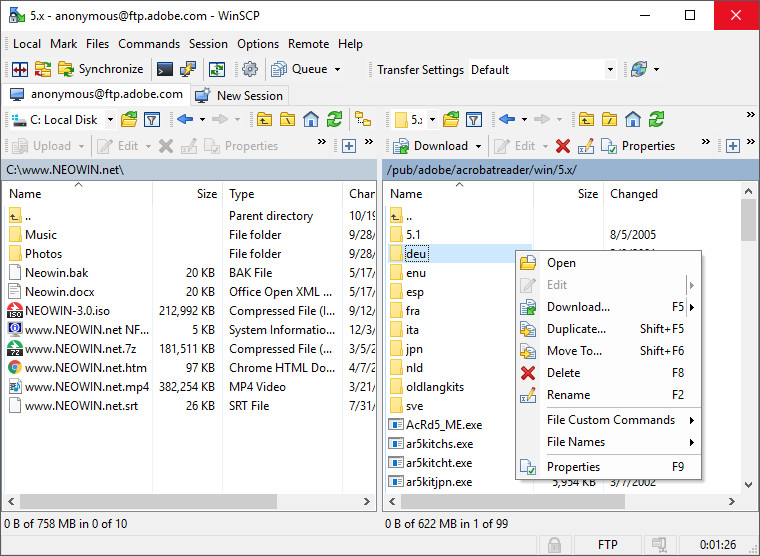 WinSCP is an open source free SFTP client, FTP client, WebDAV client and SCP client for Windows. Its main function is file transfer between a local and a remote computer. Beyond this, WinSCP offers scripting and basic file manager functionality.
WinSCP features:
Graphical user interface
Translated into several languages
Integration with Windows (drag&drop, URL, shortcut icons)
U3 support
All common operations with files
Support for SFTP and SCP protocols over SSH-1 and SSH-2 and plain old FTP protocol
Batch file scripting and command-line interface
Directory synchronization in several semi or fully automatic ways
Integrated text editor
Support for SSH password, keyboard-interactive, public key and Kerberos (GSS) authentication
Integrates with Pageant (PuTTY authentication agent) for full support of public key authentication with SSH
Explorer and Commander interfaces
Optionally stores session information
Optionally supports portable operation using a configuration file in place of registry entries, suitable for operation from removable media
WinSCP 5.21.7 changelog:
Improvements to official Batch Rename extension:
Made GUI refresh optional to allow standalone execution.
Not failing when specific file do not require any rename.
Bug fix: Rename fails when the filename contain file mask special characters. 2157
Bug fix: Failure when system settings change after new version message box was displayed.
Download: WinSCP 5.21.7 | 11.0 MB (Open Source)
Download: Standalone Executable | 8.9 MB
Link: WinSCP Home page | Full release notes
Get alerted to all of our Software updates on Twitter at @NeowinSoftware