Claim your complimentary March 2019 Edition for free today, before the offer expires!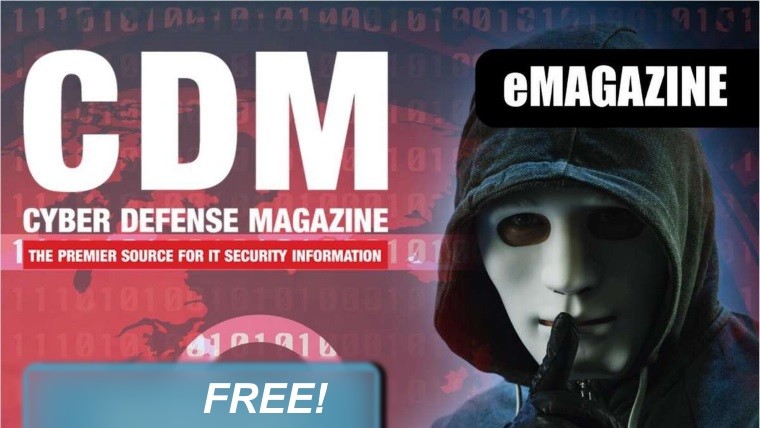 What's it about?
Published monthly by Cyber Defense Magazine, this resource shares a wealth of information to help you stay one step ahead of the next cyber threat.
With over 150 packed pages, this resource covers:
Data breaches: beyond exposing identities
Why we need to rip off the cybersecurity band-aids
Why biometric data uses poses unique risks
How to be workforce ready and standout with cybersecurity hiring managers
Are the C-Suite and security teams on the same page?
And much more!
Cyber Defense Magazine is all about continuing to focus on best practices and solutions for you. Our mission is to share cutting edge knowledge, real-world stories and awards on the best ideas, products, and services in the information technology industry. Our monthly eMagazines cover hot INFOSEC topics with some of the best advice from experts.
How to get it
Please ensure you read the terms and conditions to claim this offer. Complete and verifiable information is required in order to receive this free offer. If you have previously made use of these free offers, you will not need to re-register. While supplies last!
>> Cyber Defense eMagazine - Data Breaches Beyond Exposing Identities - March '19 Edition
Offered by Cyber Defense Magazine, view other free resources | Limited time offer
---
Not for you?
That's OK, there are other free eBooks on offer you can check out here, but be aware that these are all time-limited offers. If you are uncomfortable sharing your details with a third-party sponsor, we understand. Or via our preferred partner:
How can I disable these posts? Click here.
---
Disclosure: A valid email address is required to fulfill your request. Complete and verifiable information is required in order to receive this offer. By submitting a request, your information is subject to TradePub.com's Privacy Policy.