Expert evaluations, pricing and recommendations. Claim your free report before the offer expires.
Find out which CRM system is best for your organization in this competitive analysis between three of the biggest CRM players. We compare the features and strengths and weaknesses of Salesforce Sales Cloud, Microsoft Dynamics 365, and SugarCRM to help you make the right decision.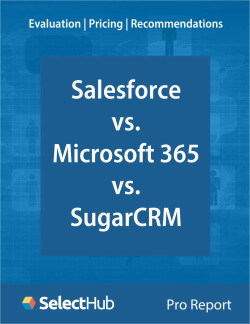 This report includes:
Features Showdown
True cost of ownership
Advantages and limitations for each system
Recommendations and custom pricing
Take the stress out of software acquisitions: With detailed evaluations for over 200 CRM systems, our data-driven selection approach simplifies complex software decisions so you can make smarter choices at any stage of your buying cycle.
Want help with your shortlist? Connect with SelectHub to expedite your software acquisition. Get recommendations, selection tools and software pricing based on your specific needs.
Get it before the offer expires.
How to get this free resource:
Complete and verifiable information is required in order to receive this offer. If you have previously made use of these free offers, you will not need to re-register. While supplies last! Please ensure you read the terms and conditions to claim this offer.
Salesforce vs. Microsoft 365 vs. SugarCRM Pricing & Evaluation — Free Report
Offered by SelectHub, view other free resources. Limited time offer.
---
We post these because we earn commission on each lead so as not to rely solely on advertising, which many of our readers block. It all helps toward paying staff reporters, servers and hosting costs.
Other ways to support Neowin
The above deal not doing it for you, but still want to help? Check out the links below.
Disclosure: An account at Neowin Deals is required to participate in any deals powered by our affiliate, StackCommerce. For a full description of StackCommerce's privacy guidelines, go here. Neowin benefits from shared revenue of each sale made through our branded deals site.