7 Days is a weekly round-up of the Editors' picks of what's been happening in the world of technology - written with a dash of humor, a hint of exasperation, and an endless supply of (Irish) coffee.
A belated Happy New Year to you! Whatever you got up to over the festive season, we hope you had a good one...
But having put the joys of the holidays behind us for another year, we had to hit the ground running this week, in an effort to keep up with a seemingly endless flood of news from across the tech world - and especially from Las Vegas, where the annual International CES industry expo was being held.
But if you've struggled to keep up with all that's been happening, fear not, for 7 Days is back to help you make sense of it all. Grab a drink and get comfy – it's been a busy week, so there's a lot to get through.
We begin this week with news that's sure to prove popular with millions of people around the world. Leading video streaming service Netflix announced a massive global expansion, bringing its offering to 130 new countries, which means it's now available in almost every market worldwide.
But changes being planned for another global platform appear to be somewhat less popular. Details emerged this week of plans to allow posts of up to 10,000 characters on Twitter, which would represent a significant increase on the existing 140-character limit. Twitter CEO Jack Dorsey later tweeted comments that some have read as an implicit confirmation of those plans.
Apple announced a record-breaking holiday season for its App Store on Wednesday. A whopping $1.1 billion was spent on apps and in-app purchases in the two weeks ending January 3, and New Year's Day marked the single biggest day ever for the Store, with $144 million of sales.
However, Apple could face a tough year ahead. Recent reports have indicated that the company has cut production of its newest iPhones amid lower-than-expected sales. That news emerged a couple of weeks after analysts forecast weakening demand for smartphones in 2016, prompting a sharp drop in Apple's share price. The company's shares ended this week at around $97 – roughly 28% lower than their peak price of $134.54 last April.
While Microsoft launched its newest mobile flagships, the Lumia 950 and 950 XL with Snapdragon 808 and 810 processors just a few weeks ago, other manufacturers are already lining up devices running the newest Snapdragon 820. The very first such device was officially unveiled this week: the Letv Le Max Pro, featuring a 6.33-inch Quad HD display, 21MP camera, 64GB of storage and Android 6.0 Marshmallow.
Speaking of Marshmallow, it's been three months since the newest Android version began rolling out, but so far, just 0.7% of active devices are running it. Of course, this won't come as a surprise to anyone who's been paying attention.
The state of Android updates is notoriously poor, since Google gave up control of delivering OS updates to its manufacturer and carrier partners, who of course have little interest in spending time and money on delivering free updates to customers - those companies would obviously prefer to sell people a new phone than to update their existing devices. When those companies do eventually decide to roll out updates, they often arrive months late, and heaving with bloatware.
As a result of this sorry state of affairs, it took an entire year for Android 5.x Lollipop to reach a quarter of devices, and 4.4 KitKat (now almost two-and-a-half-years old) is still the most-used Android version with 36.1% platform share.
Google's range-topping Android 6.0 handset, the Huawei-made Nexus 6P, will soon be more widely available in gold. The gold color option was previously released as a 'Special Edition' in select markets.
Huawei unveiled a new high-end handset of its own this week: the Mate 8, featuring a 6-inch display, octa-core Kirin 950 processor, up to 4GB RAM, and more. We had a bit of time to go hands-on with the new device at CES, so be sure to check that out.
Fitbit, which has gained huge popularity with its line of fitness-tracking wearable devices, unveiled the Blaze, a 'smart fitness watch' priced at $200. However, investors weren't impressed by the new product – following the announcement on Tuesday, Fitbit's share price swiftly plunged by 18% to $24.30, and continued to slide, ending the week at $21.52.
Our regular readers may recall 'Moonraker' – no, not the hilariously OTT James Bond movie, but the Nokia smartwatch that Microsoft cancelled shortly before it was due to go on sale. New images emerged of the device this week, including a set of tear-down shots showing some of its internals.
Microsoft's Band, its first-generation health- and fitness-focused wearable device, got a huge price cut in the UK on Friday, bringing it down to just £49.99. However, it seems that that deal proved pretty popular, as the device has now finally sold out on the Microsoft Store, allowing the company to focus its UK sales efforts on the newer Band 2 (although the older model still remains available via other retailers).
Microsoft has been expanding the capabilities of the Band 2 in recent weeks, and on Tuesday, it announced new features developed with Volvo, allowing users to speak to its digital assistant, Cortana, on the device to execute commands in the Swedish automaker's newest vehicles.
Microsoft also showed off a new self-driving car prototype co-developed with IAV, packed with technology to 'see' the world around it and ensure the safety of passengers, pedestrians and other road-users.
Microsoft launched Cortana on iOS and Android last month, and promised that the assistant would soon be available with 'deep integration' on the Android-based Cyanogen OS. This week, the OnePlus One became the first device to get that functionality.
Microsoft has been asked to explain "major issues" uncovered in an antitrust probe by China's State Administration of Industry and Commerce (SAIC). The exact nature of SAIC's concerns has not been revealed, but they're believed to be related to an investigation that began in mid-2014, when several Microsoft offices across China were raided by authorities.
While some buyers appreciate the 'purity' of device design, others value the ability to customize their devices in various ways – and there's now a new option available for owners of Microsoft's Surface Book and Surface Pro 4 to do so. We got to check out Toast's new wood finishes for the latest Surface devices at CES.
Having previously limited availability of its Surface Book to North America, Microsoft opened pre-orders for the flagship Windows 10 notebook in a range of new markets this week, including the UK, where prices start at £1299; and select European markets, where the entry-level model will set you back €1649.
Surface Book pre-orders opened in New Zealand and Australia too, and Microsoft will also be launching the 4G LTE version of its more affordable Surface 3 in Australia later this month. The company has certainly taken its time there – the device was first announced last March, and the Australian launch of the 4G model will come six months after its release in the US.
Microsoft also announced this week that, at long last, its Surface Pro 3 and 4 tablets will soon go on sale in India.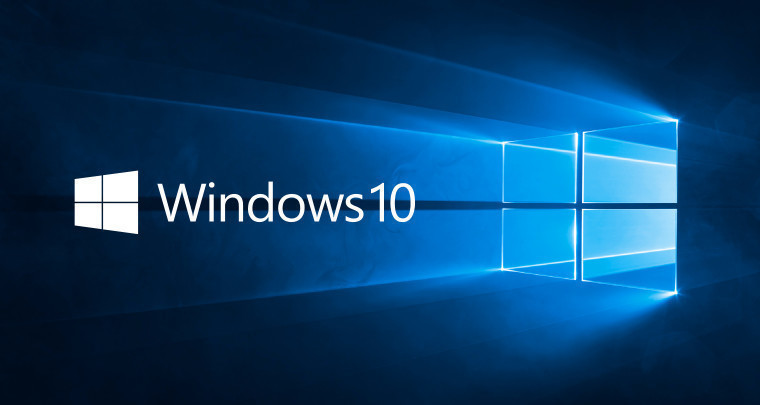 Three months ago, Microsoft announced that 110 million devices were running Windows 10, but its silence on the matter since then was starting to become a bit deafening. But on Monday, the company revealed that that figure had climbed to "more than 200 million active devices", including 22 million in the enterprise and education sectors, as well as Xbox Ones running its latest software update.
It added that "customers are loving Windows 10" and that it's "seeing significantly higher customer satisfaction" for the new OS compared with any previous Windows version.
On Friday, Microsoft rolled out Windows 10 Mobile Insider Preview build 10586.63 to the Fast ring. The company's Gabe Aul said that there are no significant new features in this latest release, and that the development team is focusing on "very targeted changes to fix specific issues" in its Mobile OS.
Microsoft didn't publish an official changelog for the update, but a company employee helpfully shared details of what's included in 10586.63 over on Reddit.
Microsoft originally planned to begin rolling out Windows 10 Mobile to existing devices in December, but last month, it announced that the release had been pushed back. It looks like the rollout is now imminent though, as a major European carrier published full details of the Windows Phone 8.1 handsets that it's lined up for the upgrade.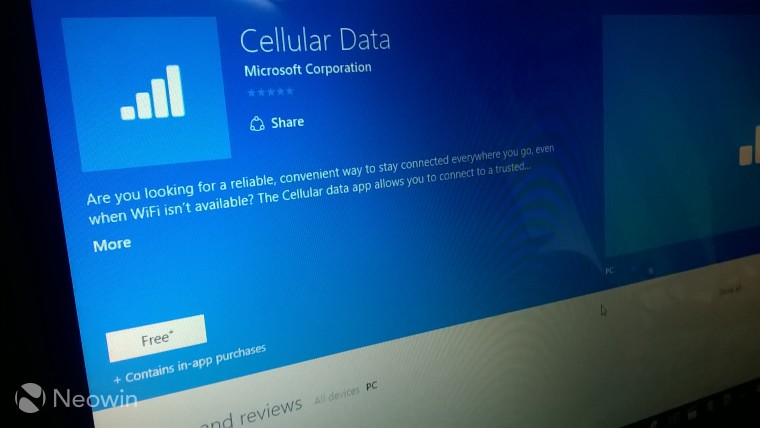 Meanwhile, it looks like Microsoft is preparing to join the mobile carrier game, with the expected launch of a new 'Microsoft SIM card'. The company published a 'Cellular Data' app to the Windows Store, revealing that its mobile service will be available in the US, UK and France initially, and will allow users to buy a mobile data plan for their Windows 10 device with "no fixed contract and no long term commitments to a mobile network operator".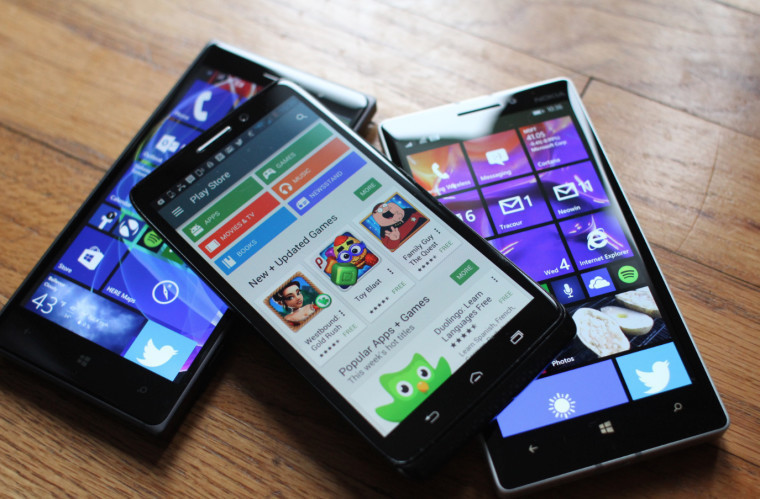 Microsoft's share of the US smartphone market dropped again last quarter, albeit just slightly, according to the latest data from industry analysts comScore. BlackBerry and iOS experienced greater declines, but Android increased its share of the market by 1.4%.
Microsoft began selling its new entry-level Windows 10 Mobile handset, the Lumia 550, in the US this week for $139 unlocked and off-contract.
Over in the UK, the Lumia 550 is now available free on a new £20-per-month pay-as-you-go tariff – as long as you're willing to pay for six months of service in advance.
Alcatel OneTouch unveiled the Pixi 3 (8) at CES, a low-end 8-inch tablet with 4G LTE connectivity, running Windows 10 Mobile. The device is being promoted under the tagline 'My first Windows tablet', and will be offered alongside a range of optional accessories.
Alcatel OneTouch also announced the 'Fierce XL with Windows 10 Mobile', which will be sold exclusively by T-Mobile in the US. The device features a 5.5-inch HD display, Snapdragon 210 processor, 2GB RAM and 4G LTE connectivity. Make sure you check out our hands-on first impressions of the new handset, including a few extra pics.
We went hands-on with the mid-range NuAns Neo, a truly distinctive Windows 10 Mobile device, featuring some decent specs and interesting design features. It also supports the operating system's Continuum feature, and will be offered with a stylish Dock accessory that incorporates a desk lamp.
And we also got our paws on the Liquid Jade Primo, Acer's new Windows 10 Mobile flagship. The device was first announced back in September, but it will finally go on sale in February – five months after being unveiled – starting in Europe, the Middle East and Africa, with a guide price of €569 EUR.
Acer unveiled its new Aspire Switch 12 S at CES – the high-end 2-in-1 convertible features a 12-inch display with up to 4K resolution, the latest Intel Core M-series processors, USB-C port, and more, priced from $999.99.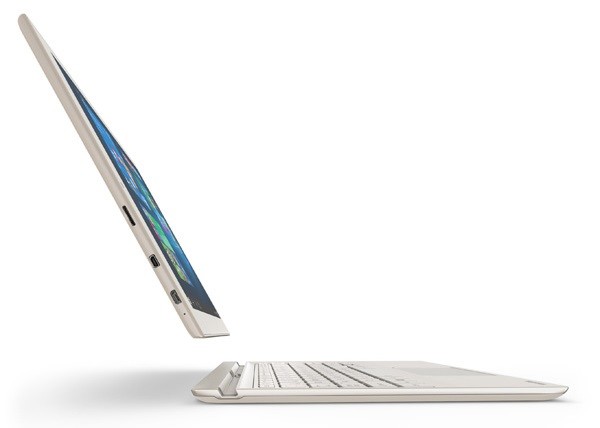 Toshiba's stylish dynaPad tablet was unveiled in October, with a sleek 6.9mm-thick body weighing just 569g. Toshiba opened pre-orders for the device in the US this week, priced at $569.99.
Samsung has finally ditched its awkward 'ATIV' brand for Windows devices, and this week, it unveiled its first Windows 10 device with Galaxy branding, previously reserved exclusively for its Android line.
The Galaxy TabPro S is ultra-thin with a 6.3mm profile, and includes a keyboard cover, along with a 12-inch Super AMOLED display with 2160x1440px resolution, Intel Core M processor, 4GB RAM, up to 256GB SSD, and plenty of other premium specs, including optional 4G LTE connectivity – but it won't be cheap. Check out our hands-on impressions and image gallery of that device too!
Samsung also announced the ultra-thin, ultra-light Notebook 9 Series (replacing the earlier ATIV Book 9 Series). Available in 13- and 15-inch versions, the Windows 10 devices promise up to 10 and 12 hours of battery life respectively.
HP unveiled its thinnest, lightest notebook ever at CES, highlighting that it was "built in collaboration with Microsoft". Just 12.4mm thick, and weighing less than 1kg, the new EliteBook Folio has a 12.5-inch display with up to 4K / Ultra HD resolution, Intel Core m7 processor, 8GB RAM, Bang & Olufsen audio and two USB-C ports.
Notably, one of the press images for the device included an unknown Windows 10 Mobile handset – could it be the rumored HP Falcon flagship phone?
Dell unveiled a new range of sleek business-class Latitude devices at CES this week, including a new 13-inch Ultrabook, and two convertible devices, one of which appears to draw some inspiration from Microsoft's Surface range.
At the other end of the market, Dell announced a new entry-level notebook, the Inspiron 11 3000. Priced from just $199, it offers an 11-inch display, 2GB RAM and 32GB of storage, along with HDMI-out, and USB 2.0 and 3.0 ports.
You'll need deep pockets to be able to afford Dell's stunning new 30-inch OLED monitor though. Featuring 4K / Ultra HD resolution, it's designed primarily for business environments, and at $4,999, it's priced to match its professional credentials.
LG showed off its latest advances in foldable OLED technology at CES, including an 18-inch display that can be "rolled up like a newspaper".
LG also announced the world's first 8K HDR TV at CES – a 98-inch beast with 7680x4320px resolution. However, there's still a dirth of 4K video from content providers, so it will likely be a while before there's enough content available to justify paying what's sure to be a massive premium for an 8K TV.
Lenovo introduced a new 27-inch 4K monitor with a slim design and super-slim 2mm bezels, 1080p webcam and integrated stereo speakers. Priced at $799, the ThinkVision X1 is also the world's first monitor to be awarded TUV Eye-Comfort certification.
Lenovo's new ThinkCentre X1 all-in-one débuted at CES too, and the company says it's "one of the world's thinnest desktops". Designed for businesses, it comes with a range of thoughtfully designed features to support its use in office environments.
Lenovo revealed a range of ThinkPad X1 mobile PCs this week too, including the 'modular' X1 tablet, which allows buyers to purchase various add-on components to suit their needs, such as an extra battery pack, or a 'presenter module', which features a HDMI port and pico-projector.
Lenovo also showed off the first products to emerge from its partnership with Razer, which it announced back in November.
Razer itself revealed the Blade Stealth, a new 12.5-inch Ultrabook featuring plenty of high-end specs and a rather sleek design. But there's a bit more to it than that…
Its capabilities can be greatly expanded with an add-on called the Razer Core. Connecting via the Blade Stealth's Thunderbolt 3 port, it can house a full-size graphics card, allowing users to bring desktop-class graphics performance to the notebook.
For gamers on the lookout for something a bit bigger, Origin PC unveiled its new Omni all-in-one, featuring a 34-inch ultra-wide display with 3440x1440px resolution. Along with Intel Core i7 or Intel XEON processors, the PC will be configurable with a range of truly monstrous specs when it launches later this quarter.
Virtual reality specialist Oculus opened pre-orders this week for its long-awaited Rift headset, priced at $599 – considerably higher than some people were expecting. The device will also require a powerful high-end PC to run it.
Oculus founder Palmer Luckey defended the pricing of the Rift, calling it "obscenely cheap for what it is", but acknowledged that the company could have done a better job of managing pricing expectations, as he had previously indicated that the final version of the headset would likely cost considerably less.
---
Another global giveaway!
Our latest global giveaway has proved pretty popular so far – but there's not much time left before it ends! You could win:
a Linx 7 Windows tablet,
one-year Office 365 Personal subscription, and
a Microsoft Universal Mobile Keyboard, compatible with Windows, iOS and Android!
The contest is open to our readers around the world - so enter now and good luck!
---
The week ahead
We're hoping to hear more in the coming days about Microsoft's delayed rollout of Windows 10 Mobile for existing devices. We know that at least one major European carrier is now ready to upgrade its devices, indicating that it's just waiting for Microsoft to push the button for its release.
We may well see new Windows 10 builds for PCs too, following the release of the latest Windows 10 Mobile Insider Preview on Friday. Microsoft has promised that it will begin rolling out new builds to the Fast ring more regularly – although it's also warned that this is likely to result in more bugs and glitches in preview releases.
And on Tuesday, January 12, Microsoft will end support for Internet Explorer 8, 9 and 10, along with support for Windows 8 (but the company will continue to support Windows 8.1).
Along with the usual mix of official news, juicy rumors, and intriguing insights, it should be another exciting week!
---
As ever, there's plenty more to read across the site – including loads of interesting discussions over on our forums.
From all of us on the Neowin team, have a great weekend!