While Intel-based PCs have dominated the market for decades they have found less success in phones. For Arm, the issue has been the reverse. Unlike Intel, Arm has never really made a serious incursion attempt into the laptop market, but that's been changing recently. Arm shared details of its upcoming roadmap today and the firm has confirmed that "large screen form factor devices" are very much a focus going forward.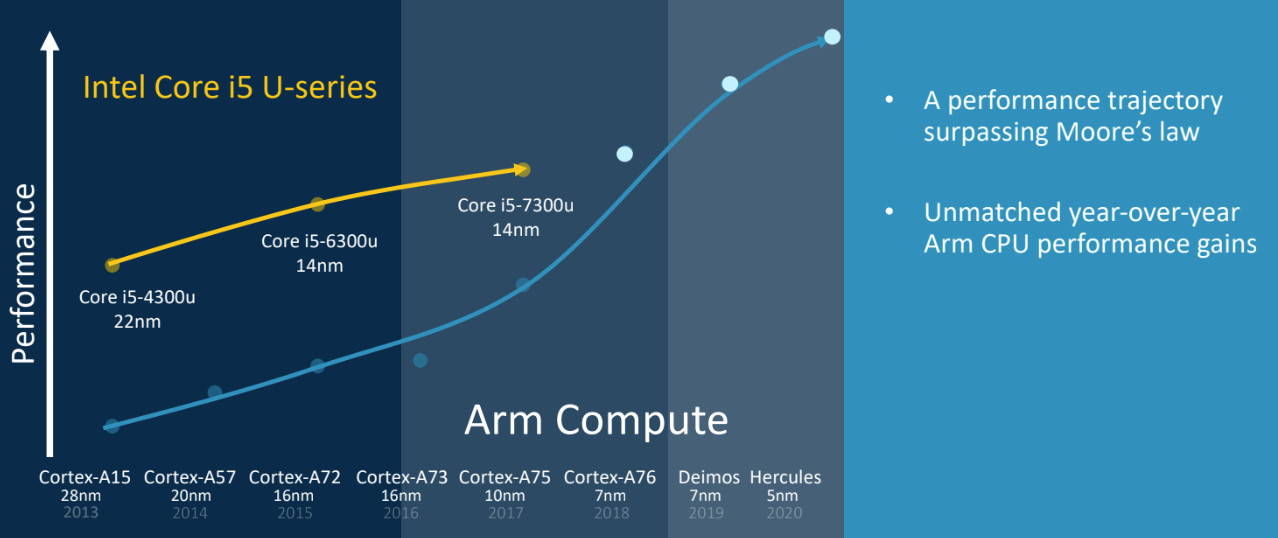 The firm compared its Cortex-A76 chips directly with Intel's Core processors, showing how the chips had improved year over year in comparison with Intel's own i5 processors. "[Arm's] vision is very much around how we're going to be driving laptop performance from that mobile innovation base and how we're going to be working with foundry partners to deliver that performance in today's and tomorrow's leading processes," said Ian Smythe, senior director of marketing programs. Going forward, Arm plans to launch its 'Deimos' and 'Hercules' processors, which would be built on 7nm and 5nm processes respectively.
Arm has found willing partners so far in Microsoft and Google with Windows on ARM and Chromebooks like the Samsung Chromebook Plus respectively. However, the propagation of Arm powered laptops has been slow so far, with OEMs overwhelmingly opting for Intel devices when choosing to build mid-high end devices. Even Microsoft's Surface Go eschews the opportunity to highlight the Windows on ARM platform, instead of running on Intel's Pentium processors, a choice which did not go unnoticed by some critics.
Smythe is aware that the company merely has a "toehold" in the market. He embraces that position as one which leaves a gap for future opportunity:
I think with every disruption we created an opportunity. That toehold can grow when you can demonstrate the benefits. I think that with the first Windows on Arm devices we're sharing that capability and as we move towards Cortex A76-based devices and beyond, I think that capability and disruption offers opportunity beyond where we are today."
We'll probably know how well this claim holds up as the first Cortex A76 devices begin to ship in the coming months.
Source: TechCrunch