In December, Microsoft released the first public preview of its revamped Bing Maps, offering Windows 8.1 users a way to view over 70 cities around the world in full 3D using the company's own advanced cameras combined with new software techniques. This week, the Bing Maps Preview got its first update since its public launch, which offers users a way to view 15 more cities in 3D.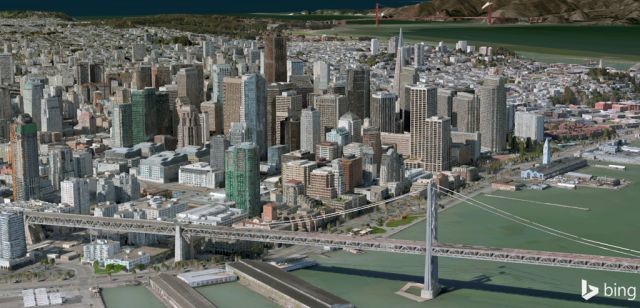 The Bing Maps blog shows the list of new cities that have been added to the preview app. It includes two rather large metro areas this time; Seattle and, as shown in the screenshot above, San Francisco. The rest of the cities follow the formula of offering full 3D visuals of smaller cities, such as two in Germany (Duisburg and Dresden) and two more in Spain (Marbella and Murcia).
The rest of the new locations are in the U.S.: Montgomery, Alabama; Bakersfield and Sacramento, California; Gainesville and Tallahassee, Florida; Columbus, Georgia; Baton Rouge and Shreveport, Louisiana; and Gulfport, Mississippi. Remember, the Bing Maps Preview app can only be accessed by Windows 8.1 users.
A few weeks ago, Microsoft offered up some clues as to their future plans for Bing Maps, which will include adding information from their Snapshot database inside the maps themselves.
Source: Bing Maps blog | Image via Microsoft