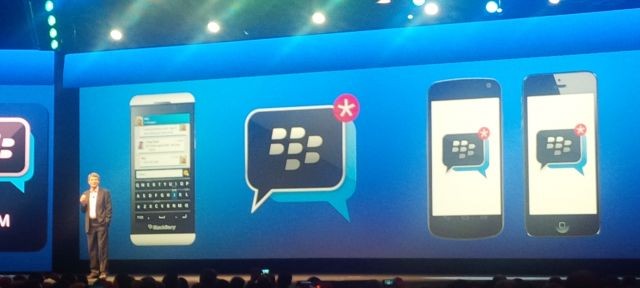 Today BlackBerry held its annual BlackBerry Live developers event, where the company had quite a few big announcements to make. Perhaps the biggest one was that its BBM online messaging service would soon be open for the first time to non-BlackBerry devices.
In a press release, BlackBerry revealed that sometime later this year, apps for iOS and Android will be released that will allow users to connect to BBM, which the company said already has over 60 million monthly active customers. The press release stated:
In the planned initial release, iOS and Android users would be able to experience the immediacy of BBM chats, including multi-person chats, as well as the ability to share photos and voice notes, and engage in BBM Groups, which allows BBM customers to create groups of up to 30 people.
A specific launch date for the iOS and Android BBM apps was not announced but they should be made available sometime later this summer. BlackBerry made no mention of offering Windows Phone owners a similar BBM app and we have contacted the company for more information on this front. Ironically, Microsoft today announced that it has launched a Skype app for BlackBerry 10, designed for the company's Z10 handset.
The news about BBM was just one component of BlackBerry's announcements today, which also included details of an all new smartphone, the BlackBerry Q5. The device, which features a 3.5 inch screen and a QWERTY keyboard, is designed to be a cheaper smartphone for emerging markets. Pricing and availability details were not revealed.
Source: BlackBerry | Image via BlackBerry