It's smaller, it's lighter, and it's sexier. This year at CES, Dell announced a redesign of its flagship XPS 13, and this thing is a dream. The calling card of the XPS lineup is the InfinityEdge display, offering narrow bezels for an immersive experience. Somehow though, the bezels got even smaller this year, and yet Dell still found a way to fit an IR camera into the top bezel.
On top of a bunch of design changes, the internals have improved. The XPS 13 went from Intel's 10th-generation 'Comet Lake' processors to 'Ice Lake'. The new chips are more efficient, built on a 10nm process, and they also include Iris Plus Graphics, which offers 80% more graphics performance.
Overall, the new Dell XPS 13 is a dream, but that's not even saying that because I say that about every XPS laptop that comes across my desk. In this case, a great laptop just got even better.
Specs
CPU
Intel Core i7-1065G7 (8MB Cache, up to 3.9GHz)
GPU
Iris Plus Graphics
Body
295.7x198.7x14.8mm (11.64x7.82x0.58in), 1.27kg (2.8lbs)
Display
13.4-inch FHD+ (1920x1200) InfinityEdge touch display, 500-nit, 100% sRGB color gamut, 1800:1 contrast ratio, 0.65% antireflective, anti-smudge
Memory
16GB LPDDR4x Dual Channel SDRAM at 3733MHz
Storage
512GB PCIe 3 x4 SSD
Ports
(2) Thunderbolt 3 [(DisplayPort / power delivery (4 lanes of PCI Express Gen 3)]
(1) microSD card reader v4.0
(1) 3.5mm headphone/microphone combo jack
Audio and speakers
Stereo speakers professionally tuned with Waves MaxxAudio Pro
Stereo speaker 2.5W x 2 = 4W peak
3.5mm headphone/microphone combo jack with 360-degree Waves NX 3D virtual surround with headtracking via headphones
Dual microphone array powered by Waves MaxxVoice Pro supporting VoIP – Cortana Far field capable
Widescreen HD (720p) 2.25mm webcam
Battery
52WHr battery (Integrated)
Input
Touch Display
2 Digital Array Microphones
Full size, backlit chiclet keyboard; 1.0mm travel
Glass Surface Precision Touchpad
Windows Hello fingerprint reader in power button & HD (720p) Windows Hello camera in upper bezel
Ambient Light Sensor for display backlight control
Material
CNC machined aluminum in platinum silver with black carbon fiber composite palm rest or CNC machined aluminum in frost with arctic white woven glass fiber palm rest (UV-resistant and stain resistant coating)
Edge-to-edge Corning Gorilla Glass 6 on touch panels
OS
Windows 10 Home
Price
$1,699.99

There are a few things to note here, as there are a bunch of configuration options. You can get it with a Core i3-1005G1 or Core i5-1035G1, and the display can also be configured in FHD+ non-touch or UHD+. The non-touch model weighs in at 2.64 pounds, rather than the 2.8 pounds on the touchscreen variant. RAM can be configured between 4GB and 32GB, and storage can be configured between a 256GB and a 2TB SSD.
Day one
Design
The design of the new XPS 13 is different yet familiar. It keeps the silver aluminum design with the white woven glass keyboard deck, but it's less of a wedge shape. The Dell XPS 13 always felt thick to me; it wasn't, but the thickness compared to its tiny footprint made it feel disproportionate.
It's now 14.8mm thin, and this is the first time that Dell isn't listing two different measurements for thickness. While it's a tiny bit thicker, the footprint is smaller than the 302x199mm previous generation. It's only a little smaller though, because while the bezels are narrower, the screen is bigger.
While the XPS 13 lineup has dropped USB Type-A for years now, this year's model actually drops a USB Type-C port. We're down to two Thunderbolt 3 ports, so the one that got dropped is USB 3.1 Gen 1. There's one on each side, along with a microSD slot on the left and a 3.5mm headphone jack on the right, but that means that you can charge the laptop from either side.
I think this is the first time I've seen a company actually drop a USB Type-C port from a device, rather than USB Type-A. Thinking about it, it really does make sense. As I've noted in numerous reviews, I'm always in favor of all ports being equal. Just recently, I criticized Acer for using both USB 3.0 Type-A and USB 2.0 Type-A, and not just because USB 2.0 is ancient. The user shouldn't have to know the difference between ports that look the same.
So sure, drop the USB 3.1 Gen 1 Type-C port and leave the two Thunderbolt 3 ports. I also assume that Dell has some telemetry data and knows how many ports people are using at once. Thinking about how popular Bluetooth peripherals are becoming and how few support USB Type-C, I have to assume that thhat number is small. And for people that do need extra ports, there are docks that you can use. Thunderbolt 3 provides a whole lot of bandwidth.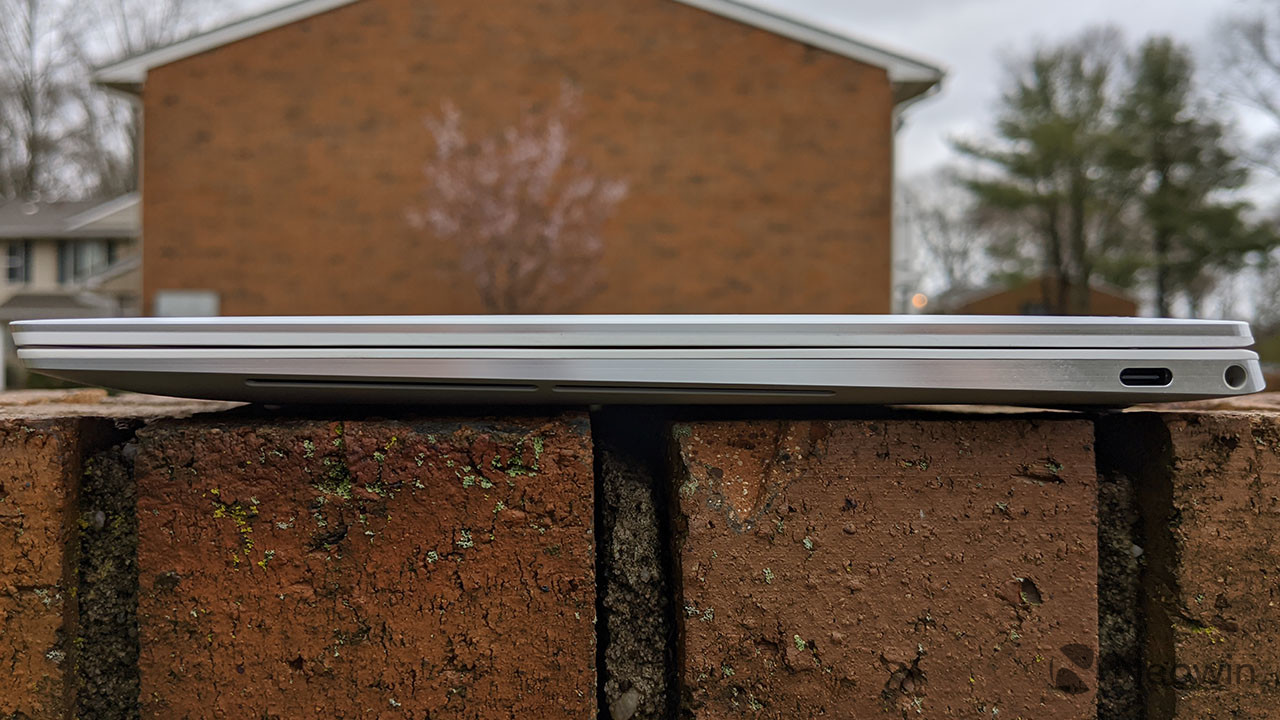 The data transfer speed of Thunderbolt 3 is 40Gbps, while USB 3.1 Gen 1 is 5Gbps and USB 3.1 Gen 2 is 10Gbps. You can do a lot with that. You can connect two 4K monitors, or you can connect an external GPU. There's a lot of flexibility in the still-existing USB Type-C ports.
Overall, I really do love the new design. There's something about it that's a little bit more sleek. It's lighter too, starting at just 2.62 pounds. Combined with the small footprint, it just makes this PC not just stylish, but super-portable.
Display and audio
As I noted above, the body is 6.3mm narrower than the previous generation, and there's a reason for that. The display is taller. Rather than a 13.3-inch 16:9 display, there's a 13.4-inch 16:10 display, so the screen is taller and narrower. Remember, screens are measured diagonally, so while it sounds like a tenth of an inch larger, the change in aspect ratio adds up to a larger surface area.
Personally, and I do believe that I'm in the minority here, but I prefer 16:9 over something taller. If not, I want a larger screen, at least 14 inches. I frequently work with two apps side-by-side, even on a laptop. Since the screen isn't as wide, it takes away from that.
As usual, it's a beautiful display. Dell always nails it with vibrant yet accurate colors, but this one is 500 nits, so it's even brighter than before. That means that it's easier to use in more lighting conditions. There are three configurations: FHD+, FHD+ with touch, and UHD+ with touch. Dell sent me FHD+ with touch, which is probably the model I'd recommend unless you want the lighter non-touch model.
Mostly though, Dell made the screen larger by removing most of the bottom bezels. For the first time, it has four-sided narrow bezels giving it a 91.5% screen-to-body ratio. That didn't stop the company from adding an IR camera though, something that was omitted last year.
The XPS lineup has an interesting history here. The webcam was kept in the bottom bezel for years, causing companies like HP to make jokes about it, calling it the nostril cam. Two years ago, Dell added an IR camera for Windows Hello facial recognition, but when it finally shrunk down the webcam to fit it in the top bezel last year, it killed off the feature. Now, thankfully, it's back, it's on the top bezel, and all is well.
As far as audio quality goes, this is another area where Dell stepped up its game. There are now two 2.5W speakers, rather than 2W speakers. They sound great, and you can really hear the difference in volume.
Dell Cinema is a suite of technologies that focuses on media consumption. It includes CinemaColor, CinemaSound, and CinemaStream. CinemaColor combines Dell Color Profiles and Dolby Vision HDR for blacks that are 10 times blacker, better contrast, and more.
CinemaSound uses Waves MaxxAudio Pro for volume and clarity, promising studio-quality sound. I have to say that in previous models, the clarity was great, but volume was somewhat lacking. That's what really impressed me this time around. Finally, CinemaStream uses Killer Wireless to prioritize streaming music and video.
Keyboard and trackpad
Just like everything else, the keyboard and trackpad are also new. One thing that Dell did not do is use a MagLev keyboard like it did in the XPS 13 2-in-1. This surprised me a bit, because I liked the second-generation MagLev keyboard much better than the first.
The new backlit keyboard does feel a bit more comfortable and quieter than its predecessor. What's more important is that it's actually larger. The trackpad is as well. Yes, I know. It seems impossible to increase the size of a keyboard on the smallest 13-inch laptop on the planet.
Dell made use of all of the space it has this time, stretching the keyboard from edge to edge. It isn't any taller, but it's wider and the keys are larger. Obviously, a bigger keyboard is always nice. The same goes for the trackpad, which is both wider and taller, and it uses Microsoft Precision drivers, so it's responsive and supports the gestures that you're used to.
Dell also moved the power button onto the top-left corner of the keyboard, whereas it was previously placed to the side. It's really just an aesthetic change, and while the built-in fingerprint sensor isn't as necessary with an IR camera, it's nice to have the option.
However, unlike other OEMs that build fingerprint sensors into power buttons, you'll have to scan your fingerprint after it boots up, rather than the PC reading your fingerprint when you first press it. Dell considers that to be a security risk, assuming that you might walk away from your PC between when you press the button and when Windows 10 boots.
Dell Mobile Connect
I don't always give Dell Mobile Connect a shout-out, but it's worthwhile. It's a software product that lets you send and receive texts from your PC, make and receive calls, transfer files from your phone, and it will even mirror your phone's screen.
In many ways, it's similar to Microsoft's Your Phone application, but frankly, it's better. For one thing, it's not as limited. Microsoft has screen sharing and stuff like that, but some features are limited to a select few Android smartphones.
But most importantly, Dell Mobile Connect actually works with iOS. This is something that's extremely rare in an SMS app for PCs, since iOS is just locked down by Apple. You've always been able to send and receive SMS from Mobile Connect with an iPhone; what's new now is that screen mirroring and file transfer work too.
However, I wasn't actually able to get screen mirroring and file transfer to work. I'm working with Dell to solve the issue, and I'll update this review once if I get it up and running. After all, transferring a video from an iPhone to a Windows 10 PC is a real pain point. There's no good way to do it other than to upload the video to a cloud storage service, and that takes time.
Still, SMS is the real value proposition, in my opinion. I work in front of a computer screen all day, and I need a way to text from my PC. There are tons of solutions for Android, not so much for iOS. If an iPhone was the only kind of phone I used, Dell would be the only brand of PC I'd buy for that very reason.
Update: As promised, we've managed to get Dell Mobile Connect working with an iPhone, and it's everything that I hoped it would be. Screen sharing works, and you can use it to control your phone, but the really useful tool is file transfer. This is something I've struggled with for a while, as I often record videos with an iPhone. Normally, I upload it to OneDrive (which takes hours) and let it sync to my Windows 10 PC.
I was able to transfer a five-minute 1080p 60fps video from my iPhone to the XPS 13 in less than a minute. It's just as good as AirDrop with a Mac, and it's amazing.
Here are the steps I had to take to get it working:
[Phone] Uninstall DMC App from phone

[PC] Uninstall DMC 2.0 Application from Program Files

[PC] Uninstall DMC 2.0 Drivers from Program Files

[PC and Phone] Reboot the system to clear the cache

[PC] Install DMC from MSFT Store

[Phone] Install DMC app on your phone (Google Play for Android / App Store for iOS)
Performance and battery life
I usually start off by talking about performance, but really, the battery life is fantastic. On a medium power setting with medium screen brightness, I didn't have any problem working for eight hours on this thing. If you're just watching videos, that number can even go up.
As always, it will go down if you have the 4K model, or if you're doing power-intensive tasks like editing video. And you can edit some video with the Core i7-1065G7 that's included in the model that Dell sent me. The CPU includes Iris Plus Graphics, which Intel says is 80% more powerful than its predecessor. Intel's new Ice Lake chips make me more comfortable leaving the house without a PC that has dedicated graphics, and that's saying something.
But let's back up a bit, because you might recall that the last XPS 13 had 10th-generation Intel CPUs as well. Those were Comet Lake though, which are still 14nm and include Intel UHD Graphics. In order for Intel to get down to the more efficient 10nm in Ice Lake, it had to lower the clock speed. In other words, you get a more powerful CPU with Comet Lake, but it's made up for in graphics power with Ice Lake.
But wait, there's more. Dell offers three CPU options for the XPS 13: the Core i3-1005G1, Core i5-1035G1, and Core i7-1065G7. Nore that the 'G1' in the Core i3 and i5 SKUs indicate that those chips do not have Iris Plus Graphics. The idea - rather than using a Core i5-1035G4 or Core i5-1035G7, which do have Iris Plus - is to differentiate. The Core i3 is dual-core, the Core i5 is quad-core, and the Core i7 is quad-core with Iris Plus, so there's a very clear distinction between each tier.
The only problem is that you're actually likely to be better off with the Core i5-10210U (Comet Lake) that was in the previous model than the Core i5-1035G1 that's in the new one. Luckily, you can still get the Comet Lake one if you want it. Dell did say that they'll be sold side-by-side.
For benchmarks, I used PCMark 8 and PCMark 10.
| | |
| --- | --- |
| PCMark 8: Home | PCMark 8: Creative |
| | |
| | |
| PCMark 8: Work | PCMark 10 |
| | |
| | |

These scores are right around what we saw from the XPS 13 2-in-1, which was a similar configuration.
Conclusion
I really love the new XPS 13. There doesn't seem to be any meaningful compromises here, and the improvements that Dell made absolutely are meaningful. My only complaints are that there's no cellular model, something that HP offers from its Spectre lineup, and that you have to scan your fingerprint after the PC boots up. That's it.
Here's the deal though. The XPS 13 was already one of the best laptops on the market, some would say the best. And now it's even better. The screen is larger and brighter. The bezels are smaller but now with an IR camera. The keyboard is bigger. The design is sexier.
The performance is better as well, as long as you get a Core i7, which you totally should. That comes with the best in integrated graphics, something that's more comparable to lower-end dedicated graphics, and it's a worthwhile upgrade.
If you want to check out the new XPS 13, you can find it on Dell's website here.
Pros
Stunning new design Larger, brighter screen Bigger keyboard Added IR camera Performance/battery life
Cons
No LTE option Fingerprint sensor