Back in May, Dell introduced the first redesign for the XPS 15 that the laptop has seen in five years. It wasn't surprising though, because the XPS 13 got the same treatment back at CES, and now the whole lineup follows the same design.
When I reviewed last year's model, I thought it was nearly perfect, with a beautiful 4K OLED display along with powerful specs. As it turns out, there was room for improvement in just about every area.
That's exactly what Dell did. Just about every aspect of the XPS 15 is improved in the new model, from a larger screen to a larger trackpad, and much more.
Specs
CPU
Intel Core i7-10875H (16MB Cache, up to 5.1 GHz, 8 cores)
GPU
NVIDIA GeForce GTX 1650 Ti 4GB GDDR6
Display
15.6-inch 4K UHD+ (3840x2400) InfinityEdge touch display; HDR 400, 500-nit, 100% Adobe RGB minimum + 94% DCI-P3 typical, 1600:1 contrast ratio, anti-reflective, anti-smudge, Dolby Vision, 178° wide viewing angle +/- 89° / 89° / 89° / 89°, Eyesafe technology
Body
344.72x230.14x18mm (13.57x9.06x0.71in), 2.05kg (4.5lbs)
Memory
16GB DDR4 Dual Channel SDRAM at 2933MHz
Storage
512GB PCIe 3 x4 SSD
Battery
86Whr battery (built-in), 130W USB Type-C AC adapter
Ports
(2) Thunderbolt 3 with power delivery and DisplayPort
(1) USB 3.1 Type-C with power delivery and DisplayPort
(1) SD card reader
(1) 3.5mm audio jack
Audio
Studio quality tuning with Waves MaxxAudio Pro and Waves Nx 3D audio
Quad-speaker design with 2.5W x2 woofers and 1.5W x2 tweeters = 8W total peak output
3.5mm headphone/microphone combo jack featuring Waves Nx 3D audio with headtracking
Dual microphone array optimized with Waves MaxxVoice supporting VoIP - Microsoft Cortana capable
Input
Touch Display
2 Digital Array Microphones
Full size, backlit chiclet keyboard; 1.3mm travel
Glass surface Precision Touchpad
Windows Hello fingerprint reader in power button & HD (720p) Windows Hello camera in upper bezel
Ambient Light Sensor for display backlight control
Connectivity
Killer Wi-Fi 6 AX1650 (2x2) built on Intel chipset + Bluetooth 5.1
Material
CNC machined aluminum in platinum silver with carbon fiber composite palm rest in black Edge-to-edge Corning Gorilla Glass 6 on touch panel
Price
$2,358.99

The XPS 15 9500 starts at $1,258.99 (everything is $59 off, so these are actually priced more like $1,199.99, and $2,199.99 for the model that Dell sent me). That model comes with the FHD+ display, along with an Intel Core i5-10300H, 8GB RAM, and a 256GB SSD. Also, the non-touch displays have a smaller battery, and are a half-pound lighter.
The model that Dell sent me is not a pre-configured option on its website. I found a similar one that has a Core i7-10750H processor, and after instant savings, it actually comes out to the same price of $2,199.99 as the custom one with the Core i7-10875H.
Day one
Design
As I mentioned, the new XPS 15 is the first redesign that the lineup has seen in five years. We did, however, see some elements of the new design in 2018's XPS 15 2-in-1, but this is more along the lines of the XPS 13 redesign that we saw earlier this year.
The chassis is 344.72x230.14x18mm, whereas last year, it was 357x235x17mm. That means that while it's just a bit thicker, it does have a smaller footprint, all while packing in an even larger display. Dell has always touted a certain size screen in the footprint of a PC that's one size smaller, but now it's taken it up yet another notch. It's quite impressive. The weight is the same, at 4.5 pounds, which is fine for something with these kinds of internals.
The color of the new XPS 15 is the same as it's always been, with the silver exterior and black interior. However, the sides are now a glossy silver color, making it look a lot more modern and flashy than the black sides that were on its predecessor. Dell also recently announced that for the first time, the XPS 15 is available in a second color. It now comes in Frost, with an Arctic White woven glass palm rest, a flavor that's already been available on the XPS 13 and XPS 13 2-in-1.
As far as ports go, there are fewer than before, although I'm fine with it. On the left side, there are two Thunderbolt 3 ports, which can be used for connecting high-resolution monitors, an external GPU, a dock, and more. On the right side, there's a USB 3.1 Gen 1 Type-C port, an SD card slot, and a 3.5mm audio jack.
In other words, Dell made the bold decision to remove USB Type-A ports from this PC. It's not particularly surprising, since we've already seen this move on the XPS 13, XPS 13 2-in-1, and the XPS 15 2-in-1, but it's something to be aware of. I think USB Type-A is something that might just be taken for granted in laptops this size. It does come with an adapter though.
Speaking of adapters, the barrel charger that I've spent two years complaining about is finally gone. I started complaining about it when I reviewed the XPS 15 2-in-1, which didn't have the barrel charging port and shipped with a 130W USB Type-C charger. Every time there was a new XPS 15 after that, I asked why it didn't come with a USB Type-C charger, and was always told that it hasn't been redesigned yet, but of course, now it has. Also, to be clear, you can use any of the three USB Type-C ports for charging.
Dell is the only company offering this wattage of USB Type-C charging. That's because Power Delivery is capped at around 100W, so if you use any other charger on this PC, it's going to charge slowly.
It really feels like Dell took a step back and rethought every aspect of the XPS 15 when they redesigned it. Some companies would just change some colors, move around some ports, and so on. Dell changed everything while keeping it familiar to XPS 15 fans, and the end result is magnificent.
Display and audio
The screen on the XPS 15 is absolutely lovely. It's still 15.6 inches, but it's 16:10 instead of 16:9. That means that it's narrower but taller, and it has a larger surface area. While the screen is taller, the bottom bezel is chopped down, so it really feels like this thing is all screen. In fact, it's one of my favorite non-OLED screens I've ever used.
I've got a bone to pick with Dell about the lack of an OLED option though, because they introduced OLED for the first time in last year's model. I understand why it doesn't exist in this year's model; there are no suppliers of 16:10 4K OLED panels. But why introduce the feature at all if it's just going to be taken away next year? It's reminiscent of when Dell used to put the webcam below the screen on XPS laptops, and the firm added IR cameras for Windows Hello. The next year, the webcam was moved above the screen and the IR camera was gone.
Of course, the webcam thing isn't an issue anymore. The tiny top bezel includes both a webcam and an IR camera, and it feels like this was a feat in engineering. Everything about this machine is a delight.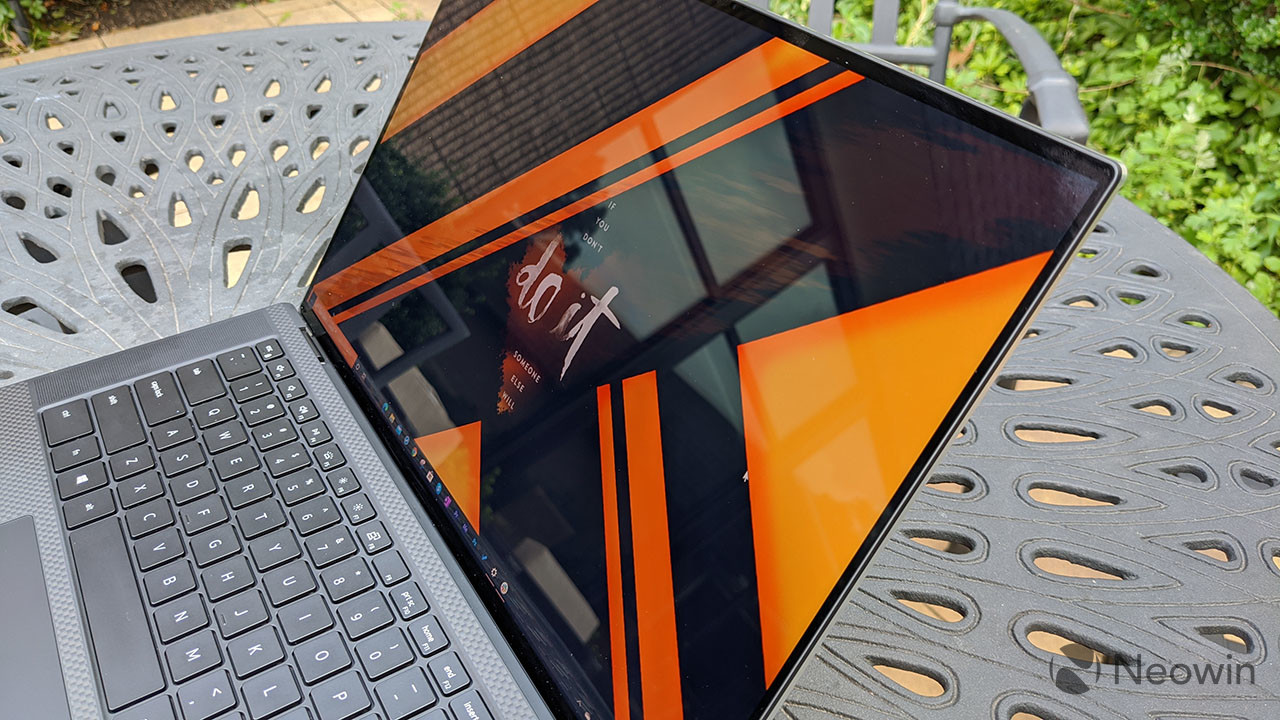 Typically, I'm a fan of 16:9 displays, just because I like wider screens. The nice thing about the 16:10 screen here is that it's just so big. Remember, screens are measured diagonally, so while it's bigger, it's still narrower. But at 15.6 inches, it's still great. The screen is beautiful too, something that I can't say enough about Dell XPS laptops. Last year when I reviewed the OLED model, I noted that Dell's LCD screens are so good, that OLED doesn't even make that big of a difference.
The audio quality is incredible as well, and while it was always good, it's even better. It's crystal clear with deep bass, and it's loud. The only laptop I can think of that might have better audio is Lenovo's Yoga C940, which had a rotating Dolby Atmos soundbar.
Dell uses Waves MaxxAudio Pro, with a quad-speaker design that has two 2.5W woofers and two 1.5W tweeters, which are on either side of the keyboard.
Keyboard and trackpad
With any lineup of PCs that I particularly like, I usually request to hold onto the newest model until the next one comes out, so I can easily compare the two (I just packaged up the OLED XPS 15 from last year and it's a sad day). I'm glad I did because the keyboards are very different, a lot more different than I would have realized had I not had last year's model around.
This keyboard is shallower than the one on last year's model, although it seems to make up for it with resistance. It's not a bad thing that had I not had the old model for reference, I wouldn't know the difference; it means it's comfortable and there's nothing I dislike about it. It's a standard, backlit, Chiclet-style keyboard.
Once again, there's a fingerprint sensor in the power button, although this time around, the power button is a rectangular button on the keyboard, rather than a circular one off to the top-left. Unfortunately, Dell still doesn't scan your fingerprint when you press the button to boot up the PC, completely negating the whole point of using the power button as a fingerprint sensor. The firm considers it a security risk, that you might get up and walk away from your PC after pressing the power button to boot it up.
My favorite improvement, however, is the massive trackpad. Dell absolutely made use of the taller footprint to make a nice, big trackpad. It's probably the biggest one on any Windows PC, unless the one on the new XPS 17 is bigger (I haven't gotten my hands on the XPS 17 just yet). Large trackpads are something that Apple does with its MacBooks, and I'm super happy to see it on a Windows PC.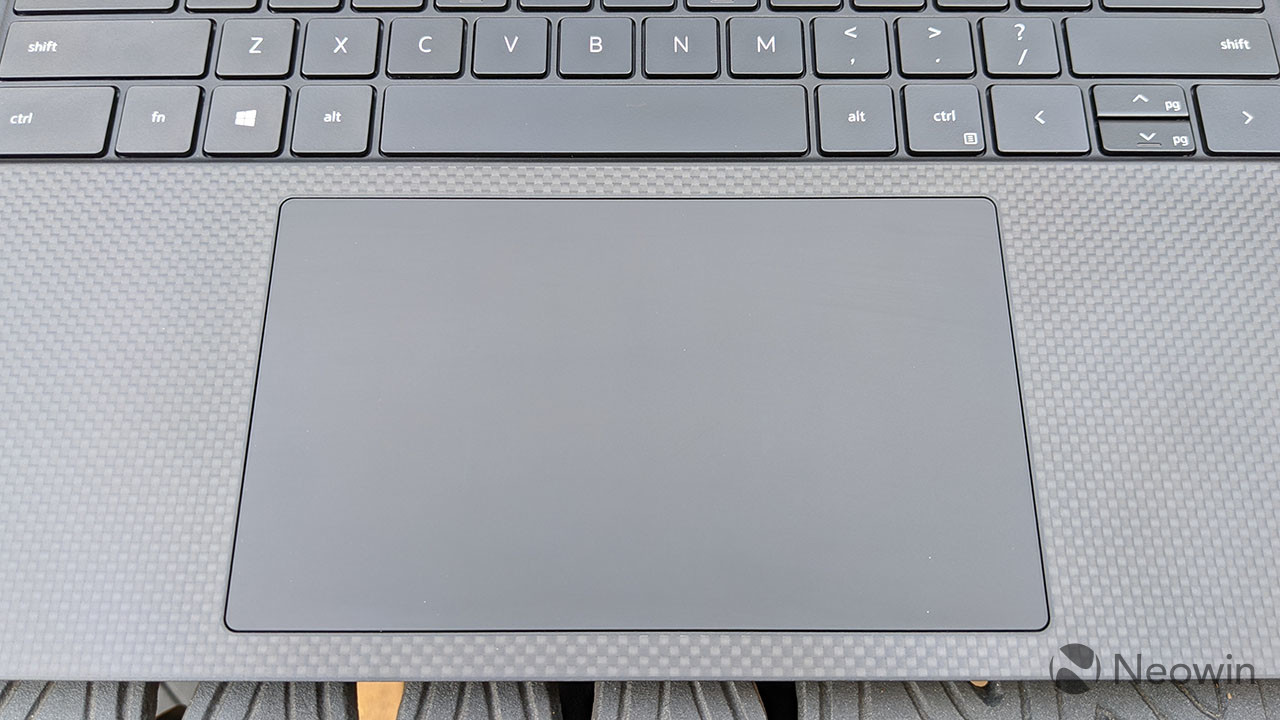 Obviously, it uses Microsoft Precision drivers, but having a trackpad that's so big just makes drag-and-drop operations easier. And frankly, it makes everything easier. The trackpad is just another aspect of the XPS 15 that made it a dream to use.
Performance and battery life
I've often called the XPS 15 the perfect mix of performance and portability. It always comes with a 45W H-series processor and some solid dedicated graphics, but it doesn't come in a super-heavy package, weighing in at just 4.5 pounds.
The unit that Dell sent me includes an Intel Core i7-10875H, an Nvidia GeForce GTX 1650 Ti with 4GB GDDR6, and 16GB RAM. The processor seems to only be available in custom configurations, as it's a 45W octa-core processor with 16 threads, just like the Core i9. The regular Core i7 that's offered is the Core i7-10750H, which is hexa-core. One thing that I'll say about the GPU is that it uses the newer GDDR6 memory, whereas some GTX 1650 SKUs, like the one in the Surface Book 3, are still GDDR5.
This is what I'd consider a prosumer laptop. It's good for pretty much anything. You can use it for photo and video editing, some light gaming, or you can just use it for productivity. It can get the job done.
Battery life is OK. Dell sent me the 4K UHD+ model, which uses a lot more battery than the FHD model. On about 20% brightness and the power slider at the lowest rung above battery saver, I got about four hours, and that's about what I expected. Of course, this was while doing regular work in the Chrome browser and using various other apps. That number can go down if you're editing video, and it can go up if you're just watching videos. Also, you'd probably be looking at six-eight hours if you get the FHD display, so that's something to think about when configuring your model.
There's a balance with all PCs. You can have power and a pretty display, or you can have great battery life. That's just how it works.
For benchmarks, I used PCMark 8 and PCMark 10, although I also ran 3DMark and VRMark for good measure.
| | |
| --- | --- |
| PCMark 8: Home | PCMark 8: Creative |
| | |
| | |
| PCMark 8: Work | PCMark 10 |
| | |
| | |
| 3DMark: Time Spy | VRMark: Orange Room |
| | |
| | |

The area that the XPS 15 really shines is the Creative test, and it's no surprise. This is a great machine for creators.
Conclusion
I've always been a fan of the Dell XPS 15, in fact, I had my eye on it before I even reviewed one. As someone who edits video and needs something more than an ultrabook, but doesn't want to carry around a 10-pound gaming notebook, the XPS 15 always stuck out as something that could get the job done, back at a time when "creator laptops" weren't a thing just yet.
It's hard to find any faults with the XPS 15 9500, but I can think of two minor ones. One is that there's no OLED option for the display, something that I wouldn't complain about if Dell didn't offer it last year. The other is that there's no cellular variant. The company has never offered cellular in the XPS 15, but with the feature growing in popularity, and being incredibly useful, it's worth noting.
But let's talk about the good in this magnificent device. Dell took what was already my favorite 15-inch laptop and made it even better. The InfinityEdge display has even smaller bezels, and with a 16:10 aspect ratio, it's remarkably immersive. Adding to the immersion is audio volume and quality that's on par with the best laptops around.
The keyboard has been reworked too, including a massive Precision trackpad that's among the biggest you'll find on any Windows laptop. Honestly, I can't think of anything that I'd really change about this. That's what I find so amazing about the XPS 15. If a company goes back to the drawing board, I'd expect to be able to look at at least one aspect of the decisions they made and then be able to criticize it. I really think that every aspect of the new XPS 15 is a winner.
I can't wait to try the XPS 17 though, because if the XPS 15's screen looks big and immersive, I can only imagine what the XPS 17 feels like. Dell isn't lying when it says that it packs the XPS 15 into the body of a 13-inch laptop, so the XPS 17 should be in the body of a standard 15-inch laptop too.
If you want to check out the Dell XPS 15 on Dell.com, you can find it here.
Pros
Beautiful all-screen display Massive trackpad Sexy redesign Performance and portability
Cons
No OLED option No 4G LTE option