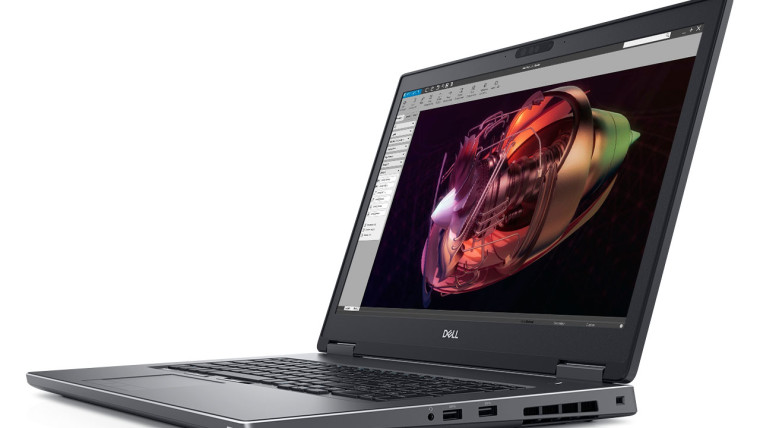 A few weeks ago when Intel announced its new H-series processors, Dell announced new XPS 15 and Alienware PCs alongside them. But now that the consumer PCs are out of the gate, it's time for the company to announce its new mobile PCs for professionals. Along with of some new Latitude laptops, there's also a series of new mobile workstations from the Precision brand.
Seen above is the Precision 7730, and that's the powerhouse of the bunch. It has a 17.3-inch display that can be configured between a 1600x900 and a 3840x2160 (4K UHD) resolution. That's all powered by either AMD Radeon Pro or Nvidia Quadro graphics, the former of which can come with up to a WX 7100 with 8GB GDDR5. The Quadro graphics can be configured with a P5200 with 16GB GDDR5.
Processor options range from a Core i5-8300H to a Core i9-8950HK. The Core i5 is quad-core, but if you go with the i7 or the i9, you'll get six cores, which is a lot of power. Moreover, the Core i9 is even unlocked for overclocking. And if all of that isn't enough, you can get the device with up to 64GB DDR4 2400MHz or 32GB DDR4 3200MHz SuperSpeed memory.
The Dell Precision 7530 is a bit smaller than the 7730, with a 15.6-inch screen that comes in 1080p or 4K flavors. It too offers up to a Core i9-8950HK processor, although graphics are either an AMD Radeon Pro WX 4150 with 4GB GDDR5, or up to Nvidia Quadro P3200 with 6GB GDDR5.
As you can guess from the product name, the Precision 5530 is a bit lower end than the 7xxx series, although this one is offered in a convertible variant. It still comes with up to a Core i9 and a 15.6-inch 4K display, but graphics only go up to an Nvidia Quadro P2000 with 4GB GDDR5, and you can only get it with up to 32GB RAM.
Finally, the Dell Precision 3530 has a 15.6-inch display that can only be configured up to 1080p, and it comes with up to a hexa-core Core i7. Graphics can be configured up to an Nvidia Quadro P600 with 4GB GDDR5.
The Dell Precision 5530 2-in-1 will be available in July or August, while the rest of the models announced today are coming on May 22. The Precision 3530 starts at $1,049. the 5530 at $1,449, while the 7530 is $1,189 in its most basic configuration, with the Precision 7730 starting at $1,509.