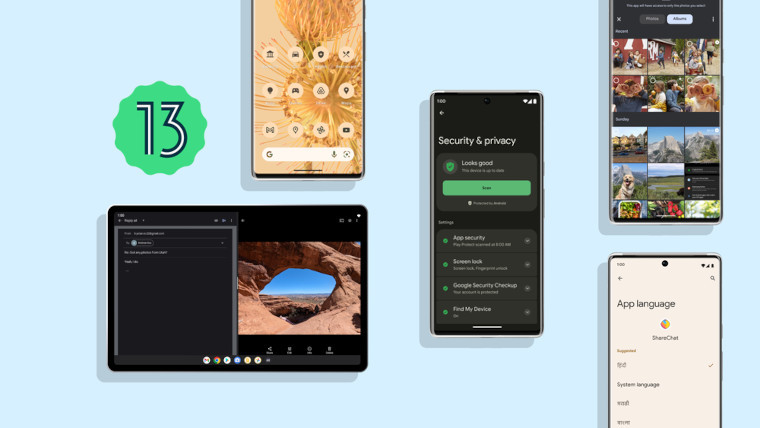 At its Google I/O event on Wednesday, Google released the second beta of Android 13. The search giant highlighted several new aspects to Android 13 including better privacy controls that help users to limit what data apps have access to, an improved Material You theme system that works across more apps, a new Settings & Privacy page that can help you boost your security, swanky music controls that adjust their look based on the music you're listening to, and the ability to change the language of each app – something that music be quite handy if you are bilingual and prefer certain apps in a particular language.
Google said that many of these features are present today in the second beta of Android 13 and that the new operating system is being made available on a range of devices from Google's device-maker partners including Asus, Lenovo, Nokia, OnePlus, Oppo, Realme, Sharp, Tecno, Vivo, Xiaomi, ZTE, and, of course, it's available for Pixel devices too. If you want to find out how you can download it, head over to the Android Developer website.
With Android 13, privacy and security are very important focuses for Google. Users will have more control over the files they give apps access to, for example, "Files and media" has been removed and two new categories have taken its place, "Photos & videos" and "Music & audio". Another way that Google is preserving privacy is by no longer needing users to grant location to apps just to enable Wi-Fi scanning.
To protect the data you may have copied to the clipboard, Google is adjusting Android so that you get a notification when an app accesses your clipboard. The system will also erase your clipboard history after a short period so apps are blocked from copying information. While this is good from a privacy perspective, it sounds as though it could become annoying if you're trying to copy and paste between apps, especially if your phone is a bit sluggish.
To ensure we are as safe as possible, Google is going to introduce the Settings & Privacy settings page. Here, you'll see things such as app security, screen lock, Google Security Checkup and Find My Device settings and any requests Google wants you to make to tighten up your security settings.
Aside from all of the features mentioned, Android 13 will also improve the tablet experience. It brings better multitasking on tablets and an updated taskbar so you can switch between single tablet view and split screen. To enter split screen mode, just drag and drop a second app onto your screen from the taskbar library and it will share the screen with the app already open.
Furthermore, if you are using a stylus pen with your tablet, you'll be able to rest your hand on the screen without it being misidentified as the pen. Google said that it's updating more than 20 of its apps to work better on large screens and third-party developers such as TikTok, Facebook, and Zoom are being revamped to work better on tablets.