TechCrunch is reporting that they've found a Google Music logo, located on Google's very own domain. Because of this, they concluded that Google will likely call their upcoming iTunes competitor by that name.
Just to give everyone some background, last month, at Google I/O, Google previewed their upcoming cloud based Android Market. With the new Market, which will be accessible via any web browser, Google showed off the ability to download music, which in turn, would be pushed, instantly, to whichever of your Android devices you want. Google's very own VP of Engineering, Vic Gundotra, said:
"It's called the Android Marketplace, because it's more than apps. In fact, what we're about to show you is a new category. How about some music?"
Keeping the above statement in mind, please take a look at the screenshots below. These were taken from the Google I/O day 2 keynote. The first shows the layout of the online Android Market, which we know will be called "Market." Check out the circled logo (seems pretty convincing, doesn't it?). The second photo is from the music download demonstration. If you will look, you'll see the same layout being used, as well as the same URL. This would logically mean that they are part of the same system, as Vic Gundotra so eloquently stated.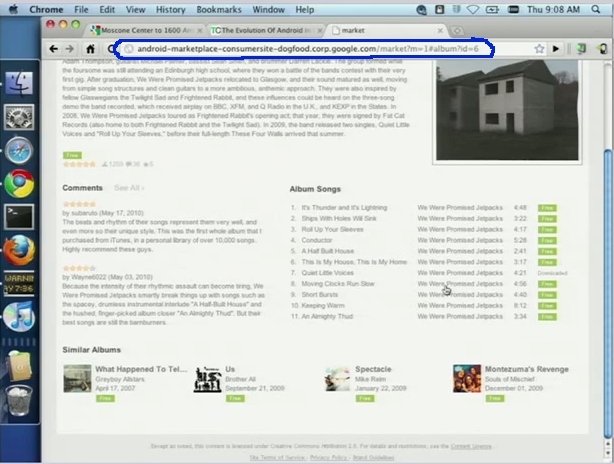 Apple is also rumored to be readying a cloud based iTunes. When Google will get their online Market up and running remains to be seen. Either way, don't expect Google to start fragmenting their own online cloud based music and app store into one thing called the Market, and another called Google Music. It's just not happening. The experience will likely be a single one--the Android Market.
So what is the Google Music logo for? We dont know for sure, but it was likely just sketched up for google.com/music, which is a site used to discover music. Our guess is that Google decided not to use that particular music logo, and never deleted it from their servers. To say that finding a logo called Google Music means that Google will "likely" brand their online music store as such, completely negates what Google's very own VP of Engineering said and showed at Google I/O.