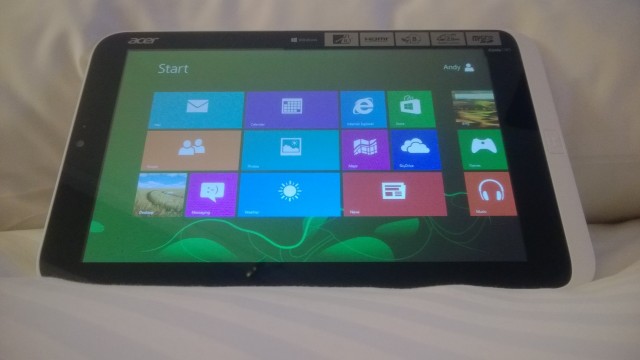 Microsoft's BUILD developer conference got off to an exciting start with a keynote by CEO Steve Ballmer, joined by various other key figures from across the company. During the keynote, he announced that all attendees at BUILD will receive an Acer Iconia W3 tablet (along with a Surface Pro). The Iconia W3 is the first of a new wave of smaller Windows 8 tablets, with an 8.1-inch display, and Windows 8.1 brings new improvements and enhancements to accommodate these smaller form factors.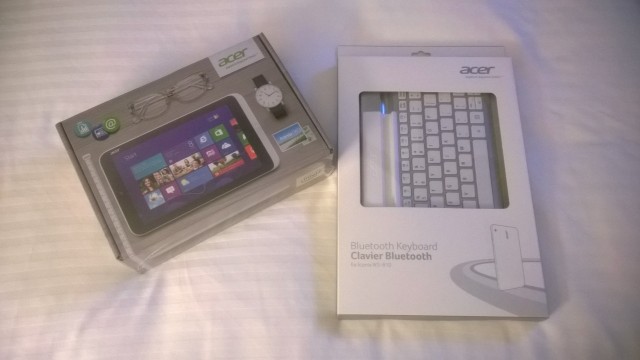 My fellow Neowin editor, Christopher White, had a brief opportunity to get his hands on the Iconia W3 at TechEd North America earlier this month, but while he was able to take plenty of photos, Microsoft sadly didn't afford him much time to really get to grips with the device. We've had a bit more time with the tablet now, thanks to the unit that Microsoft kindly supplied to us at BUILD. 
We'll be properly putting the W3 through its paces soon in the kind of detailed, thorough review you've come to expect of Neowin - but after spending a few hours with the device, we've already formed some impressions of the device. 
In the box, you'll find the tablet itself, along with a power cable and documentation. A Bluetooth keyboard is supplied in a separate box.
When it starts up for the first time, the tablet boots in landscape mode. The tablet weighs just under 500g, and while that's not unbearably heavy, it's worth noting that this is considerably (almost 200g) heavier than the similarly sized iPad mini. That difference is significant in practice; for such a small device, it feels incredibly weighty, especially when held with one hand in landscape mode. That said, it's a good deal more comfortable to hold in portrait mode. 
Curiously, given the density of weight relative to its dimensions, you might expect this thing to be rock-solid. It's not. Despite the ultra-low price tag of the device - it's on sale for $379 - I was surprised by how cheap the device felt. The plastics aren't particularly pleasant (although they're far from the worst I've encountered), but what really shocked me was the creakiness and flex in the device's construction. Grip it even a bit too tightly, and you'll see distortion on the LCD from where your fingers are pressing on the rear side of the device. 
The screen isn't hugely impressive, but this isn't entirely surprising given Acer's need to keep the price down. It has WXGA (1280x800px) resolution but pretty poor viewing angles, with colour distortion issues at anything other than a head-on, dead-centre view. 
A full-size keyboard is also available, and as you can see, it's a good deal wider than the tablet itself. The keyboard actually pairs to the tablet through Bluetooth, which is a bit of an odd choice, given that the only configuration to use the tablet with the keyboard is by slotting into the cradle. It's curious that Acer didn't simply make this a physical dock for the tablet, instead of relying on Bluetooth pairing, especially since this keyboard is labelled on its packaging as specifically for the Iconia W3. 
There's also no scope for adjustment in the tablet/keyboard configuration; you can't change the angle of the display to accommodate your needs when using the physical keyboard.
There is one brilliant element to the tablet and keyboard combo though. Flip the keyboard over, and you'll find a handy slot into which you can conveniently clip the tablet in...
...making it much easier to carry the two items together. A nice and thoughtful solution, although it does leave the keys on the keyboard exposed to dust and lint in a bag. 

Frankly, the W3 hasn't made a particularly positive impression here. The need to pursue affordability is certainly understandable, but given how much Apple has been able to achieve in the lighter, similarly-priced iPad mini, we're not sure whether Acer has enough to make a strong case for the W3 here. 
We're really looking forward to giving the device a proper, thorough test in our upcoming review, and we'll certainly be keeping an open mind about it, and hoping that it will impress us more over time.