This week at CES, Acer introduced a whole refreshed lineup of PCs, including Windows 10 devices and a Chromebook.
Perhaps the most exciting is the Swift 7, a new premium Windows 10 PC that Acer says is the thinnest laptop in the world, even thinner than last year's model at 8.98mm. You seen see from the image above that it's even smaller than my 10.5-inch iPad Pro when the keyboard is attached to it.
What's also cool about the Swift 7 is that it's an Always-Connected PC, meaning that it supports cellular connectivity. Unlike other devices that we've seen, this one actually uses an Intel modem.
The keyboard doesn't feel shallow, and it even includes a touchscreen. The only compromise that it seems to make is that the trackpad doesn't move when you press it.
Nitro is Acer's brand that's aimed at casual gamers, whereas Predator is aimed at the more serious gamer, but we'll come back to that. The Nitro 5 is a gaming laptop that uses AMD's Ryzen processors with an RX560 GPU. Unfortunately, the model that was demoed was just a demo unit, so I couldn't actually turn it on.
One thing that I found to be pleasant about it is the keyboard. I've found that many gaming laptops have keyboards that are terrible for actually getting work done on, and if I'm going to spend that much on a laptop, I'd want to be able to use it for everything. The Nitro 5 certainly seems like that kind of machine.
A model with an Intel processor will be coming this year with Nvidia graphics. While Intel announced its new H-series processors at CES, it only announced the ones that come with a dedicated AMD Radeon GPU. In other words, OEMs that want to use an H-series chip and Nvidia graphics will have to wait a bit longer.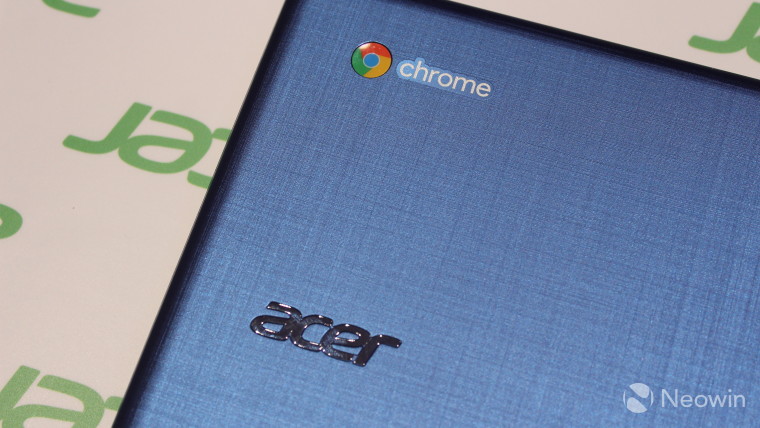 The Chromebook 11 comes in a beautiful shade of blue with a textured body, and it only costs $249. It includes a dual-core Celeron processor, although there will also be a quad-core model with 32GB storage. Pricing isn't yet available on the upgraded model.
All-in-all, it seems like a pretty solid Chromebook when considering the price of $249. The display looks nice at 1366x768, and it's comfortable to use. It's a standard laptop form factor though, so don't expect convertible functionality.
The Switch 7 Black Edition is a tablet that was originally shown off at IFA in August, with U.S. availability announced this week. While packing an eighth-generation U-series processor, it also includes discrete graphics in the form of an Nvidia GeForce MX150, all with a fanless design. Instead, it uses Acer's Dual LiquidLoop technology.
The Predator Orion 9000 is another one that was shown off at IFA but had availability announced this week. As mentioned earlier, Predator is Acer's brand for serious gamers, and that's apparent with this Windows 10 PC.
It can be configured with up to an 18-core Intel Core i9 processor and an Nvidia GeForce GTX 1080Ti GPU. You can even jack it up with up to 128GB of RAM.
All of Acer's CES announcements are delightful in their own unique way. The Chromebook 11 has a pleasant design for an extraordinarily low price, while the Predator Orion 9000 brings the thunder with top-end specs. The Swift 7 is a premium PC due to its portability and thinness. And then there's a Nitro 5, a gaming laptop that's designed for the casual user. Indeed, Acer certainly delivered a well-rounded array of PCs this year.
Neowin is at CES to bring you all the coverage from the show floor, click here for other articles.