Six years ago, Microsoft announced that HP would be one of its launch partners for Windows Phone 7 – an announcement that proved to be somewhat wide of the mark, as HP not only abandoned the platform before it officially launched, but in the years since then, it hasn't launched a single Windows Phone handset.
But on Sunday, HP unveiled a new Windows 10 Mobile device – and not just any device either. The new HP Elite x3 is the most powerful Windows handset ever – even more so than Microsoft's latest flagship phones – and it not only represents the company's fresh commitment to the mobile platform, but also a compelling and distinctive proposition that sets it apart from all other Windows handsets to date.
Make no mistake: the Elite x3 is a fiercely powerful device, featuring Qualcomm's latest range-topping Snapdragon 820 SoC, along with 4GB of RAM, and a generous 64GB of storage. But the new device isn't being aimed at the consumer market, despite its mighty spec sheet. Instead, HP is aiming it squarely at business customers. Indeed, the whole reason for the device existing is to complete HP's Windows 10 proposition for corporate users, offering them an across-the-board solution from desktop-based systems to portable and ultra-mobile devices.
So why the top-of-the-line specs? After all, unlike consumers – especially those who regularly read technology sites – who tend to demand all of the very latest new features, businesses are generally more practical when it comes to buying hardware. Indeed, businesses simply don't lust after killer specs in the same way that consumers do – so has HP got it wrong with the Elite x3?
That's a question that I put to Daren Ng, HP's Director of Mobility and Commercial Solutions for Asia Pacific and Japan. The simple answer, he said, is 'no'. In fact, HP has considered this very carefully, not simply building a device with uber-specs for the sake of it, but rather, taking into account exactly what its business customers need.
As you would expect of a technology giant with such prowess in the corporate space – HP is the world's largest vendor of business PCs – the company has been working closely with its customers to determine their needs, both today and into the future. Consequently, the Elite x3 has been developed not only to satisfy their immediate requirements, but also to ensure that it continues to fulfill those demands for longer than the 18- to 24-month lifecycle of most consumer devices.
But HP is also keeping a close eye on one of the key trends in business devices: the overlap between personal and professional lives of the user. BYOD ('bring your own device') is the term that most people will be familiar with on that front – but an increasingly common alternative to that is COPE (corporate-owned, personally-enabled). This alternative allows a business to provide devices to its users, with software fully configured and managed to its own specifications, while allowing the user to enjoy the usage and experiences that they'd get on a handset that they'd purchased for themselves.
With the Elite x3, HP has given careful thought to COPE device management - and not merely as an afterthought to the development process - thanks in no small part to the feedback it's received from its business customers.
So the Elite x3 is powerful enough to deliver compelling experiences like Continuum, the high-end PC-like feature in Windows 10 Mobile that allows users to connect a mouse and keyboard to the device, while hooking up the device itself to a larger display. Indeed, with COPE scenarios in mind, HP is fully embracing Microsoft's Continuum vision of a single mobile device offering a truly portable computing experience.
Daren said that many of HP's business customers have responded enthusiastically to the prospect of equipping their employees with Elite x3 handsets, allowing them to use its new Desk Dock accessory with the device at the office to get their work done, and providing them with a second dock for use at home, either to let them catch up on a bit of extra productivity, or simply to enjoy the entertainment aspects that Windows 10 Mobile has to offer, such as watching a movie in Continuum mode, or listening to some music.
HP has gone even further in building its Continuum vision, though, developing the Mobile Extender device. The Extender looks like a laptop, but it can't operate on its own without the Elite x3 handset, connected either wirelessly or via USB-C. HP wanted to ensure that its business customers could offer their employees not just the portability of experience offered by the phone itself, but that they could also get a more familiar notebook-style experience on those occasions when they need to get stuff done on the road. After all, Continuum sounds great for when you've got a big screen waiting for you at home or at the office – but how do you take advantage of that same experience when on a train or on a long flight?
HP recognized that for both productivity and entertainment, some users would consider even a generous 6-inch display on a smartphone less than ideal for working on documents or watching video for hours at a time while on the move, and the Mobile Extender was the result of this, with a laptop form factor, 12.5-inch Full HD display, and a really nice keyboard too.
Daren told me that HP's engineering teams spent a great deal of time perfecting the keyboard, but he also claimed that this is one area in which the company's broader experience in building notebooks was invaluable - and indeed, it certainly felt pretty good to type on, for my fingers at least. The result, he says, is that the Mobile Extender is extremely thin and light, but it still feels and works like a laptop, despite running everything off the phone itself (although the Extender does include its own battery to power its much larger display).
If COPE is the way forward for businesses to be able to manage their devices most efficiently and – above all – securely, then the devices that they provide have to appeal to the 'personal' side of things too.
This is why you'll find a 16-megapixel rear camera on the device, allowing users to enjoy capturing photos of their time with family and friends when they're out of the office. It's also partly why you'll find high-quality Bang & Olufsen audio features – although in the spirit of the duality of experiences that the device offers, HP has also approached the audio side of things to be well-optimized for Skype for Business calling. It's a similar story when it comes to HP's decision to include dual-SIM support as standard on the x3; not only is this a popular feature for business travellers (allowing them to use a local SIM when outside of their home country), but it will also let those employees who don't regularly travel internationally to keep both a work and personal SIM in the handset – a further example of its COPE considerations.
Those considerations extended even further. Responding to feedback from its business customers about the need for devices to be robust enough to last as long as possible, HP engineered the device with both dust- and water-resistance, and rigorously tested the device to comply with the MIL-STD-810, ensuring that it can withstand a drop onto a hard surface from up to one meter.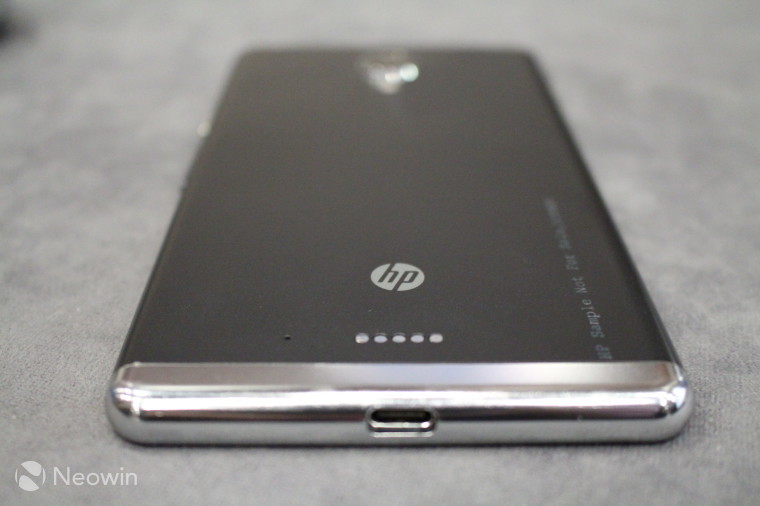 HP's intensive engineering efforts will be equally important for the business usage scenarios in which the Elite x3 may well find itself deployed. Daren was especially proud in highlighting HP's inclusion of Pogo pins on the x3.
These five external connectors on the rear of the device will allow the handset's capabilities to be expanded in any number of directions by HP's third-party partners. You may well see the Elite x3 being used in retail environments, or in the healthcare industry, with extra hardware that hooks up to the device via these pins. Between the Pogo pins and the handset's robust design, HP is convinced that it's built the device to meet the needs of a vast array of organizations – and also that it's built it to last.
On the software side of things, HP has also given great thought to the importance of supporting legacy applications on the newest hardware. It's all very well talking about a bold new future in which smartphones can potentially replace bulky and expensive desktops and laptops all over the place - but how can that happen without the line-of-business software to run on those devices? Rather than simply expect all companies to rapidly rebuild all of their software on the Universal Windows Platform, HP adopted a more pragmatic approach to meets its customers' needs, embracing virtualization to allow companies to securely run older software via the cloud through to the Elite x3.
Other business-friendly considerations include the iris scanner and fingerprint sensor, although the early prototypes on show at Mobile World Congress this week don't yet have the fingerprint sensor built-in (it will eventually sit on the rear of the device, similar to the Nexus 6P or LG G5). Incidentally, you may be wondering why HP decided to include both of these biometric inputs; aside from offering the convenience of choice, Daren acknowledged that iris scanning technology is simply not mature enough to be widely embraced by the corporate sector, much of which is still catching up to fingerprint scanners. In time, he says, he expects Windows Hello iris and facial recognition to become much more widely adopted on business devices, but for now, HP listened to its business customers, who told them that the fingerprint sensor was a must-have feature.
So, hopefully, that should give you a broad sense of how HP approached its development of the Elite x3, along with the thinking behind some of its design and engineering decisions. As the absence of the fingerprint scanner on these early prototypes shows, those engineering efforts are still ongoing, and HP is continuing to work closely with several key customers to get even more feedback to help refine the device further. Indeed, this is why, despite announcing the device now, HP has said that it won't arrive until "this summer"; Daren said that the company is provisionally targeting a launch in August.
Given that these are early engineering prototypes, it makes little sense to go into too much detail analysing things like build quality (although I can tell you that the units I played with felt absolutely rock solid). The Elite x3 is beautifully weighted with a very nice balance in the hand; it doesn't feel like you're holding a 6-inch device – although as you would expect, those with smaller hands will struggle to use it one-handed.
The display is beautiful, crisp and sharp – unsurprising on a Quad HD Super AMOLED panel – and the silver 'chin' at the base of the device looks rather lovely in the flesh, offsetting what might otherwise be a much more ordinary (and perhaps even bland) design.
HP is building much more than just another Windows 10 Mobile phone with its new Elite x3. The company has approached its development and design with a singular focus on the needs of businesses, and the employees that those organizations will deploy their devices to. But it's also considered how the users themselves will actually engage with the handsets, giving extensive thought to how they'll be used in the office, at home, and on the move.
The result, so far, is a hugely compelling and extremely attractive proposition that goes far beyond any other Windows phone we've seen so far. HP may have run away from Windows Phone 7 long ago, but six years on, its first Windows 10 Mobile device looks like it will be worth the wait.