In just a few days' time, on April 23, OnePlus will finally unveil its first handset, after weeks of dropping little hints and nuggets of information about the device, one Facebook post at a time. The company was apparently intending to save the big reveal of the handset itself for the launch event on Wednesday but, as is so often the way, leaked images have apparently outed the device prematurely.
Android Authority has published a series of images that first appeared on the OnePlusBBS.com forums, which give us the first clear look at what is believed to be the new OnePlus One. The site cautions that it cannot confirm the authenticity of the images, but they certainly appear to support what we already know about the device.
The aesthetic of the handset, as Android Authority notes, is not dissimilar to Oppo's design language. This is no great surprise, given that OnePlus was founded by Pete Lau, former vice-president of Oppo. Lau was instrumental in bringing CyanogenMod to Oppo's handsets; this is the same Android-based user experience that will run on the OnePlus One.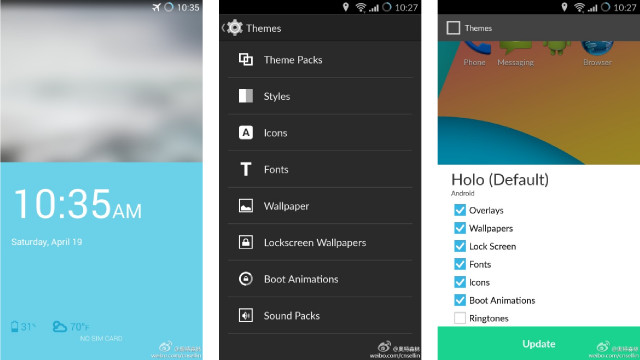 OnePlus One's interface is a modified version of CyanogenMod (images via weibo.com/cnsellin)
The leak has also given us our first look at the StyleSwap covers that adorn the rear of the device. Numerous options will be available, including bamboo, denim and Kevlar. Lau said of the covers last month: "The designs are elegant and attractive, but still durable and strong. No matter how often you like to change the look of your phone, there will always be a cover that will fit the mood."
OnePlus has promised that the device will feature "better-than-everything industrial design", and the entire raison d'être of the handset is predicated on the idea that customers should "never settle" for anything less than "the perfect phone at a disruptive price".
At less than $400 in North America, €350 in Europe and £290 in the United Kingdom, that pricing may well prove very appealing for those seeking a high-end device at relatively low cost. With a 2.5GHz Snapdragon 801 SoC, 5.5-inch display, 3GB of RAM, 3100mAh battery, 13MP camera and up to 64GB of onboard storage, the One will significantly undercut rival flagships on price, despite closely matching them on specs.
However, if you're reading this and shouting "shut up and take my money!" in the hopes of getting your hands on the new handset, you may be disappointed to hear that OnePlus has made the whole process of purchasing the device spectacularly complicated.
The company has decided that the pre-order system - widely used by manufacturers and retailers, and well-understood by customers - is not good enough, claiming that pre-orders often result in "a long time between paying for your order and actually having it shipped." Instead, OnePlus says it has "solved these problems" by instituting an 'invite system'. The only way to get an invite to purchase the OnePlus One is "through friends, contests, and on [the company's] forum."
Unsurprisingly, OnePlus has faced some backlash among those who have been eagerly awaiting the device for months, not just because it appears that they'll have to wait a lot longer to be able to buy one, but also in response to the confusing nature of the system, and lingering ambiguity over how invites will be made available. One potential customer, John Cservek, voiced his dissatisfaction on the company's Facebook page:
You've introduced this system in an effort to give consumers a less frustrating way to purchase the OnePlus One. Nothing is more frustrating for a consumer than being told they will need to execute a process they don't understand in order to spend their money."
Cservek is not alone – plenty of others have also expressed their disappointment over the invite system, with many saying that they would rather buy a handset elsewhere than have to wait indefinitely. 
Source: OnePlusBBS.com / Android Authority via Engadget | images via OnePlusBBS.com unless stated