Apple is no stranger to lawsuits related to the design of its handsets, but the latest one is sure to have raised more than a few eyebrows at its Cupertino headquarters.
A man from Florida has filed a lawsuit against the tech giant, alleging that the designs of its iPhone, iPad and iPod were derived from his own hand-drawn designs for an 'Electronic Reading Device' (ERD) that he conceived in 1992.
In his lawsuit, Thomas S Ross claims that he was "the first to file a device so designed and aggregated as to have created a novel combination of media and communication tools… whose identity was, since then, hijacked and exploited by Apple's iPhones, iPods, iPads and others."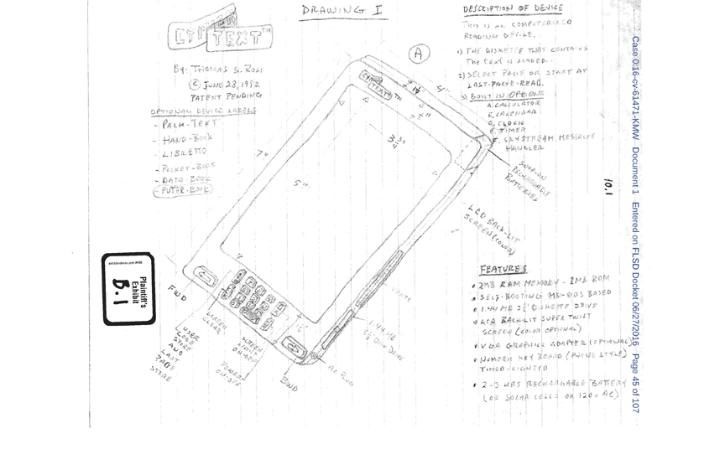 Documentation in the lawsuit includes the drawings of Ross' designs, conceived between May and September 1992. The filing claims that Apple's devices "are substantially the same as his technical drawings of the ERD, and that Apple's three-dimensional derivative devices (iPhone, iPod, iPad), embody the non-functional aesthetic look and feel".
Among his submissions are a design for a further device - or possibly a combination of two devices, known as the 'Cypher-Text', a 'reading device'; and the 'Cypher-Note', a 'writing device' (shown below).
Ross applied for a patent for his designs in November 1992, but as The Telegraph reports, the application was declared abandoned in April 1995, as he had not paid the application fees to the US Patent and Trademark Office.
The lawsuit alleges that "instead of creating its own ideas, Apple chose to adopt a culture of dumpster diving as an R&D strategy." It also quotes the late Steve Jobs who said that Apple has "always been shameless about stealing great ideas".
Ross claims that he has suffered "great and irreparable injury that cannot fully be compensated or measured in money" - but that hasn't stopped him from attaching a dollar value to his claim for compensation. He's demanding a trial by jury, in which he expects to receive at least $10 billion from the company, and also believes that he is owed "a reasonable royalty" of 1.5% of all of Apple's future sales.
Source: The Telegraph