Microsoft has recently announced a new accessibility feature for PowerPoint users on Mac and Windows. The software giant has announced closed captions support for audio projects in PowerPoint for Windows and Mac, ensuring greater accessibility of slides for people with hearing disabilities.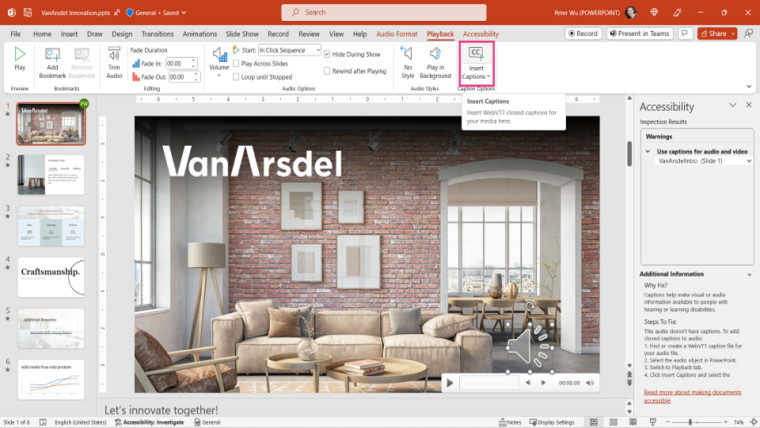 PowerPoint users can already add closed captions to embedded video projects on Mac and Windows. Likewise, it will also be possible to add subtitles to your audio projects. By adding closed captions, you can give viewers the option to understand what you are saying when they are in a noisy room or need to turn their volume down to be quiet. And, of course, it is a boon for people with hearing difficulties.
You can create closed captions in separate files as well in WebVTT format and insert them later for the audio object. You can use this both in your audio and video projects. If you are unaware of the steps, Microsoft has a detailed guide on creating closed captions for PowerPoint projects.
PowerPoint for Windows, Mac, iOS, or Office Mobile for iOS allows you to turn on closed captions when playing audio and videos. Hopefully, Android users will also get the capability in the near future.
Besides the accessibility feature, Microsoft has also announced the ability to save audio or video with closed captions as separate files in PowerPoint. As pointed out by Microsoft, this functionality will be helpful when "you have audio or video in your presentation, and you need the audio or video files again to use in another place." If this is you, Save Media as command is what you are looking for.
Availability
Closed captions for embedded audio is rolling out to Beta Channel users running:

Windows: Version 2302 (Build 16130.20020) or later
Mac: Version 16.71 (Build 23012902) or later
iOS: Version 2.71 (Build 23013100) or later

The Save Media as command with closed caption files is available to Current Channel users running:

Windows: Version 2211 (Build 15831.20208) or later
Mac: Version 16.67 (Build 22103100) or later
If you are a Microsoft 365 Insider and still not seeing the changes, you need to wait a few more days, as Microsoft is slowly releasing them to larger numbers of Insiders.