Sometimes it seems like every Microsoft 365 blog post is outlining new features for businesses, but that's not the case today. Today, the company outlined new features that are available for individuals and families. To be clear, most of this is already available.
For example, the first item on the list is Office for iPadOS, which shipped in February. If you're unfamiliar with Microsoft's unified Office app for mobile, it's basically the company coming full circle on its mobile plans, backtracking from having separate Word, Excel, and PowerPoint apps. Interestingly, while the iPad was the first to get the individual apps, it's among the last to get the unified app.
Next up is conversational AI experiences in Outlook for iOS. That means you can use it to send emails, schedule appointments, and more. Microsoft also turned Office Lens into Microsoft Lens, and that app can actually transcribe handwritten notes. You can just use it to scan a page, and extract the text.
In Microsoft To Do, you can now add widgets with your lists to your iOS home screen. They come in different sizes and have different functionalities. You can even add one that's only purpose is to add a task to your list.
Another new feature, which actually dates back to December, is the ability to back up Live Photos on iOS. The feature actually arrived for Android with Samsung Motion Photos in February, so it's unclear why that bit wasn't mentioned.
Another thing that's relatively new is Money in Excel, and this was actually one of the key new features when Office 365 was rebranded as Microsoft 365. It's meant to help you budget, customizing how much you spend on various categories like groceries and such. There are also cash flow insights, which will give you a message along the lines of congratulating you for spending less than you earned in a certain month.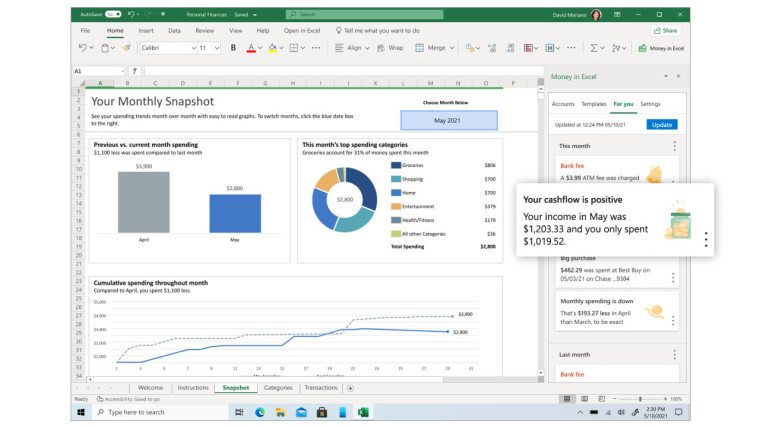 Next up is PowerPoint, as PowerPoint Presenter has some new perks. You'll now get feedback on body language, something that should be useful given that the whole thing is about helping you deliver better presentations. It will also do things like help you to avoid repetition, and pronounce words better.
In Word, Microsoft Editor is getting improvements. There's a new feature called similarity checker that's meant to help you avoid plagiarism, and there are new text predictions that should help you to write more quickly and accurately. Microsoft is also adding the extension so you can get help in LinkedIn, WordPress, Gmail, and Google Docs.
As mentioned earlier, all of this stuff is available now.