The Photos app in Windows 10 has been getting a lot of improvements recently. Microsoft has constantly been working on improving the app and recent findings suggest there's another big update coming its way.
Cited in an article from Aggiornamenti Lumia, Microsoft is internally testing a bunch of new features and improvements for the latest version of the Photos App. Some of these include:
Updated image-viewer
There is now a section at the bottom previewing next and previous images. Users can quickly flick through and select an image for viewing.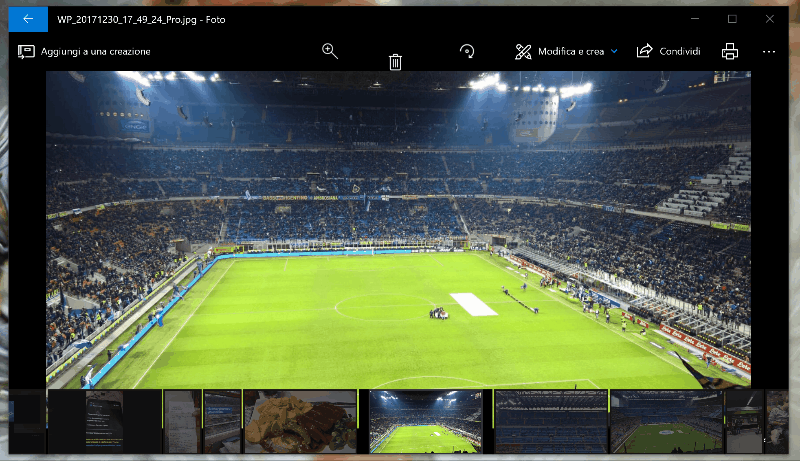 3D editing tools and animations for images
There are now "add 3D effects" and "add animated text" options when clicking on the edit button of an image or video. Users will be able to select from a range of 3D effects and add animated text onto images and video.
Remix3D integration
Microsoft's 3D object-sharing site, Remix3d.com, can now be accessed directly from within the app. Users will be able to fetch 3D models and place them onto creations.
New icon animations
A few icons now play a small animation when hovering over them.
Option to help improve search
There is now the option to "Contribute to improving search for all" in settings. Enabling this will allow Microsoft to collect search related information from the app to improve the functionality for everyone.
There are also a few other changes including:
Updated welcome screen on initial launch
Improvements to the 'Saved' page
Improvements to searching for images and videos
Improvements to the video editing page
Ability to save creations to OneDrive
Updated legal notes for 2018
We're unclear on when these changes will be publicly available but the timing suggests in the next Windows insider preview build or whenever Microsoft is done with internal tests.
What do you think about these changes? What features are you most interested in? Let us know in the comments below!
Source: Aggiornamenti Lumia via Windows Latest