Windows 8 may technically be at its RTM stage, but there is still the matter of actually installing the new Windows operating system. As you might expect, Microsoft has already been installing the OS on its own PCs.
In a new blog post on the official Microsoft Enterprise blog, the company talks about the massive task of upgrading their PCs to Windows 8. The blog said that, as of the middle of July, Microsoft has installed the Windows 8 Release Preview version on over 30,000 PCs. Nearly 30,000 Microsoft employees are now working with Windows 8. Microsoft calls this early adoption process "dogfood" because, " ... we're eating our own dogfood."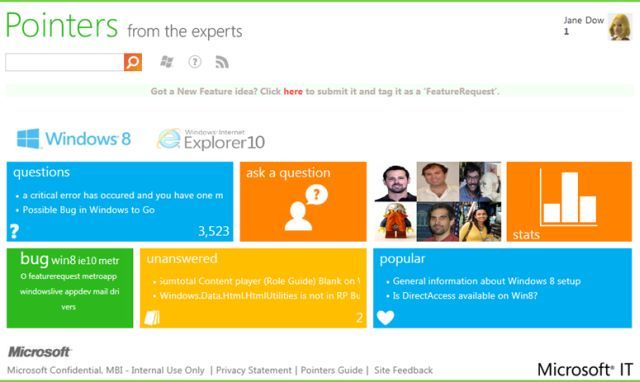 The company set up a help desk to give tips to employees on the differences between Windows 8 and the previous versions of Windows. It also launched an online forum called "//pointers" that allowed employees to offer their own feedback on Windows 8, as well as Internet Explorer 10.
Microsoft's IT department also tried to make sure that Windows 8 was secure, including using BitLocker for mobile devices. The blog states, "Microsoft IT is also validating a new BitLocker feature called Network Key Protector Unlock that allows BitLocker to automatically unlock a drive when the machine is plugged into the corporate network."
Finally, Microsoft IT wanted to make sure the user experience was solid for Windows 8. That included testing Windows To Go, which lets a PC boot a version of Windows 8 from a USB device. Microsoft states:
Microsoft IT provisioned 75 devices with Windows To Go and made them available to senior staff, engineers, and architects. Windows To Go scenarios include providing a managed corporate desktop when the host computers are unmanaged or not domain-joined. This deployment allowed different machines (slate, laptop, and desktop) with different configurations of screen, keyboard, and touch to have a machine-specific experience that was highly transportable between host machines.
Source: Microsoft IT blog | Image via Microsoft