Microsoft's latest quarterly financial report revealed that global sales of its Windows phones collapsed by 73% year-over-year, and by 49% compared with the previous quarter. In its earnings call last week, Microsoft's chief financial officer, Amy Hood, admitted: "Sell-through of our Lumia products was weak, and we exited the quarter with relatively high channel inventory."
In an effort to shift some of that excess stock, the company has been offering a free Lumia 950 with purchases of the Lumia 950 XL in the US and Canada, but those in the UK hoping for a similar offer are out of luck for now.
Instead of the buy-one-get-one-free deal, Microsoft UK is currently offering a £40 discount on the Lumia 950 when purchased with its Surface 3, Surface Pro 4 and Surface Book.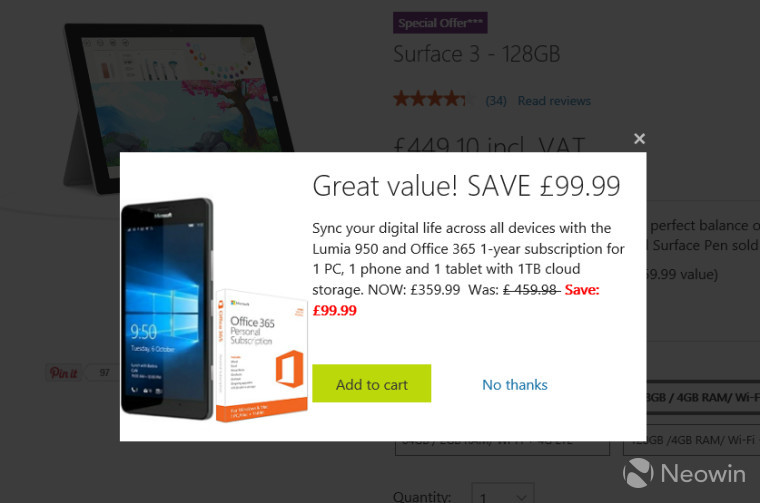 The offer is presented as a discount of £99.99 on the total cost of purchasing the handset with an additional one-year Office 365 Personal subscription, on top of the Surface device. The Microsoft Store usually charges £399.99 for the Lumia 950, and £59.99 for the Office subscription - a total of £459.98. The discount brings this price down to £359.99.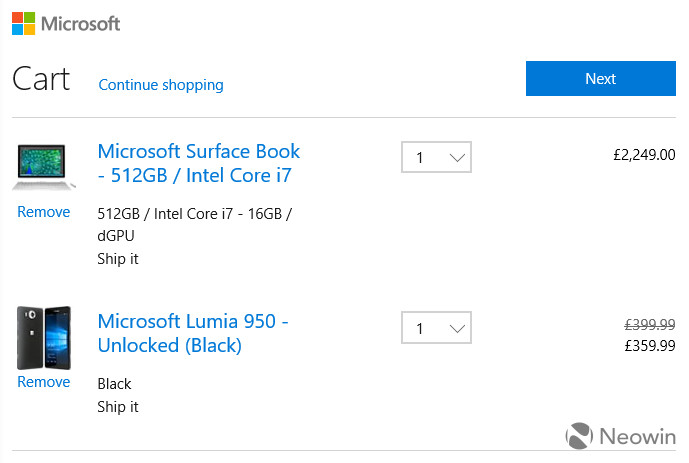 It's worth noting that the Lumia 950 comes with a free one-year Office 365 Personal subscription anyway, so a further free sub will take that to two years. The Surface 3 also includes a free Office 365 sub, so buyers of that device who take advantage of the offer will end up with three years' worth of Office.
The discount on the Lumia 950 and extra Office 365 subscription will remain available with purchases of all Surface devices from the Microsoft Store until May 12.
Microsoft is also offering 10% off Surface 3 Wi-Fi (but not 4G LTE) models in the UK, in a separate deal that ends on May 25.
While the terms and conditions of both the Surface 3 discount, and the Lumia 950/Office 365 promotion, state that they are "not combinable with other offers", this isn't actually the case. If you add a discounted Surface 3 to your basket, you'll still be presented with the option of the other offer as well.
While £40 off the Lumia 950 - along with quite a lot of free Office - is certainly welcome, British buyers may be disappointed that it doesn't come close to matching the value of the free 950 offer available in North America. We'll have to wait and see how many extra handsets this latest deal helps Microsoft to sell in the UK.