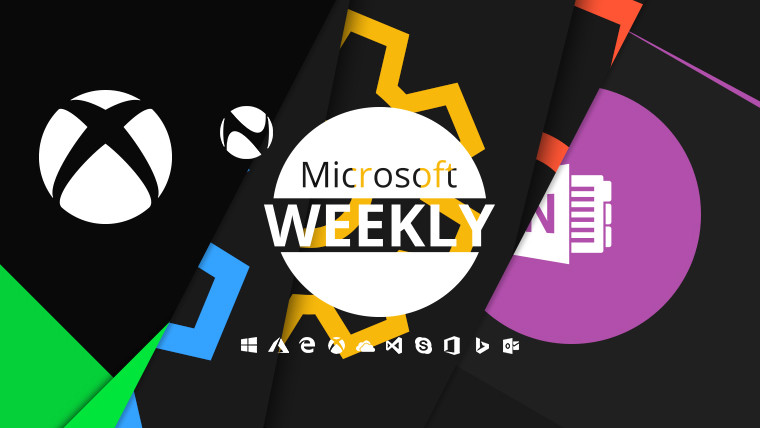 If you're reading this, then it's highly probable than seven more days have elapsed from this year, meaning a sort of recap is in order. As you'll see below, the gaming side was quite well represented, previews of all kinds made their way to enthusiasts, and apps have started to implement dark mode more. Find all that - and the usual bit extra – in your Microsoft digest for the week of February 2-8.
Gaming, but under a different name
For fans of the first-party titles from Microsoft, by far one of the biggest bits of news this past week was the rebranding of Microsoft Studios. The gaming supergroup that reunites thirteen different developers – most recently InXile and Obsidian – has been renamed to Xbox Game Studios. Going the opposite way and instead emphasizing the product rather than the company brand, the renaming was important due to addition of the word 'game'. Corporate VP Matt Booty underlined that the word 'studios' can mean a variety of different things – be it film, or music for example – and that the company really wanted to focus on the gaming aspect of the organization.
On the subject of gaming, the company is working on an Xbox Live SDK to make cross-platform play much easier. The firm has long been a proponent of cross-play, as reflect in its own titles like Minecraft and via the Play Anywhere initiative. More information is rumored to be available during this year's Game Developers Conference (GDC), which starts on March 18.
Folks that like bundles could check out the newly announced Xbox One S Anthem bundle. It includes BioWare's upcoming title, a console with 1TB of space, a white Xbox Wireless Controller, as well as one-month free trials for EA Access, Xbox Game Pass, and Xbox Live Gold. The bundle is available for pre-order now – with general availability on February 22 -, and will set you back $299.
Also new on the bundle front, this time as a double pack, is the one for The Division 2. This upcoming Ubisoft title is available with either a 1TB Xbox One S or One X, both of which have the usual assortment of peripherals and subscription trials. The former will cost you $299.99, while the latter comes in at $499.99. Both of these can be pre-ordered, with launch day being March 15.
As part of this announcement, Microsoft also revealed a Sport Red Special Edition controller with a metallic D-pad and rubberized grips. The peripheral itself will cost you $69.99 (available March 5), and the matching charging stand $49.99 (coming May 1).
If you have Xbox Game Pass, you can already play Shadow of the Tomb Raider, The Walking Dead: The Complete First Season, and Pumped BMX Pro, as these three have been added on February 7. On the 14 you'll be able to play de Blob, followed by Crackdown 3 on the 15 and Batman: Return to Arkham on the 21. The latter includes Arkham Asylum and Arkham City.
To celebrate the release of the third title, Microsoft is also making the first Crackdown free to grab. The 2007 Xbox 360 title is also available on the Xbox One via Backward Compatibility.
On the Xbox One, Insiders in the Omega Ring will get the 1902 update, which is more focused on fixes rather than features. For features you'll have to wait until 1904 drops in about two months, if all goes well.
Updates came the way of Sea of Thieves too, with 1.4.3 bringing the promised size reductions, as well as combat rebalancing, and new Mercenary Voyages. The latter can be purchased for five Dubloons from Duke. Rare has hinted that it has something big prepared for the game's first anniversary – March 20 -, and work still continues on Arena.
As another bit of good news, Sea of Thieves owners will be able to invite three friends to join them for free between February 6 and February 13. This promotion is available for anybody who outright owns the game or has been playing it via Game Pass. Xbox One players do need to have an active Gold subscription for this to work, though.
Lastly, coming to Xbox One, PlayStation 4, and PC on March 29 is a remastered variant of Ubisoft's Assassin's Creed III. Support for 4K and HDR has been confirmed for PC, Xbox One X and PS4 Pro, though in terms of pre-orders, there's a €49.99 (about $57) pre-order of the Signature Edition which only lists consoles under platform and is apparently limited to 4,000 copies. More will probably be revealed once the launch date draws closer.
Fixes all the way
Development on 19H1 may be winding down, but that doesn't mean the Insider Program is devoid of any previews. First off, there's SDK build 18327 which like the previous ones, doesn't really feature any addition to speak of. It is however officially supported by Visual Studio 2017 and above, with folks being able to install it on Insider previews. They'll still need to target a production variant of Windows, though (1809 at the time of writing).
In other preview news, build 18334 descended to the Fast ring on Wednesday, highlighting the beginning of a number of improvements Microsoft seeks to make related to gaming on Windows. This particular one involves DirectX, and specifically State of Decay as the test subject. Don't worry if you didn't get into the limited test pool, as other tests of this kind will be conducted in the next few weeks too. Note that trying to run any BattleEye-protected title – like Fortnite, or PUBG - will not work correctly, so avoid previews if you play these particular games.
As usual, this build is chock-full of fixes, most of them this time around revolving around addressing minor design inconsistencies, as well as fixing things like the black screen on Windows Sandbox. In terms of known issues, avoid using Magnifier in docked mode in this build, as it'll crash the machine and cause a boot loop. Speaking of booting, you may experience problems logging in after an MSA (Microsoft Account) password change, a problem which should be fixed by a reboot.
Staying on the subject of previews a tad longer, folks on the Mac that are enrolled in the Slow ring for Office should be on the lookout for build 16.22.19020302. This is a preview of the February update coming to Office 365 and includes the ability to use the suite's inking capabilities in Word, Excel, and PowerPoint via touchpad.
Finally, something that's related to the future of Microsoft's current flagship operating system has surfaced once more online. While it's been the subject of rumors for quite some time now, there's at last a direct reference to Windows Core OS on an employee's LinkedIn profile. For those not familiar, Core OS would be pretty much the culmination of the Redmond giant's efforts towards making Windows more modular, and thus smaller. The work listed on the aforementioned profile has to do with the validation of both the Windows Driver Model and Windows Driver Frameworks – two rather important aspects.
The dark side of the app
Folks who either work later in the day or just plain prefer using dark mode – I am one of them – will be happy to know that the trend of darkifying (not a real word) everything has at long last reached OneNote. Actually, that's a bit of a misnomer, because the existence of the thing has more accurately leaked rather than been revealed. The unreleased version of OneNote isn't available for Insiders, and no announcement about its existence has even been made. It's rumored that the app will respect your system-wide dark mode preference, and it's unknown whether there'll be a system override toggle.
Another app going full dark side of the moon is Mail & Calendar, which is available for those in the Release Preview ring. In case you want to try this out, be sure to look for version 16005.11231.20142.0, though be warned that a couple of users still don't have the full experience, even running this version. As is the case with preview releases, your mileage may vary.
In other dark mode news, Chrome Canary now respects the system preference in Windows 10, meaning if you have the dark theme on, Google's browser will turn off the UI lights to reveal a rather pleasant dark grey look – not too dissimilar to its Incognito theme. As Canary is a test channel, it's unclear when the regular variant of the browser is going to get this feature.
Among the features which are available now though, is the new ability in Skype that allows you to blur your background during a video call. To take advantage of it, simply hover over the video button and choose 'Blur my background'.
Also in the realm of blurring is Microsoft's newest campaign to encourage folks to switch from perpetual to subscription-based Office. In a rather strange approach, the firm used identical twins to showcase that its two productivity offers are…not identical at all. If this approach has you convinced, the addition of Office 365 Home, and Personal subscriptions to the company's Home Use Program should be of interest. Keep in mind that you are eligible for the latter only if you an employee of a business with a Software Assurance plan.
The Fast ring
Hot corner
Hot corner is a section of The Fast ring dedicated to highlighting five Microsoft-related stories that haven't been covered over here, but might be of interest.
Logging off
We cap this column off with both good and bad news. On the bad news front, Microsoft has revealed just how much Windows 7 patches will cost past its January 14, 2020 EOL date. During the first year, Windows Enterprise customers will pay $25/device, $50/device in year two, and $100/device in year three. All those value are doubled if you're using Windows 7 Pro.
On the good news front, the error that a couple of weeks ago prevented folks from using Windows Update has finally been resolved. The Redmond giant blames an external DNS service for the inconvenience caused to users. No word yet on the Microsoft Store issue though.
Missed any of the previous columns? Be sure to have a look right here.