If you're on the lookout for an ultra-affordable smartphone in Australia, the perfect time to buy may well be approaching, as Aussie retailer Big W will soon be selling the Nokia Lumia 530 with a chunky $50 AUD (almost $39 USD) off its regular price.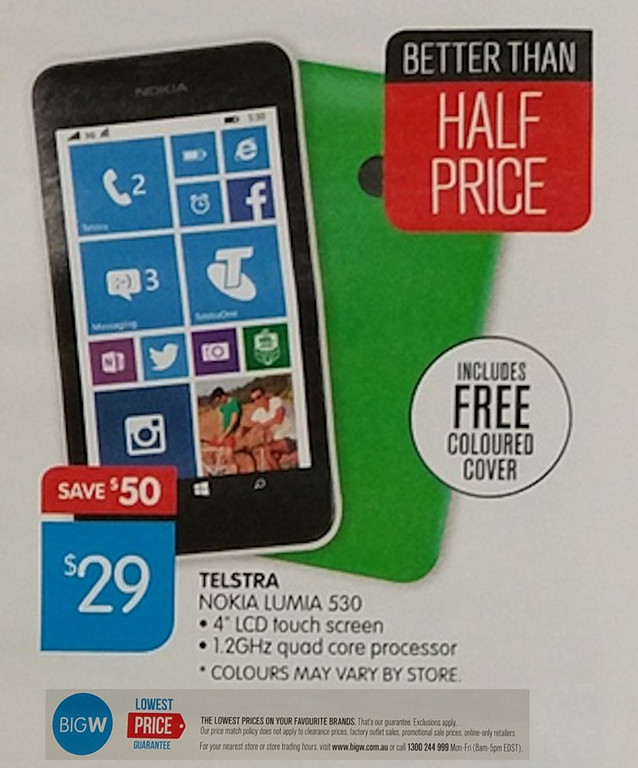 That means that the Lumia 530 will be available for only $29 AUD (just over $22 USD) off-contract - albeit locked to the Telstra network - including a free rear cover for the handset. Key specs of the device include:
4-inch LCD with FWVGA (854x480px) display
Quad-core 1.2GHz Qualcomm Snapdragon 200
512MB RAM
4GB onboard storage (plus microSD support up to 128GB)
5MP rear camera (fixed focus, no flash)
No front-facing camera
1430mAh battery
119.7 x 62.3 x 11.7mm, 129g
There's no denying that the Lumia 530 has a pretty barebones spec sheet – but it's hard to argue with its appeal at such a low price. While many Australian buyers are unlikely to choose it as their main device, it may well prove irresistible for those looking for a back-up handset, or perhaps a first smartphone for the kids.
It appears that the 530 will only be sold at this price in Big W stores; it isn't listed at all on Big W's site, and the ad revealed by WMPU indicates that availability of the free rear cover in certain colors may vary between stores.
The special offer kicks off at Big W on April 2, as part of the company's Easter promotional campaign.
Source and image: WMPU
​This article was updated after publishing to clarify that the handset is locked to Telstra.