Monolith Production's massive action-RPG from last year, Middle-earth: Shadow of War, will be completely free of controversial microtransactions system later this year. The developer announced the change via a blog post, saying that after listening to feedback, it has decided to remove Gold, War Chests, as well as the Market from the game, essentially eliminating everything that required real-world money to purchase.
"While purchasing Orcs in the Market is more immediate and provides additional player options, we have come to realize that providing this choice risked undermining the heart of our game, the Nemesis System," said Monolith elaborating on the decision. "It allows you to miss out on the awesome player stories you would have otherwise created, and it compromises those same stories even if you don't buy anything. Simply being aware that they are available for purchase reduces the immersion in the world and takes away from the challenge of building your personal army and your fortresses."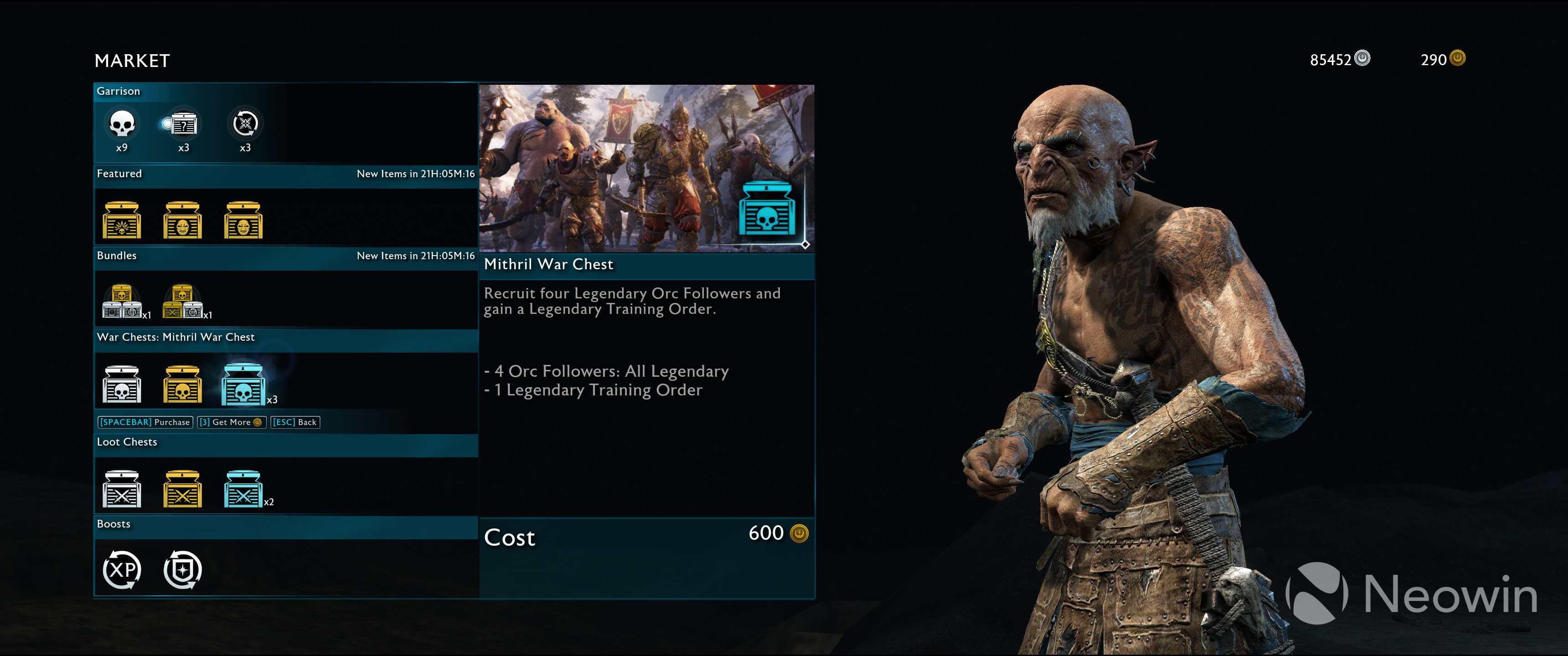 While Gold will not be purchasable beginning from May 8, players with any left-overs will be able to spend them until the Market shuts down on July 17. After that, if there's still any Gold remaining, they will be replaced with Gold Loot Chests.
Meanwhile, Monolith will also be overhauling the Shadow Wars act in the game's campaign with "new narrative elements," aiming to make it more streamlined "for a more cohesive experience."
Further updates to progression, skill trees, Nemesis system, gear system, and more will arrive alongside the aforementioned changes to microtransactions and Shadow Wars as a free update to the game on all platforms on July 17. A handy FAQ set up by the developer regarding the changes can be found here.
Middle-earth: Shadow of War's microtransactions system and the Shadow Wars act are perhaps the most criticized portions of the title, them even being responsible for a 7/10 score in Neowin's own review. We will have to wait and see if the upcoming overhauls will resolve the problematic areas and will manage to draw back any fans that skipped out on the title.