It's that time again. It's the most wonderful time of the year, but also the time when you'll be spending the most money. Luckily, Neowin is here to give you some awesome ideas for gifts for everyone in your life.
This year, we'll be breaking it down into different categories, and this list will focus on gaming hardware.
Consoles
Xbox One X
Microsoft's new Xbox One X is the most powerful console on the market, offering gaming in True 4K and HDR. If you've got an Xbox gamer in your life, this is a great gift.
We reviewed it and decided that it's just the best that you can get. Not only do games look awesome in 4K, they'll even look better at 1080p.
Xbox One S
The Xbox One X isn't for everyone though, and that's where the Xbox One S comes in. You can play games at 1080p, and stream media at 4K and HDR. It's also substantially less expensive, at up to 50% off of the price of the X. You can get it in a number of different bundles.
Super NES Classic Edition
Last year's NES Classic Edition was one of the hottest gifts of the season, and this year's SNES Classic is on the same track. It includes 21 preloaded games like F-Zero, Star Fox, Donkey Kong Country, Super Mario World, and more. There's also Star Fox 2, which is previously unreleased.
Unfortunately, just like last year's console, it's hard to find, at least at the suggested retail price of $69.99. You can check your local Target, Walmart, Best Buy, and GameStop, or you can go to eBay or Amazon and buy it at a premium from a third-party seller.
PCs
HP OMEN Accelerator
The HP OMEN Accelerator is the perfect gift for the gamer with an ultrabook. Thin and light PCs are great for kids going to school or adults that need to do work, but they're not great for playing games. That's where the Accelerator comes in. As long as the PC supports Thunderbolt 3, the user can just plug it in and turn their PC into a gaming rig.
Lenovo Legion
Lenovo makes a great lineup of gaming laptops, and what you see above is the Y720 and the Y920. If you want to go all-in, get the Y920, which can be configured with an unlocked processor, a 17.3-inch 4K display, and an Nvidia GeForce GTX 1070 GPU. You can check out our review here.
The Y720 is pretty nice as well, with an HQ processor and a GTX 1060 GPU. This one also includes an Xbox Wireless Adapter built in. Make sure to check out our review before you buy.
HP OMEN X Laptop
HP's OMEN X is up there when it comes to the most powerful gaming laptops out there. It includes an HK processor (quad-core, unlocked for overclocking), and a factory overclocked Nvidia GeForce GTX 1080 GPU. You can configure it with up to 32GB DDR4-2800 SDRAM, and up to a 1TB SSD. HP also designed it so that it's easy to swap out components like the display, RAM, and more.
Accessories
Seagate Game Drive for Xbox
The new Xbox One X only has 1TB of storage, and those 4K games take up a lot of space. Luckily, it's easy to expand storage on an Xbox One, and while you can use any external hard drive, Seagate makes a couple that are built for the Xbox family of consoles.
Xbox Elite Wireless Controller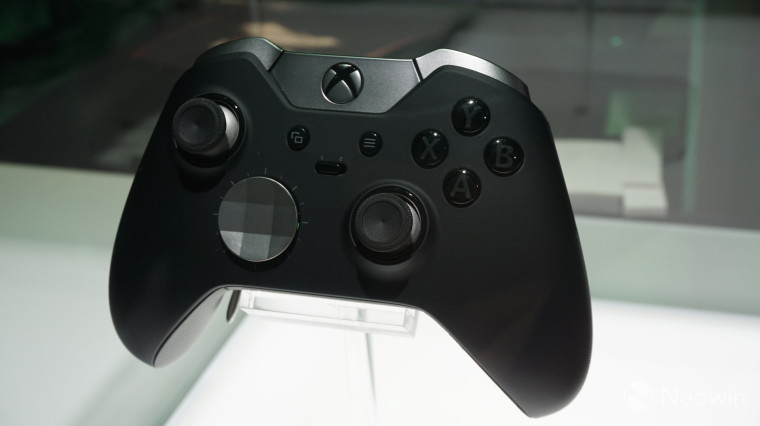 For the gamer that wants that extra edge over the competition, the Xbox Elite Wireless Controller is the way to go. It offers removable buttons, and four programmable triggers that connect to the grips, allowing you to keep firing while pressing other buttons.
Xbox One Play and Charge Kit
If you buy someone an Xbox One console this holiday season, the first thing you'll hear about a few days later is how they need new batteries for the controller. You've got some options here. You can buy a 36-pack of AA batteries on Amazon (which you'll need to buy again at some point), or you can just grab the Xbox One Play and Charge Kit.
It's a rechargeable battery that fits in the Xbox Wireless Controller, and it charges via the micro-USB port at the top of the controller. Connect the cable to the console's USB Type-A port, and when you're done playing, just connect the cable to the controller, and it will charge while the console is in standby. You never have to worry about battery power again.
Controller Stand
OK, so unless you're involved in some sort of Secret Santa thing, this shouldn't be your only gift for someone, as it's pretty boring, but it's still useful. Everyone needs a place to put their controller after they're done with it, and Microsoft offers a variety of designs.
While this guide was meant to focus on hardware, there are also plenty of subscription services that you can gift to someone. For the Xbox user, Xbox Live Gold is a must, offering four free games a month through Games with Gold, various discounts on games, and extra features on the console. Xbox Game Pass offers access to over 100 games at any time, and you can get the first month for $1.
Of course, just about any modern console has streaming services, so gifting a subscription to Netflix, Hulu, or Amazon Prime would certainly enhance the user's experience. And then there's services from individual game makers, like EA Access.