It used to be the case - not all that long ago, in fact - that "low-cost" was synonymous with "low quality" in the smartphone space. Flooded with torrents of wretched, miserable Android devices, anyone looking for a really cheap smartphone ended up staring at a dreadful screen, with underpowered specs and appalling battery life.
But within barely a couple of years, things have changed dramatically. Compelling and impressive handsets like Motorola's Moto E have transformed expectations at the entry-level for Android, finally showing users that they no longer have to settle for the very worst if they're shopping for a smartphone on a budget.
It's not just Android either – Microsoft's Windows Phone OS has convincingly demonstrated that a strong smartphone user experience can be offered to buyers across all price ranges, not just those who can afford the flagships. No device demonstrated this better than Nokia's Lumia 520, which has seen its price fall to as little as $39.99 off-contract (albeit on promotion).
More commonly sold for around $80, the Lumia 520 is nonetheless one of the most affordable smartphones on the market today. But it's not quite perfect – some compromises were made in its design to help keep its cost down, including the omission of a front-facing camera, and the inclusion of just 512MB of RAM.
But the 520 is almost a year and a half old, and a new entry-level Windows Phone has now been introduced to the range. The Lumia 630 was the first handset to launch with Windows Phone 8.1 onboard, and the first to go on sale following Microsoft's acquisition of Nokia earlier this year.
Priced at around $159 in the United States, €119 in Europe, £100 in the UK and Rs.10,500 in India, the 630 is certainly affordable. But Nokia is facing ever more competition at the lower end of the market, not just from Android, but also from the new wave of manufacturers that have joined Windows Phone in recent months, who are all concentrating – at least initially – on launching entry-level devices.
So does the Lumia 630 make a convincing case for itself, or would you be better off taking your money elsewhere?
The Lumia 630 offers 3G connectivity only – if you want 4G LTE, you'll have to pay a premium for the otherwise identical Lumia 635. When T-Mobile recently announced its plans to stock the Lumia 635 in the US, it said that the device would effectively replace the Lumia 521 (its version of the 520) in its range. Why is this important?
Well, it establishes how the device will be positioned, and therefore gives us a yardstick by which to measure our expectations. The Lumia 630 is intended to sit right down at the entry-level of the range, and its spec sheet reflects this.
The 630 is not intended to best the flagships of the world; it is aimed at buyers on a budget – those who don't care about the latest and greatest specs, or those who perhaps simply cannot afford them.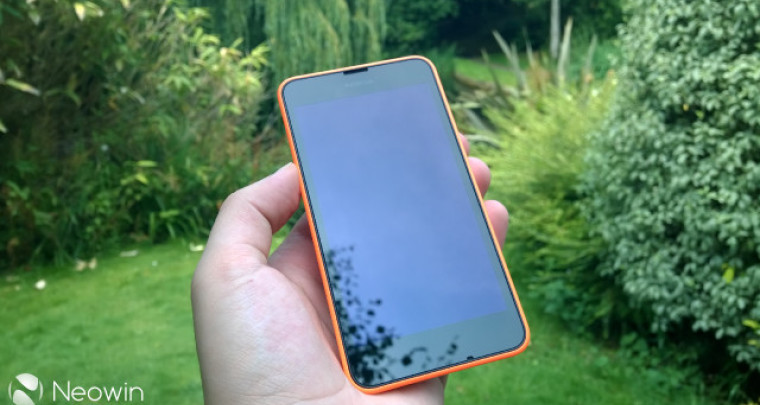 Compared with the 520/1, the Lumia 630 gets some nice improvements on its spec sheet. There's a 4.5-inch display (rather than the 520's 4-inch), protected by Corning Gorilla Glass 3, along with a quad-core 1.2GHz Qualcomm Snapdragon 400 processor (compared with a dual-core 1GHz S4 on the 520. The 630 also has a dual-SIM option (which also comes at a premium), but the version we're testing here is the standard single-SIM model.
You'll also get 8GB of storage, along with a microSD slot, a 1830mAh battery and a 5MP rear camera. All pretty decent – but it's not all good news.
The screen is larger, but the resolution is pretty much the same – 854x480px, with the extra 54 rows of pixels dedicated to the trio of Windows Phone navigation buttons (Back, Start, Search) which are displayed on the screen, rather than being hardware buttons.
At a time when 1GB of RAM is becoming the norm, even for entry-level devices, the 630 has to make do with just 512MB. But more frustrating is the fact that the 630 has no flash for the rear camera, and no front-facing camera at all – despite the even cheaper Nokia X2 Android handset including both of these features.
Check out the main specs below:
Item
Nokia Lumia 630 
Dimensions
129.5 x 66.7 x 9.2mm
134g
Connectivity
GSM (both models): 850 / 900 / 1800 / 1900
HSDPA 21Mbps (model RM-976): 900 / 2100
HSDPA 21Mbps (model RM-977): 850 / 900 / 1900 / 2100
Wi-Fi 802.11 b/g/n
Bluetooth 4.0 LE with A2DP 
A-GPS / GLONASS
microUSB 2.0
3.5mm audio jack
Display
4.5-inch IPS LCD capacitive multitouch
854 x 480px resolution
218ppi pixel density
ClearBlack 
Corning Gorilla Glass 3
Processor
Qualcomm Snapdragon 400 SoC
Quad-core 1.2GHz Cortex-A7 CPU
Graphics
Adreno 305 GPU
RAM
512MB
Storage options
8GB onboard storage
microSD slot (supporting cards up to 128GB)
Camera
5MP rear camera, up to 720p video recording at 30fps
No front-facing camera
Battery
1830mAh Li-ion battery
Removable
Operating system
Windows Phone 8.1
Nokia Lumia Cyan firmware
Price + availability
$159 USD / €119 EUR / £100 GBP / Rs.10500 INR
Available now in selected markets

With limited RAM, no 4G, no flash, no selfie-cam, a large but low-res display, and just 512MB RAM, the Lumia 630 doesn't exactly make a strong case for itself on paper. But as we know, the spec sheet only tells part of the story. What matters more is how all of these specs come together with the operating system to create a complete user experience.
While rival manufacturers have only recently realised that phones can come in more than just black, white or silver, Nokia has been splashing colour all over its handsets since long before "smart phones" were even part of the consumer consciousness.
With its Lumia range, the company has continued to make bright and beautiful colours a hallmark of its handset design, and despite releasing over two dozen Lumia handsets, most are immediately recognizable as Nokia devices, thanks in no small part to that use of lively hues and polycarbonate bodywork.
The Lumia 630 is no exception to this, and Nokia has dialled the colour up to a whole new level on this device. Curiously, aside from black and white, there are just two colour options available – green and orange – and both are guaranteed to get you noticed, such is their extraordinary brightness.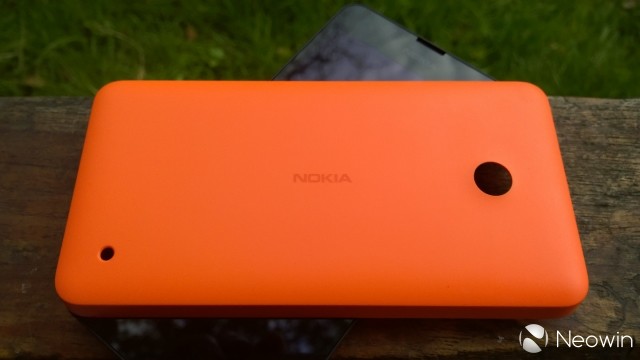 The 630 is similar to other lower-end Lumias in that the colour is not an integrated part of the core handset, but rather confined to the rear backplate, an interchangeable colour shell that can be easily removed, and replaced with an alternative colour option if desired. All four options sold with the Lumia 630 have a matte finish.
However, its sister device, the 4G-enabled Lumia 635, is sold with glossy dual-tone shells, similar to the Lumia 620 – if you prefer these glossy shells, they can be purchased separately and will fit the 630 perfectly. Personally, I think the matte finish is rather nice – it's pleasant to touch and affords decent grip when in use.
The colour of the rear shell spills around to the front of the device with a halo of bright orange visible at every edge on our review unit. But other than the display, ear speaker and microphone cut-outs and the Nokia logo, the front of the handset is otherwise featureless.
There's no ambient light sensor, no front-facing camera, and no buttons on the front either, with the Back, Start and Search buttons all displayed on screen.
On the right edge of the device, another hardware button is missing – yep, that's right, no camera button. However, you will still find the power button and volume rocker right where you'd expect them on a Lumia handset.
At the bottom of the device, you'll find the microUSB port…
...and while the left edge is devoid of buttons, the top is home to the 3.5mm audio-out jack.
On the rear of the device, there's the camera (note the lack of flash)...
...and a small cut-out for the speaker. You'll have to remove the rear shell to get access to the removable battery, along with the microSIM and microSD slots.
The Lumia 630 isn't the slimmest device in the world – but then that's never really been a major focus for Nokia, with most of the Lumia range being heavier and thicker than their rivals. The design is fairly attractive though, and like other Lumias, it feels pretty well built too. There's no flex or creaking in the build, and although the cover doesn't feel especially weighty or substantial when removed, it feels reassuringly solid when attached.
These would be commendable factors in a device far more expensive than the Lumia 630; in a device as affordable as this, it's excellent that Nokia has done such a good job on this front.
A point that I often find myself making when reviewing devices is that the display is perhaps the most important component of all. You can have a phone with epic battery life, a kick-ass processor and a camera that blows everything else away, but if the screen sucks, the whole experience of using and owning the device sucks too.
The screen is the window that lets you see through to what the device can ultimately do. It's what you spend so much of your day staring at while playing games, watching videos, browsing the web, taking photos and retweeting pics of cute kittens doing the funniest things.
I spent six weeks testing the Lumia 630 – far longer than some did before posting their reviews – and part of the reason for that was that I wanted to see whether the snap judgements that can sometimes be made when testing a device would hold true during extended use. The screen was a particular concern for me when I saw the spec sheet for the 630, so it seemed like the only way to make a fair assessment was to test it over a period of weeks rather than days.
The Lumia 630 has a fairly large 4.5-inch display – that's the same size as last year's Lumia flagships, the 92x series and the 1020 (the one with the 41MP camera). But while those handsets offered HD (1280x768px) displays, the 630's resolution is just 854x480px. That's a pretty low resolution for a relatively large screen.
It doesn't take much effort to see individual pixels on the display either. It's fairly obvious even to the untrained eye that it's not a HD screen, and if you look closely, you can, for example, see the anti-aliasing around fonts. 
It would be easy to simply dismiss Nokia for being cheapskates and mark down the Lumia 630's screen for not being better. But to do so would be hopelessly unfair. Remember, this device isn't going up against the Samsung Galaxy S5 with its Full HD screen or LG's G3 and its ultra-high-res Quad HD display. If you're expecting to get that sort of detail at the 630's price, you're fooling yourself.
Adjust your expectations accordingly, and consider what you can reasonably demand at this sort of price, and you'll probably find yourself pleasantly surprised.
The 630's IPS LCD won't rival an OLED for clarity or vibrant colours, but it's still pretty good. In most lighting conditions, colours appear vivid with good contrast, and the viewing angles are pretty decent too. The sharpness does let things down a bit, but you'd have to be fairly picky to condemn the device outright for this.
In the weeks that I used the 630, I never found myself especially frustrated by the lack of detail, and I suspect that the overwhelming majority of buyers looking for an affordable smartphone will feel the same way.
If you feel that, at this price, you deserve a better quality screen, then consider the Moto E, which has a 960x540px display and 1GB of RAM – but that device comes with other trade-offs: a slightly smaller screen, just 4GB of onboard storage, and only a dual-core processor. This exposes the ultimate reality of shopping for a handset at this end of the price spectrum: the need for compromise.
That certainly enters into the experience of using the Lumia 630. The greatest frustration in using its display is the result of a bewildering and, frankly, idiotic decision by Nokia to ship the device without an ambient light sensor. This leaves the 630 with no mechanism to set automatic brightness control for the display.
This means that you'll have to manage your screen brightness manually, and you can do this one of two ways. The first option is to simply pick a setting and leave it at that screen brightness all the time. The second is to manually adjust the setting as needed. You can switch between low, medium and high brightness by tapping a button in the Action Center, accessible via a swipe down from the top of the display anywhere in the OS, including on top of the lock screen.
The low and medium presets are generally fine for indoor use. However, in some well-lit rooms, the low brightness setting can make the screen difficult to see, and it's completely useless outdoors. The medium setting isn't too bad outdoors unless the sun is shining, at which point anything less than the maximum brightness setting makes it impossible to view the screen comfortably. (Confusingly, you can also manually adjust the 'default' brightness of each of the three presets under 'Display' settings.)
Leaving the screen brightness at its maximum setting all the time is the easy way to deal with this, but it will unnecessarily drain your battery if you spend a lot of your day looking at the screen. But the alternative of having to manually switch settings depending on where you are is an annoyance that could so easily have been avoided with the inclusion of a light sensor.
This irritation is even more unforgivable when you consider that the even cheaper Nokia X2 Android handset includes a light sensor, so the decision to not include one on the more expensive 630 makes very little sense. It also puts all of the responsibility on the user to manage a problem that the manufacturer has created (and one which did not exist on the handset's predecessor), and given that this device is, in part, targeting those who have never owned a smartphone before, that's unforgivable.
I can well imagine many less tech-savvy users simply believing that their Lumia 630 has failed them, rather than understanding that the reason that they cannot properly see their display outdoors is because the brightness level is at a lower setting than it needs to be.
Additionally, the screen is protected by Gorilla Glass 3. Despite making every effort to take care of the device (never dropping it, never chucking it in my bag, never putting it in a pocket with keys or loose change), the screen has already picked up two tiny scratches. I find this absolutely astonishing, given how much care I have taken to avoid any damage to the device – I can only imagine how quickly the screen will be damaged by those who use the Lumia 630 with less deliberate care than I did.
So when it comes to the display, the Lumia 630 certainly isn't without its faults. But it is worth repeating that anyone shopping for a handset at such a low price simply can't expect it to match a flagship-class device. Expectations have to match the price that you pay, and for the relatively modest sum that Microsoft asks for the Lumia 630, it does its job fairly well.
The screen is perfectly adequate in use – whether flicking through photos, reading a web page or watching video – and I think the majority of users that will be considering the Lumia 630 will agree with that assessment. But that light sensor issue will, I suspect, prove to be immensely frustrating to many of those who buy the device.
The Lumia 630 was the first handset to be designed around Windows Phone 8.1, the latest version of Microsoft's mobile OS – so new, in fact, that it's still not officially available to any devices, except for those who have chosen to install the Preview for Developers. We have previously reviewed Windows Phone 8.1 in some detail, so rather than repeat what we've already covered, I invite you to read my colleague Brad Sams' excellent review of the OS if you're not familiar with it already.
While enthusiasts and devs have been using the developer preview for some time now, none of those users have access yet to manufacturer firmware, which adds some more spit and polish to the user experience, improves performance and utility with device-specific drivers and enhancements. For Nokia devices, the Windows Phone 8.1 firmware is known as 'Lumia Cyan', and the Lumia 630 comes with it preloaded and baked into the device.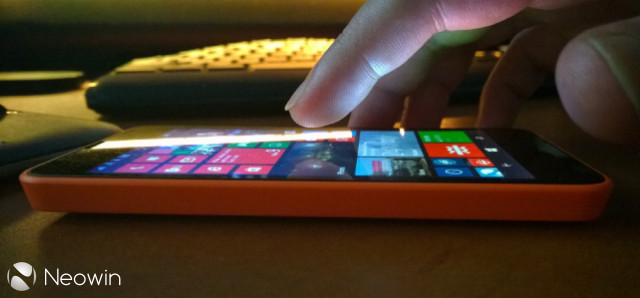 Despite having just 512MB of RAM, the Lumia 630 doesn't feel particularly sluggish or lethargic when navigating through the OS – a testament both to the work that Microsoft put in to ensuring that Windows Phone 8.1 runs well on low-end specs, and to the optimizations of the Cyan firmware in making sure that the system's limited resources can deal with the visual flair of the OS.
There are times, however, when things take just a tiny bit longer than you would expect. Switching between apps, it is not uncommon to get a very brief glimpse of the "Loading…" screen-holder before your chosen app loads; and on more than one occasion, it took a second longer than I would have expected for the Start screen to fully load when coming out of an app.
Again, though, these gripes are perhaps to be expected from someone accustomed to using flagship-class handsets. For those upgrading from feature phones, or buying their first connected device, I can't imagine that they'd be particularly aggrieved by these short pauses.
One thing that may frustrate owners, however, is the limitations imposed by the hardware on the availability of apps. There are some apps – games, mostly – that simply won't run on devices with 512MB of RAM.
I hate to sound like a broken record, but again, given that the cheaper Nokia X2 Android handset has 1GB of RAM, it seems like another instance of where the Lumia 630's spec sheet makes little sense – and as explained above, this isn't just a problem on paper; it's an issue that will affect an owner's ability to use the device as they would expect to be able to. It will inevitably be a disappointment for users to hear about a particular new game on Windows Phone, only to find that they will be unable to play it. 
As with other Lumia handsets, the 630 has access to Nokia's exclusive range of apps – and this software suite adds extraordinary value to the device. My personal favourite of these is the wonderful Nokia MixRadio, a completely free personalised music streaming service.
The free service won't let you pick particular tracks to play; instead, you choose from hundreds of music 'mixes' packed full of songs related to the genre, era or artist of your choosing. You can even download music mixes to listen offline – for example, if you're going on the subway or on a plane – and you can skip up to six tracks per hour. A premium subscription service is also available with more features, but the free service has plenty of appeal, and adds immense value to the Lumia 630's modest price tag.
Free turn-by-turn voice-aided navigation is also available with Nokia HERE Drive, including voice guidance in 88 languages across 97 countries – another fantastic freebie. There are also more routine – but no less useful – additions, like the excellent Nokia Camera app, and handy apps such as Nokia Refocus, which allows you to capture a single photo and then change the focus of the image later. Nokia Creative Studio is a fun and easy-to-use photo editor that lets you do stuff like add image filters, play with the colours, add tilt shift effects and remove red eye, and the new Video Tuner app launched this week makes it similarly easy to do cool stuff with your vids. 
For the majority of buyers, I imagine that these additions will be enormously appealing, and I honestly can't overstate how wonderful they are, especially when you consider that they're basically included in the low price of the device.
Again, however, limitations of the hardware can cause some headaches. One of my all-time favourite Nokia apps is HERE City Lens. In a nutshell, this augmented reality app lets you hold up your handset and get an on-screen overlay of points of interest – including restaurants, bars, shops, stations, museums and more. It's a truly brilliant little app, and a great way to discover new places, especially if you're in a part of the world that you're not familiar with.
It was one of the first apps that I tried to download when Microsoft Devices loaned us the 630 for review. But I was immediately disappointed when I found its listing in the Store, which told me: "This app is not available for your phone because it requires [a] compass."
Issues like this are relatively few and far between, but when they arise, it's disappointing. 
Another app that many users won't be able to enjoy in most parts of the world is Cortana, Microsoft's digital assistant and indeed, it's one aspect that is missing from this review entirely. We made the decision to exclude Cortana from this review for two reasons: 1) we have already covered Cortana to some degree in our Windows Phone 8.1 review; and 2) outside of the United States, nowhere in the world can yet use Cortana officially, and – with the exception of the United Kingdom and China – no other markets will get it until 2015 at the earliest.
By the time Cortana becomes more widely available, its capabilities will undoubtedly be far greater than they are today. Given that Neowin caters to a global audience, it makes sense to revisit Cortana for a further review when it finally makes it to more markets.
Most of those buying a Lumia 630 will have to make do without Cortana's functionality for some time to come, making use of the standard Bing search functions and more rigid voice controls baked into Windows Phone 8.1.
One final software element that does deserve highlighting on the Lumia 630 is its software buttons. The 630 is the first Windows Phone to ditch the trio of hardware buttons (Back, Start, Search) from the front of the device, relocating them instead to become 'soft buttons' on the display.
The buttons look identical on screen to their hardware counterparts on other devices, and in practice, they work exactly the same way as well. They occupy the bottom 54 pixels on the screen, accounting for the unusual 854x480px resolution of the display. The presence of the buttons effectively reduces the working resolution of the OS to a more standard 800x480px.
They work pretty much as you would expect, with the only difference being that, in apps that include landscape support, the buttons rotate 90 degrees, so that the Back arrow is always pointing left, and the Start and Search buttons are always the right way up.
While some apps don't work at all with the 512MB of RAM on the Lumia 630, those that do perform about as well as you could expect. The 630 includes a quad-core 1.2GHz Qualcomm Snapdragon 400 CPU and an Adreno 305 GPU.
With the Cyan firmware mentioned above, Nokia has activated what it calls 'SensorCore', which uses a secondary processor in the Snapdragon 400 chipset that tracks movement and activity, primarily for health and fitness uses. I found its performance to be adequate, but if you want truly accurate fitness data, you should really invest in a wearable like Fitbit, which will, eventually, offer support for Windows Phone 8.1. This isn't an observation limited solely to the Lumia 630 – I made the same point when I reviewed the Samsung Galaxy S5 earlier this year, after finding that its integrated motion tracking was laughably inaccurate.
Speaking of inaccuracy, I had no end of problems with getting the Lumia 630 to tell the time correctly. Throughout the testing period, the device repeatedly changed both the date and time – sometimes when switching SIM cards, and sometimes without any provocation whatsoever.
Ars Technica's Peter Bright enlightened me on one possible issue that I wasn't aware of – until he mentioned it, I admit that I wasn't aware that the automatic time/date setting in the OS relies on the mobile network. But the 630 arbitrarily reassigned the date and time on numerous occasions, both with and without the SIM card, and with auto settings switched on or off. I thought perhaps that I simply had a faulty device, but the folks over at PC Pro had a similar problem with their own Lumia 630 review unit, so it seems that this issue is not isolated to my device.
Games are what tend to push a handset to its limit, but there are few games in the Windows Phone Store that really come close to using the full capabilities of most devices. I'm mostly a casual gamer when it comes to my phone, focusing on the likes of Angry Birds, Microsoft Solitaire Collection, Wordament/Snap Attack, and the like - but for the purposes of the review, I played a bit of Asphalt 8 on the 630 and had no issues at all with the gameplay, although the limited 8GB of onboard storage on the device makes installing graphics-heavy games problematic. You'll need to buy a microSD card if you want to install more than one large game at a time.
Those who spend much of their time using their phone as an actual phone - i.e. for making voice calls - will be pleased to hear that I had no complaints on that front. On those days when I used the Lumia 630 as my primary or only device, I typically spent around 1-2 hours on voice calls - including some Skype audio calls.
The ear speaker was clear enough for me to hear the other person in all but the very loudest conditions, and those that I asked said that they could hear me similarly clearly. Except when there was a truly fierce amount of background noise - such as in a lively bar or next to London's Heathrow Airport with a plane practically landing on my face, there were no complaints about not being able to hear me clearly over the call. 
The Lumia 630 did reasonably well when it came to finding and holding cellular signal too - it performed about as well as my Lumia 920 in this regard, though it was occasionally bested by the Lumia 625 (both of those devices also include 4G connectivity). In comparisons with the Lumia 520, the 630 consistently managed to find signal more quickly, and its indicated signal strength was usually equal to or slightly better than the 520. 
As mentioned earlier in this review, navigating through the Windows Phone OS is generally comfortable and hassle-free, although you may occasionally find a hint of lag, especially when switching between apps.
But aside from that, and the date/time issue, the Lumia 630's performance is surprisingly good, especially given its diminutive price tag. Those looking for a handset in this price range cannot reasonably expect much more than what the 630 offers, and the overwhelming majority of those buying a phone at this level will likely find that it meets or exceeds their expectations.
Nokia is well known for the high-quality imaging technology that it packs into its devices, and the pinnacle of this achievement came with the Symbian-based 808 PureView and its 41MP camera, which later made its way into the Lumia 1020 Windows Phone.
While no-one can reasonably expect that kind of sensor in a phone that costs a fraction of those two devices, Nokia has nonetheless raised expectations when it comes to the cameras that it puts in its handsets. The Lumia 630's 5-megapixel camera is capable of snapping some decent pics, but the results aren't always perfect.
The user experience of taking photos is, unfortunately, a bit of a hassle. On the 630, Nokia has done away with the dedicated hardware button which, on other Windows Phones, launches the camera app and acts as a shutter button. So to use the camera, you first have to launch the camera app, either from a shortcut in the Action Center (which is also accessible from the lock screen) or from a tile on your Start screen, if you prefer.
Once the app is launched, to take a picture, you then have to tap the on-screen button to capture an image. This flies in the face of the 'get in, get out, get back to life" mantra that guided Windows Phone 7 back in the day, and which has persisted to some degree with the ease of quickly being able to launch the camera and snap a pic with two quick pushes of the same button. Now, you have to faff about with turning the phone on, swiping down the Action Center, launching the app, and then being able to take a photo. It's just not convenient.
Many users will just grin and bear it, perhaps not fully appreciating how good other Windows Phone users have it, but it's disappointing that such useful functionality has been removed on the Lumia 630.

Spot the flash. Oh, wait.
Nonetheless, the quality of the Lumia 630's camera is certainly an improvement over the 520, and in good lighting conditions, and with a steady hand, it's possible to capture some really nice shots.
In less optimal lighting conditions, the camera starts to struggle a bit – you'll see a lot more noise in your photos, and even the slightest movement of your hand can introduce blur to the image, given that there's no optical image stabilization on board. Persist, and you may be able to get a decent shot in low-light, but it takes a lot of effort.
A big problem in low-lighting is the lack of a flash for the camera. Once again, Nokia's cheaper X2 Android phone includes a flash, so it is again hard to understand why the more expensive Lumia 630 has to struggle without one.
The cheaper X2 also has a front-facing camera while – yes, you've guessed it, the 630 doesn't. If you were hoping to taking a few selfies, or to enjoy a video call with friends and family, you'll have to look elsewhere, because with the Lumia 630, you won't be able to.
Take a look through some of the images I captured with the Lumia 630 below. As you'll see, most of the images with decent lighting conditions are really rather good – but with less light, the quality can disappoint. 
​
​
​
​
​
​
​
​
​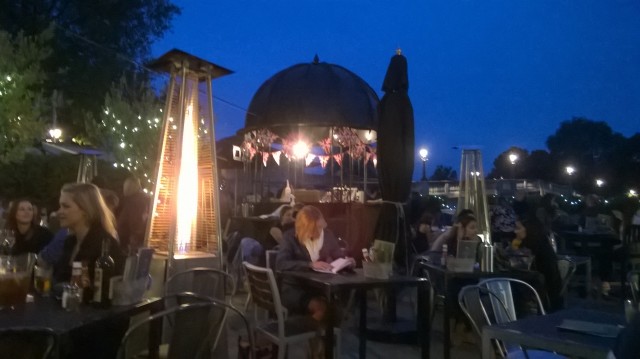 ​
​
The Lumia 630 features just 8GB of onboard storage, but this isn't as big a problem as you may think, since the device includes a microSD slot.
Integrated storage tends to cost a small fortune once device manufacturers have added their mark-ups, whereas microSD cards have fallen in cost to the point where adding large amounts of storage is now genuinely affordable. Even so, for the most price-sensitive buyers thinking of buying a device like the Lumia 630, this additional cost is an important consideration.
If you want to store lots of music on your device, or throw a few TV shows or movies on there when going on a trip, or if you're a big gamer and likely to want lots of games stored on the handset at once, you're going to need to expand your storage. For those who are happy to stream their music, who don't care for watching downloaded videos on their phones, or who aren't really into games, the 8GB of storage will suffice – but even taking lots of photos will quickly eat up space, so a microSD card will be a worthy investment for most buyers.
The Lumia 630 copes well with video despite its modest screen resolution. The decent viewing angles mean that it's fine for watching a quick YouTube video with a friend, and the colour and contrast are adequate for a device at this price range.

A plug, but no headset
You'll have to bring your own headphones if you want to listen to music or watch videos without incurring the wrath of all those around you, though – Nokia doesn't include a headset in the box.
Nokia claims that the 630's 1830mAh battery is good for up to 25 days of standby time and up to 16.4 hours of talk time, as well as 58 hours of music- and 7 hours of video-playback. 
In practice, the amount of real-world battery life you get will depend on exactly how you use the device. If you spank the battery hard by playing non-stop games or watching videos all day, then you can't reasonably expect it to last right through the day – and the same goes for the overwhelming majority of handsets on the market, at any price point. But if you have a more balanced approach to using the device, you should find that it holds up well.
On a typical day while testing the Lumia 630, my range of activities looked something like this:
1-2 hours of calls
30-60 mins of casual games
Reading/writing emails throughout the day 
Social network activity (primarily Facebook/Twitter) throughout the day
Occasional IM via Skype
Occasional web browsing
An hour or so of streamed music (primarily Nokia MixRadio)
Connected to Wi-Fi at available hotspots
I was generally able to get through the day easily with battery life to spare, and I often found that the battery could last a day and a half before it ran out of juice (even stretching to two and a half days on one occasion!). If you're not a particularly avid gamer, or if you don't stream music or videos very much, you should find that the battery lasts a good deal longer. But push it harder than I did on either of those fronts, and your battery life will quickly decrease, as I found on a couple of occasions.
If you do find your phone running out of juice with no charging points handy, the Lumia 630 features the same 'Battery Saver' mode available on other Windows Phone handsets. By default, this mode kicks in when your battery runs down to its last 20%, and modifies functions on your handset to help eke out a bit more life before it dies completely.
Nokia includes a standard charger in the box, which connects to the microUSB port on the phone and plugs into a wall socket. Unlike some other devices, the charger does not feature a detachable USB cable, so you won't be able to plug the Lumia 630 into a computer for charging (or synchronisation) unless you have a separate cable.
And if all else fails, don't forget that the Lumia 630's battery is removable, so if you're likely to spend all day on your phone playing games, watching videos and streaming music, there is always the option for you to purchase a second battery that can be swapped out when the first one gasps its last breath.
The Lumia 630's battery life pleasantly surprised me during my few weeks of testing it. As with any device, unrealistic expectations will only result in disappointment, but with balanced usage of apps, features and services on the 630, the majority of users shouldn't have any complaints.
There is a great deal to like about the Nokia Lumia 630, and indeed I've grown quite fond of it during the weeks that its been in my care. It has a generously sized display of decent quality, a camera that is capable of capturing some really good images, excellent battery life and satisfactory performance for all but the most demanding of users. Nokia's software offerings also add immense value to the device. 
The Lumia 630 has been judged here not against the flagships of the world, but with far more modest expectations in mind - precisely the considerations that those seeking an affordable entry-level handset are likely to appreciate when deciding how best to spend their limited budgets. Against this backdrop, the Lumia 630 is an appealing contender for their hard-earned money - but it is not without its flaws. 
Those buying a smartphone in this price range cannot reasonably expect the very best of anything. Whichever handset they ultimately choose to purchase will be burdened by the reality that things cost money, and that in order to bring such capable devices down to these low, low prices, corners must be cut; compromises must be made. 
That's a difficult argument to communicate to the consumer that wants everything, but also wants to pay next to nothing for it. People generally understand that "you get what you pay for", but will still complain when they don't get what they hoped for, however unreasonable their wishes may be to more logical minds. This is exactly why it matters so much that the right compromises be made by manufacturers when deciding which features to include, and which ones to drop or downplay. 
I'm not entirely convinced that Nokia has made the right decisions here. 
The argument that certain features have been omitted on cost grounds would make more sense were it not for Nokia's cheaper X2 Android handset including many of the features that the more expensive Lumia 630 lacks.
I find it astonishing that the company chose to exclude a front-facing camera, for example, given that Skype is an important component in Microsoft's product portfolio. It is irritating too that a flash was not included for the rear camera when, again, the cheaper X2 was afforded this luxury. 
It is similarly bizarre that the company chose to omit an ambient light sensor, creating a new 'pain point' for its customers in having to manage the screen's brightness manually. Given that this handset is, in part, intended to appeal to a new generation of first-time smartphone users - many of them in emerging markets with little experience of using such devices - this decision seems to make very little sense.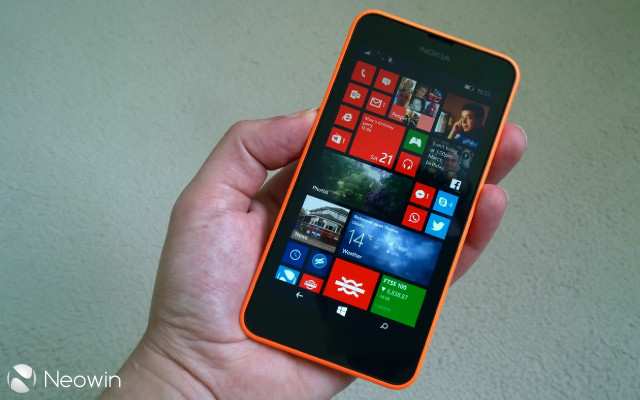 Some of the compromises that the company made will matter to certain users more than others. Some, for example, will not care one bit that there is not a dedicated hardware button to launch and use the camera, and will be perfectly satisfied with the more circuitous route that the Lumia 630 demands for this function compared with other Windows Phones. Many users will be simply be satisfied with getting such a well-rounded device, and will happily live with the inconvenience presented by the lack of an ambient light sensor. 
Despite its imperfections, though, the Lumia 630 is - as a whole - a compelling handset for the price. Its performance, display, battery and camera - along with Windows Phone 8.1, which finally feels like a truly impressive operating system - are all convincing enough to make it an attractive choice for those on a tight budget. During the time that I spent with it, I enjoyed using it far, far more than I found myself frustrated or disappointed by it. 
The decision to buy, or not to buy, will ultimately come down to individuals' willingness to accept the compromises that Nokia has presented. I suspect that the compromises that have been made will be acceptable to many, if not most, at this price range. But some, I suspect, will ultimately lament the fact that Nokia stopped short of making the Lumia 630 truly excellent, rather than just good enough. 

You may also find these links useful: 
>  Windows Phone 8.1 review 
>  Lumia 630 at Nokia.com 
>  Follow me on Twitter 
Thanks to the lovely folks at Microsoft UK, we'll be giving away a Nokia Lumia 630 later this week here on Neowin. Stay tuned to find out more, and be sure to follow us on Twitter @NeowinFeed so we can let you know when the giveaway begins!

This review was updated shortly after being published to include additional details about the handset's performance with regards to making calls and acquiring signal.