Nvidia has just breached the $1 Trillion market capitalization and became the first chipmaker to join the elite club in the process, thanks to the rise in generative AI.
Last week, Nvidia added close to $200 Billion in a day after the mid-week quarterly report for Q1 2023 where Jensen Huang, CEO of Nvidia noted that the company is reaping the benefits of being the first one to invest in various AI technologies.
Today, the company's stock price opened at $405 and hit a high of $419, making Nvidia the fourth company after Apple, Microsoft, Alphabet and Amazon to join the Trillion dollar club. As of writing the article,
Nvidia's market capitalization sat at $1.01 Trillion, up from $900 Billion last week. Nvidia has returned close to 30 percent in the last week, which is higher than the Nasdaq returns for the same period.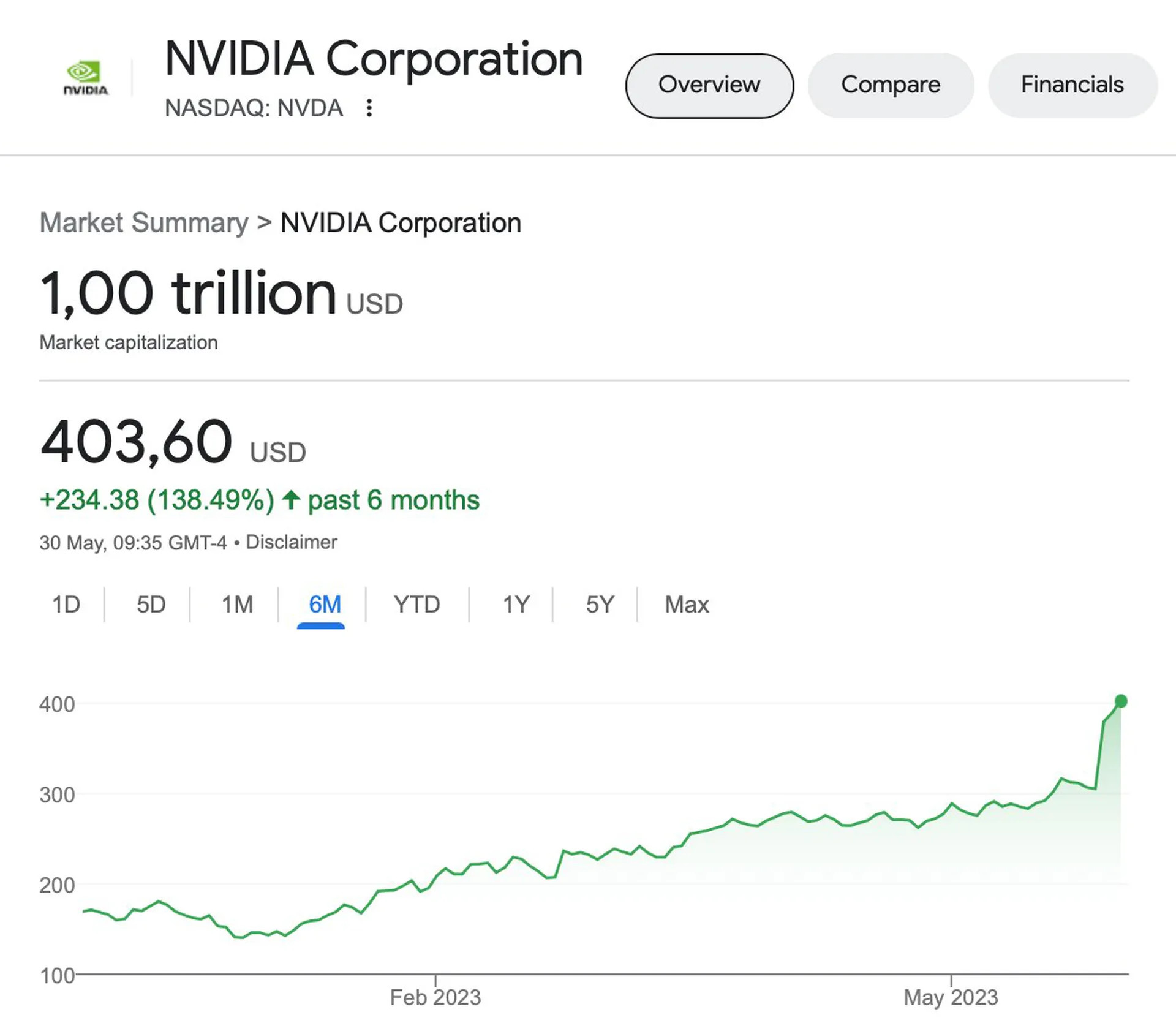 Over the last year, Nvidia has doubled investors' money. The investments in Artificial Intelligence (AI) made the company even more lucrative to investors.
The California-based chipmaker had a busy last couple of weeks where it doubled down on AI with announcements at Microsoft Build 2023 as well as at Computex 2023. These included ACE, a Chat GPT-like model for NPCs in games, a collaboration with WPP to introduce an innovative content engine, new AI enhancements for RTX GPUs, a new Ethernet switch focused on AI applications and a partnership with MediaTek to bring AI to cars.
While the company has been riding the AI wave, there has been skepticism surrounding the company's long-term growth and if it can sustain the current momentum. Nvidia saw similar jumps in stock prices during the crypto mining boom in 2020 which resulted in the GPU shortage. However, it didn't last long as the stock fell by more than 40% in 2022.