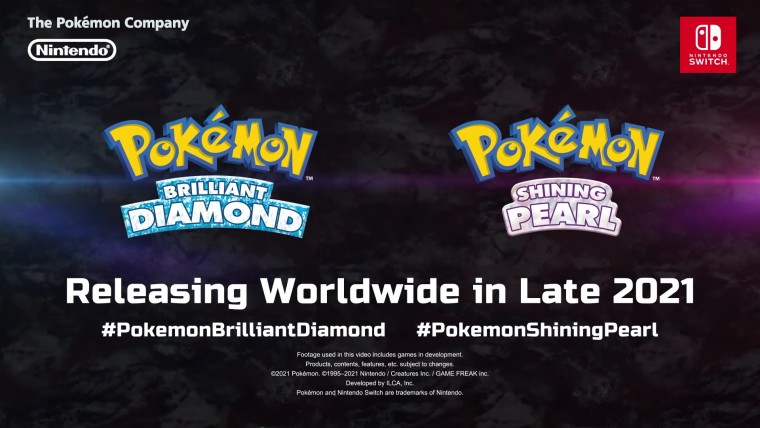 During today's Pokémon Presents event, The Pokémon Company introduced a brand-new adventure and gameplay style in Pokémon Legends: Arceus, but those looking for a trip down nostalgia lane, it also introduced the long-awaited remakes of Pokémon Diamond and Pearl.
Called Pokémon Brilliant Diamond and Shining Pearl, the new games try to breathe new life into the titles originally released on the Nintendo DS in 2006 in Japan (2007 worldwide). However, unlike prior remakes in the franchise, these don't bring the original games to the same level as the current main series games - Pokémon Sword and Shield. Instead, these remakes focus on retaining the feel of the original titles, obviously upgrading the graphics and visuals to make use of the much more powerful hardware of the Nintendo Switch.
As such, the titles retain the fixed camera with a top-down view, but now use 3D for the entire game world and the battles, which were still in 2D on the original. They also appear to offer more freeform movement compared to the grid-based style of the games they're based on. From the footage shown, the game looks exactly like you'd imagine them to based on that description. In fact, no other differences were mentioned during the reveal, though typically remakes like this have incorporated some elements of the third game in each generation, which in this case would be Pokémon Platinum.
Interestingly, the titles are being developed outside by an external studio, ILCA. The Japanese studio had helped develop the Pokémon HOME app for Nintendo Switch and mobile devices, and this is the first time it's developing an actual Pokémon game. Presumably, resources at Game Freak are focused on developing Pokémon Legends: Arceus.
Pokémon Brilliant Diamond and Shining Pearl are coming to the Nintendo Switch in late 2021, though a more concrete date is still unknown.